Kate Longhurst expects a tough challenge from Reading when West Ham United Women travel to the Select Car Leasing Stadium on Sunday. 
The Hammers are competing against the Royals for a place in the Vitality Women's FA Cup quarter finals, and Longhurst expects them to provide stern competition on Sunday afternoon. 
Every game we've played Reading since I've been at this club has been a hard game - with the exception of our away win last season," Longhurst told whufc.com
"I think every other game has pretty much been one or two goals in it, so we know that they're going to be hard working, we know that they're very resilient this year, they've had a lot of good results - they're in really good form."
The Hammers are looking to bounce back from a 3-0 defeat against Leicester City that they sustained before the international break, and Longhurst says that the break gave the team some time to look at where things went wrong at the Pirelli Stadium. 
"I think sometimes you want to just play straight away to kind of get that out of the way, but we've had enough time now where we've analysed what went wrong. We know that we weren't good enough on the day. 
We know that we can't make those mistakes again, as well, so for us, the focus is just the things that we've been doing well all season, make sure that we do that and we get back to how we can play."
This game also brings back special memories for Longhurst, who, alongside Gilly Flaherty are the two players that still remain from West Ham United's run to the 2018/19 FA Cup final. 
The Hammers beat Reading in the semi-finals at Adams Park that year, and Longhurst reminisced on those memories. 
"It was definitely backs against the wall on the day, but I think with the FA Cup, it just shows that not necessarily the best team always wins the game on the day – anything can happen. And you have to fight for absolutely everything. 
We went 1-1 down, and then we got it back to 1-1, and then extra time they missed a penalty. There was there was a lot of things that went for us that day, and when it gets to penalties, it's anyone's game.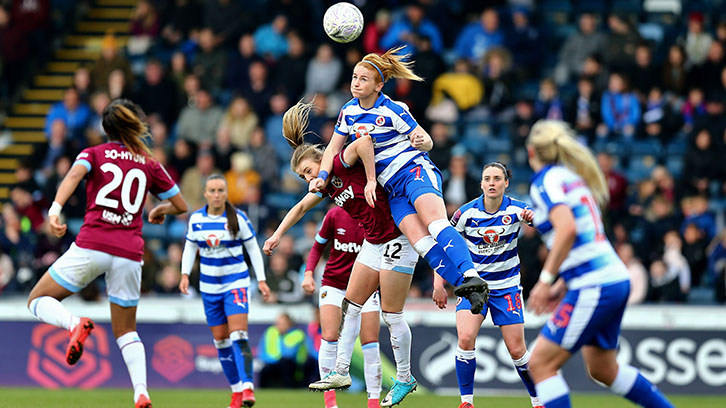 "It was like one of the happiest, probably most emotional games I've ever played in, in terms of like going to Wembley with West Ham, probably one of my happiest moments on the pitch. Its's definitely something that will stay with me forever."
Back to the present day, and Longhurst is hoping her teammates can repeat the feat this time around, and book their place in the next stage of the competition. 
"We want to turn up and play well, but the main thing is about getting the result, however we have to go about doing that – we've just got to make sure we come out as the winners," she concluded.
West Ham United Women take on Reading on Sunday 27 February 2022, with kick-off scheduled for 2pm at the Select Car Leasing Stadium. 
Tickets are available to purchase from the Reading website by clicking here.