Alphonse Areola and Billy McKinlay's pre-Viborg press-conference
Rush Green Training Ground
Wednesday 17 August 2022
 
2.40pm And that's all from Alphonse for today. Stay with us on whufc.com for more from the presser throughout the afternoon, including video and a full write-up.
Thanks for you company today and see you again tomorrow evening for the match!
And now whether a win tomorrow could act as a kick-starter for the Hammers' season…
Of course. It's a good chance to have a win in official competition, so we are ready for that and ready for tomorrow. That's all we're thinking about.
Now Alphonse is asked about the prestige the Europa Conference League carries and whether it sits on the same setting as last year's Europa League campaign…
Of course. It's a European competition and a good opportunity to play in Europe again this season. You cannot just put a European competition on the side and say it's lower than the Champions League and Europa League. You have to win the games and aim to win the competition.
And a follow-up on that about how helpful it is to have played alongside Kehrer previously...
It is helpful because you have gone through lots of games together, we played for a year-and-a-half together so lots of games. It's always good to have that on the pitch and it's good to be confident with all the players.
Next is one on Thilo Kehrer, who Alphonse played with at PSG...
I think he is a good player, good with the feet and has good experience as well. He has played with some of the greatest players in the world and has that experience in European competition.
He will bring plenty of experience and quality.
Now he's asked about the prospect of playing in the match…
Obviously when you are a competitor you want to play as much as you can. I'm here to give my best to help the team so every opportunity I have to play I'm ready.
First is a question on last year's run and whether that will spur us on this year...
I think we did something great for the first time in Europe and we want to do better this year. When you're in Europe you want to win and that's what we'll be looking to do.
We showed lots of good things last season and we are here to compete in the Conference – we will give our best to get to the final stages. You have to push yourself to be as good as you can.
2.26pm And here is the Hammers goalkeeper to face the media...
1.56pm That's it from Billy for now, but we should have Alphonse with us shortly...
The final question to Billy is on whether Thilo Kehrer will be involved tomorrow night...
We'll see how he settles in, get a bit of feedback from him and see how he feels over the next 24 hours. He trained a little bit with us this morning.
Craig Dawson still has a bit of problem with his quad but will hopefully be back soon.
Now McKinlay addresses David Moyes' absence from the touchline and is asked whether there are lessons to be learned from he, Declan Rice and Aaron Cresswell being suspended tomorrow...
It was an emotional night in Frankfurt and a huge game for everybody. The stakes were high, we're human and have to make allowances for that.
The manager will still be [in the stadium] tomorrow night and have an influence. Circumstances happen and you just had to deal with it.
Thursday's opponents Viborg is the subject of the news question, and how the Hammers can guard against slipping up on a banana skin...
It's something the manager does in every game, regardless of the opposition. We've been glued to the video since Nottingham Forest so we'll deal with it as we do any other game.
There will be no complacency from anyone at the Club and we know we will have to play well to get a result.
And now Billy is asked whether he is seen more as a centre-back or full-back...
He's played predominately for the national team at full-back and centre-back for PSG last season, so we feel we have a really good acquisition for the squad. He will be able to add to us in a number of areas.
Thilo Kehrer's arrival was announced just before the presser and the next question regards him...
He has good experience, is versatile and has played at a high level with Germany and PSG so he will bring a lot to us and we're looking forward to working with him.
Now he's asked on who will captain the side in Declan's absence…
Aaron Cresswell is suspended as well and he normally takes over so that will be a decision we take closer to the game.
Next is a question on how Declan Rice will be missed due to suspension...
It is a big blow. It's disappointing but we'll have to overcome it and we have a number of players who can come in and do a good job.
First up a question on last year's European run…
Hopefully we can go one step further this year. Last season was terrific for everybody connected with the club. Unfortunately we fell a little short at the end, but we want to go on another European adventure this year.
1.39pm Billy McKinlay is up first for the presser. Billy is here today as David Moyes is suspended for the first leg after he picked up a red card in our Europa League semi-final at Eintracht Frankfurt last season...
1.25pm Tickets are still available for tomorrow night's game, with prices starting at just £5 Juniors and £20 Adults!
So make sure you're there from the start of our European adventure this season by securing your seat at London Stadium.
Click here to buy your ticket now.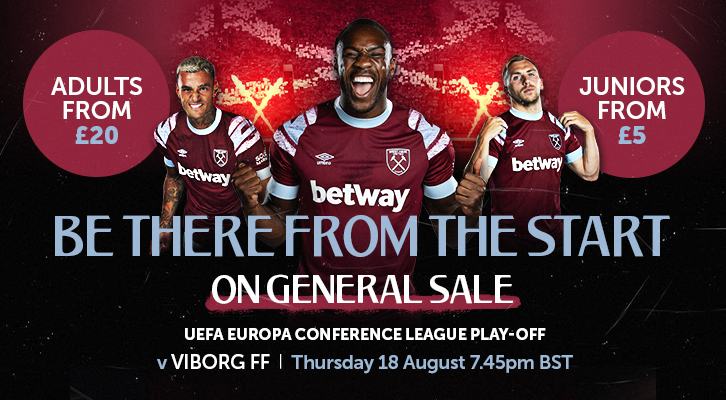 1.15pm It's a return to European action for the Hammers tomorrow as we aim to return to Group Stage competition for the second year in succession.
Let's take a quick look at how the Conference League play-offs work...
44 teams will take part in the two-legged play-off round, with the two legs being played on Thursdays 18 and 25 August.
The 44 will include 32 third qualifying round winners and seven clubs eliminated from the Europa League third qualifying round, along with five teams who have qualified directly to this stage – West Ham, Villarreal of Spain, Fiorentina of Italy, Cologne of Germany and Nice of France.
22 teams progress to the groups, along with ten teams eliminated from the Europa League play-off round.
1.10pm We have to start with this lunchtime's big news, Thilo Kehrer is a Hammer!
The versatile 25-year-old arrives from French champions Paris Saint-Germain on a four-year contract with a two-year option, with West Ham having beaten off stiff competition from other leading European clubs to bring him to London Stadium.
A three-time Ligue 1 winner, UEFA Champions League finalist and a regular starter during Germany's 2022 FIFA World Cup qualifying campaign, Kehrer is a proven winner who will add international and European experience to David Moyes' squad.
1.05pm A very good afternoon to you and welcome to our coverage of the pre-Viborg press conference!
It's a double header this afternoon, with both Alphonse Areola and Billy McKinlay joining us to preview the first leg of our UEFA Europa Conference League play-off.
We're expecting Areola with us first up very shortly, so stay tuned for all the best lines!