West Ham United is delighted to inform supporters of a range of hugely exciting developments and improvements to London Stadium ahead of the 2022/23 season, all of which align with our continued commitment to enhancing their matchday experience.   
These advancements come at a time of great excitement and anticipation for West Ham United and our Claret and Blue Army, with David Moyes' team enjoying another successful Premier League campaign and competing in the latter stages of European competition.  
Alongside success on the pitch, the Club's overriding priority is to work with fans and listen to their feedback to ensure a continued improvement in the matchday experience at London Stadium – from our Season Ticket Holders, Club London Members and match-attending fans, to those following from afar and across our digital channels. 
The Club can confirm that:   
London Stadium's capacity is set to increase to 62,500 seats.* 
The West Stand Lower Tier will be reconfigured to further develop a more traditional football stadium layout, bringing the upper and lower tiers closer together and more fans nearer to the action.
Affordable family football remains at the heart of everything we do, and the Club has ensured that our hugely popular £99 junior Season Ticket will continue in 2022/23.  
A new entry level adult Season Ticket is being introduced for £299 – the cheapest adult Season Ticket in London in the Premier League.  
The introduction of a new Under 18s Season Ticket band will replace the existing Under 16s ticket, meaning that young supporters can benefit from lower-priced Season Tickets for longer, as part of our commitment to affordable top-flight football for young people and families. 
We are introducing a new '1966 West' band, replicating the hugely popular 1966 seats in the Billy Bonds Stand.  
After two seasons of price freezes across the board, there will be a small uplift on some of our Season Ticket prices for 2022/23, with a cost per game increase from just 79p in the lowest General Admissions band to just over £5 in the highest General Admissions band.  
Our ongoing commitment to deliver enhancements and improvements in Club London will see an improved matchday experience for our loyal and valued members, with a small price increase where applicable.  
The Season Ticket renewal window will open on Friday 8 April for for all supporters - General Admission Season Ticket Holders and Club London Members
Supporters in the reconfigured West Stand Lower Tier and Club London have been contacted and will be given priority when renewals open on Friday, at which time they will receive tailored communications detailing what these exciting changes mean for them. 
Supporters on the Season Ticket Priority List who are in line to receive a Season Ticket for 2022/23 will have the option to pay a £50 deposit to secure their seat for next year from Monday 11 April, replicating the hugely successful process undertaken ahead of the 2021/22 campaign.   
Supporters will also be able to apply to renew their Season Ticket in monthly instalments using our simple payment plan, delivered with our partner V12 Season Ticket Finance.
*Subject to the amended general safety certificate being issued by Newham Council.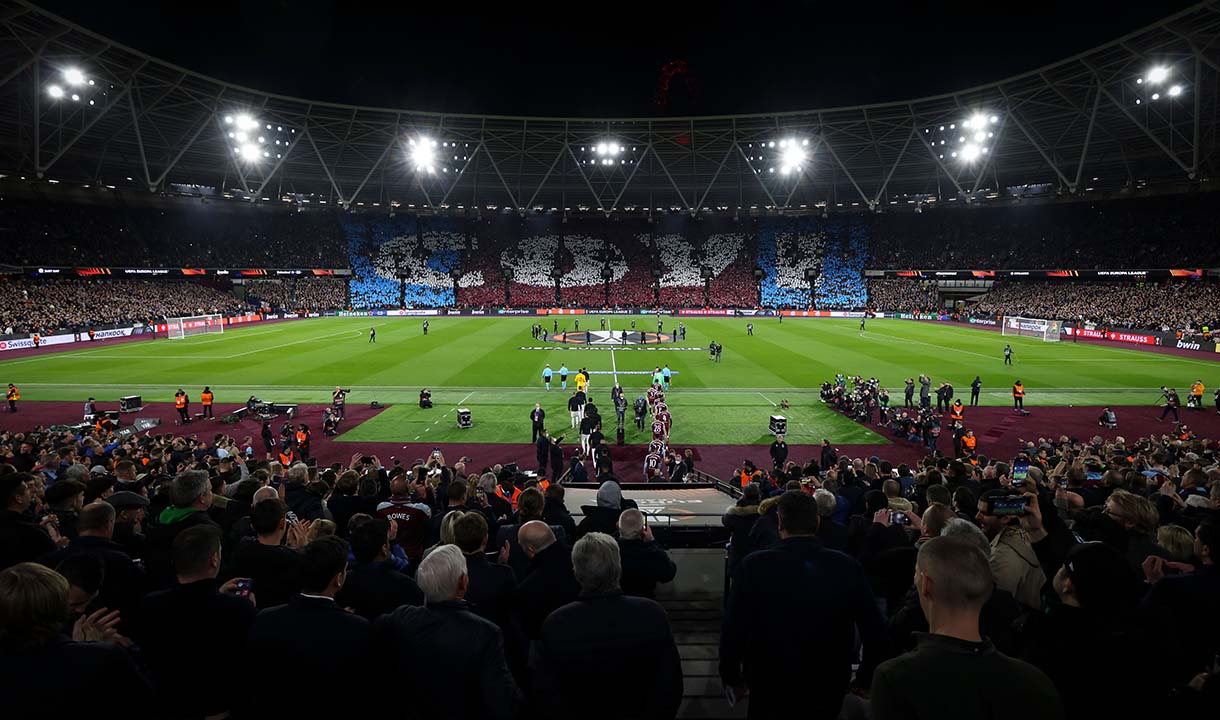 West Ham United Vice-Chairman Baroness Brady said: "We are always listening to our supporters and working hard to improve their experience at London Stadium, in line with the fantastic feedback we've received from them. The expected increase in capacity will see London Stadium become one of the highest-attended grounds in the capital and indeed the country, giving an even greater number of our supporters the opportunity to watch our exciting team in action.
"We have had some fantastic moments at London Stadium this season, including memorable Premier League wins against Tottenham, Liverpool and Chelsea and, of course, the unforgettable night and atmosphere against Sevilla in the UEFA Europa League, and we thank supporters for their continued fantastic backing. This is another great sign of progression during a hugely positive time for the Club."   
Manager David Moyes added: "Everyone here is doing everything we can to grow and develop this Club, on and off the pitch, for the benefit of our supporters, and we all feel that things are moving in the right direction. The atmosphere our supporters have created this season has been right up there in every game. Having more fans in the ground cheering the team on will make it even better for us all and we are really looking forward to welcoming more of our young supporters and families to London Stadium."   
Supporters who are not yet on the Priority List may still be able to get a Season Ticket for 2022/23 thanks to the increased capacity, an uplift in the number of available Season Tickets and the opportunity afforded to those on the Priority List during the pandemic to confirm their preferences. However, with demand at an all-time high, the Club encourages any supporters wanting to secure a Season Ticket to sign up to the Priority List now, before the additional seats are snapped up by other members of the Claret & Blue Army.
To sign up to the Season Ticket Priority List today for just £10, click here. 
Thank you once again for your loyal and passionate support.   
Come on you Irons!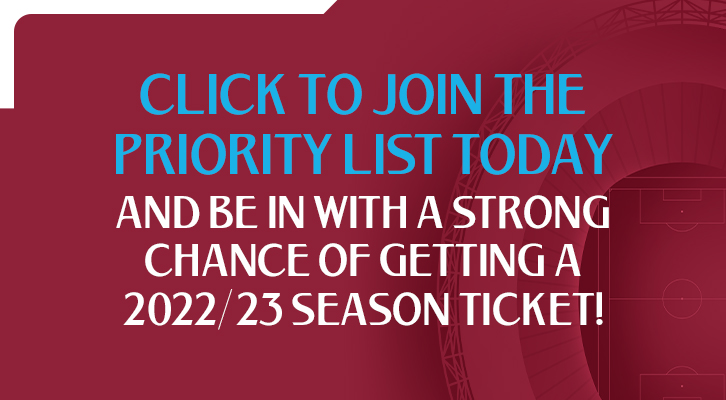 Frequently Asked Questions 
What does this mean for me?