West Ham United and West Ham United Foundation are committed to providing opportunities to everybody across the community.
This International Women's Day, Tuesday 8 March 2022, the theme is #BreakTheBias, aimed at creating a gender equal world, and we are focusing on three programmes which aim to inspire, empower, and support women to be the best they can be…
150Club
The 150Club is a 12-week programme aiming to tackle the high rates of cardiovascular disease and diabetes across Newham.
By receiving tailored support, one-to-one sessions with a Lifestyle Advisor and a choice in exercise regimes, the programme empowers women to take control of their health.
Catherine joined the 150Club after being referred by her GP as she was diagnosed with pre-diabetes. Having always thought she was an active person, she noticed that she was always out of energy and experiencing body aches, so decided to prioritise her health and join the 150Club.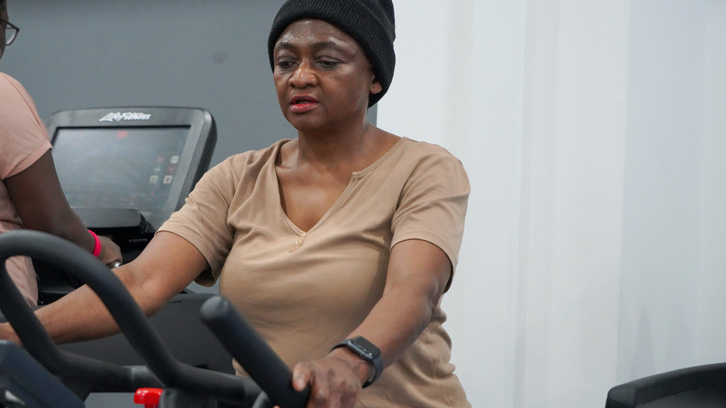 Choosing to attend a gym session every week, Catherine immediately felt a difference and was excited to see where the programme would take her.
Since completing the programme, Catherine has noticed a huge difference in her health and wellbeing. She now feels more vibrant and full of energy, is walking longer distances and has lowered her BMI.
Speaking about her journey, Catherine said: "I would recommend the 150Club to anyone, it has shown me a new way of life and I can see the benefits now. I also want to thank my dedicated instructor, Layla, for all her help. I want to express my sincere gratitude to her and thank her so much for giving me a wonderful experience that will change my life for ever."
If you live in Newham and meet the eligibility criteria, you can self-refer to the 150Club here.
University of East London Degree
In workplaces across the country there continues to be a bias holding women back in their career progression, with research showing that bias contributes to women being passed over for jobs and promotions.
Using the power of elite sport and their position in the community, the Foundation forms a partnership with the University of East London to deliver the Sports Coaching and Performance degree.
The degree course delivers a range of lectures, featuring guest speakers and supports students to begin their careers in coaching and sport; sectors which typically see under representation of women.
Elise Purser is a first-year undergraduate student and has found the practical sessions helpful in developing her knowledge of the sporting world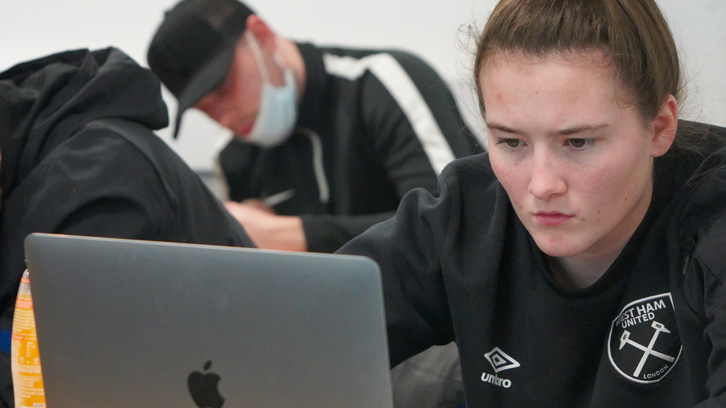 One recently delivered lecture was a discussion on Coaching Principles, presented by the Foundation's Higher Education Lecturer Alfie.
Discussing the lecture, Elise commented: "It was very useful, I didn't understand how in detail coaching philosophies were, and it was interesting to piece everything together that we learnt.
"I chose this degree because of the integration with West Ham United and the experiences it offers. It's definitely going to help me in my career, you never know who you're sitting with now, and where they'll be in the future, I think the meeting new people aspect is so important."
To find out more about the degree programme, email Dominic Edwards on [email protected] or click here.
Player Pathway
Women's football has seen huge growth over the last few years, with ever increasing coverage in the media and the 13th UEFA European Women's Championship being hosted in England this year.
This growth has seen a rise in the amount of role models that are able to inspire young, aspiring female footballers.
The Foundation's Player Pathway programme sees teams compete in the Junior Premier League (JPL), playing against teams of a similar level.
This season, the Women's U16s Academy team had an incredible run of games in the JPL Warriors U16s Blues division, leading to them being crowned champions as early as February.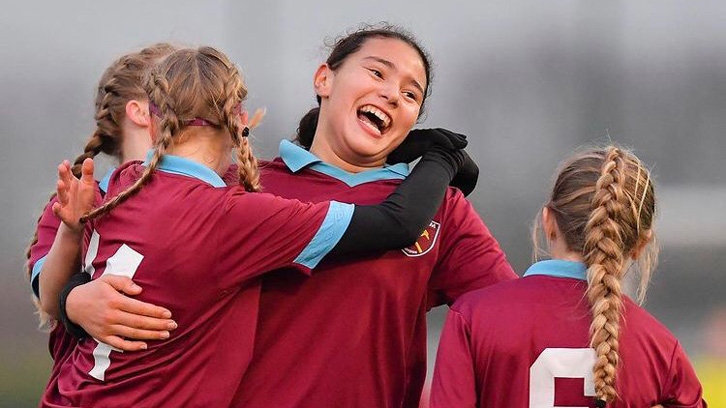 Luke Hirst, Player Development Manager, was proud of the girls, commenting: "It's a fantastic achievement for our squad to win their JPL league, as they faced some great challenges throughout the season, both home and away.
"The girls have shown an impeccable attitude and desire to improve whilst demonstrating their maturity both on and off the pitch.
"The girls have been on an incredible journey since joining us and this is a fitting way to cap off the season, as a group we now look forward to the upcoming cup fixtures and hopefully the girls can come home with some more silverware."
To find out more about the Player Pathway programme, contact [email protected]