One touch to set himself, a swivel, a hit – and an unforgettable moment.
Andriy Yarmolenko was already the pride of his Club and country before Sunday, but Pablo Fornals reiterated that the team could not be more pleased for West Ham United and Ukraine's No7 at full-time.
After a first half which ebbed and flowed, the introduction of Yarmolenko – named in the squad for the first time since mid-February, having been granted compassionate leave in the midst of the crisis engulfing his home country of Ukraine – set the Hammers on their way to a well-earned 2-1 win over Aston Villa. 
With 20 minutes remaining, Yarmolenko's moment of magic finally unlocked the visiting defence, and with Fornals grabbing a second shortly after on the counter-attack, Jacob Ramsey's late goal for Villa was rendered merely a consolation.
Emotional scenes greeted the win at the full-time whistle, with Fornals emphasising the unity of the West Ham squad in their support for their teammate and friend Yarmolenko.
"For us, we know what Andriy represents for his country in terms of football," Fornals said at full-time. "Obviously, he's a big personality for Ukraine, and we are buzzing.
"You could see his tears, our tears, and how big a moment it was for him. We are really, really happy for Yarma for scoring that goal.
"We are a very good group of guys, so we understand Yarma's situation. It's not been easy. It's not been easy for us who don't have people, friends or family in Ukraine, so you can't imagine how it has to be for him. 
"We have tried to help him and his family in all the ways we can.
"Yarma has this [quality]. In training, you can see how he is finishing [goals] with both feet. It was an unbelievable goal. 
"He has always scored goals with precision, so it was the best moment to do it to help us, to help himself and to help his country. We tried to give a bit of emotional support to him."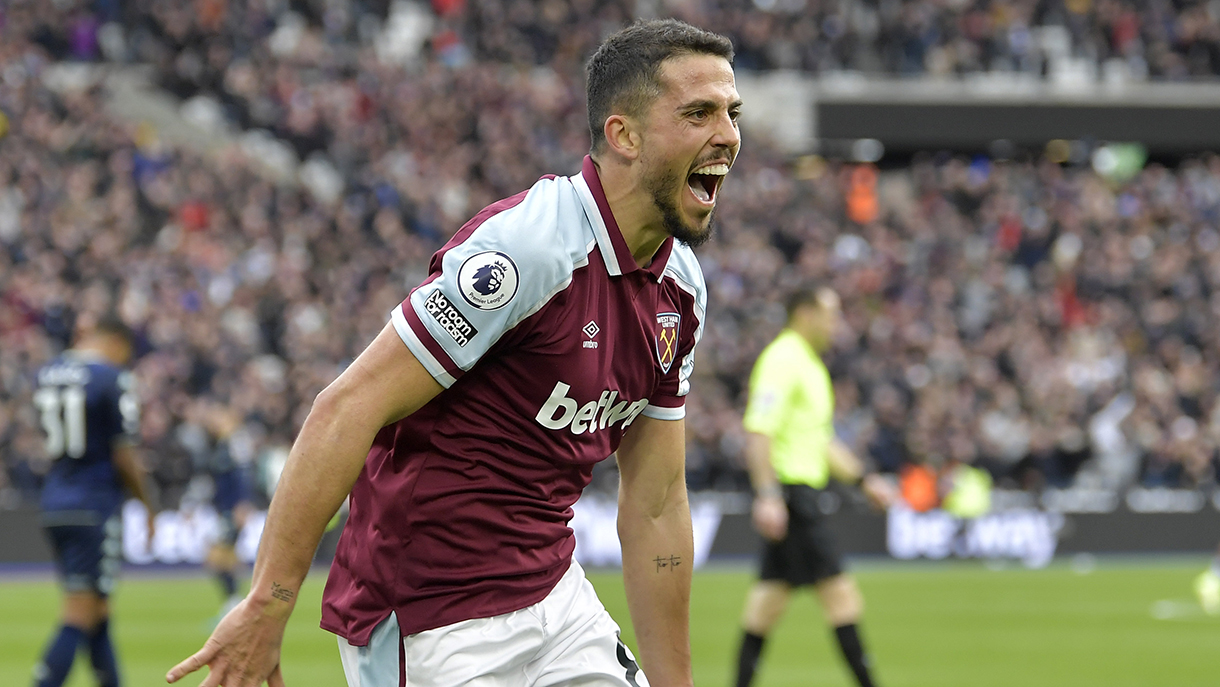 Fornals also appreciated the nature of his crucial second goal – a counter-attack finished clinically after a charge forwards from captain Declan Rice and a clean lay-off provided by Saïd Benrahma.
The nature of the goal – and the elation of the win – gave Fornals cause for encouragement ahead of Thursday's UEFA Europa League round of 16 second-leg against Sevilla.
"I enjoyed doing that!" the Spaniard smiled. "Last season we scored many goals doing that, and I am happy.
"You can see how happy I am, playing here, in this way, and I think it was the best moment to win a game at our Stadium, close to our final on Thursday. It was a massive day today for us.
"We had these three defeats [before today]: one in the FA Cup, the other one against Liverpool playing an unbelievable game for us, and in Seville we didn't play badly, but they won the game. 
"Now, we have confidence to bring into the big game on Thursday, with our people here [at London Stadium]."
Fornals also emphasised that, with three important Premier League points acquired against Aston Villa, the Irons' attentions will swiftly turn to overhauling a single-goal deficit against the La Liga title chasers on Thursday night.
He declared: "It's a big task to arrive into a final, but for us on Thursday, it has to be like a final, but without being crazy because to win the game, we could have the chance to go to extra-time… we'll see.
"We won today, we changed the confidence and I think what happened today is going to help us on Thursday."