Pablo Fornals felt West Ham United's performance at Anfield warranted at least a draw with Liverpool, rather than a 1-0 Premier League defeat.
The Hammers produced a typically resilient display, protecting their goal superbly and restricting the Reds in the main to speculative efforts from the edge of the penalty area, most of which were blocked before they could trouble Łukasz Fabiański.
It was at the other end where David Moyes' men were frustrated, as the Spain international joined Michail Antonio and Manuel Lanzini in passing up presentable opportunities to score.
Having scored twice on previous visits to Anfield, Fornals himself had arguably the best chance of the lot, seeing his lob partially saved by Alisson and then cleared off the line by Trent Alexander-Arnold just minutes after Sadio Mané had scored what turned out to be the only goal of a keenly contested game.
Speaking to West Ham TV, the No8 discussed his chance, the Hammers' all-round effort and expressed his support for Jarrod Bowen, who was helped off after suffering a heel injury, and Andriy Yarmolenko, whose home country of Ukraine continues to suffer.
Pablo, we have seldom come to Anfield and played that well, which makes defeat hard to take?
"It's really frustrating because I think from the first until the last guy who wore a West Ham shirt did an unbelievable job inside the pitch, so I'm really disappointed for me personally because I didn't take the chance, but I'm really proud of what I did and all the lads did inside the pitch and how we played against the best or second best team in the league and probably in the world right now."
And we had better chances than they did…
"One hundred per cent."
And their goal was a little bit lucky, too…
"Yeah, you can say lucky and bad luck for us in the last touch, but the truth is that we are going out from here without any points and we probably deserved at least one."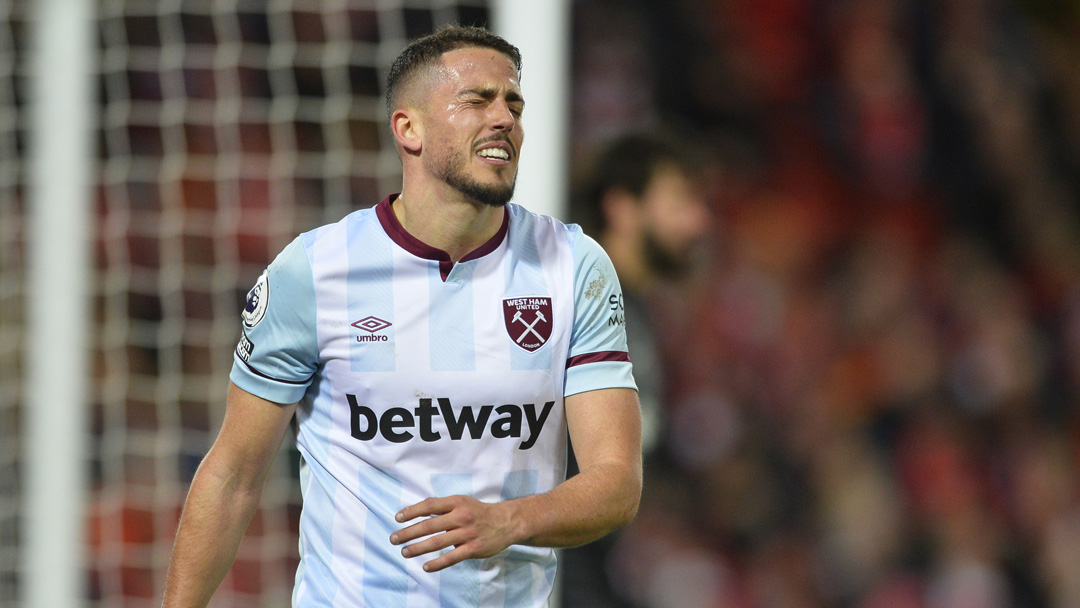 You know how to score in front of The Kop, but today you were denied by a good save by Allison and a goalline clearance?
"Well, I was talking with him (Allison) after the game and I was waiting for him to do something to let me decide what to do and he was waiting for me to decide what I wanted to do and finally I tried to chip the ball over and he got a touch in the last moment and this made the ball go slower to the goal and Alexander-Arnold had time to save the ball."
It was one of those games where we just needed one of those chances to go in…
"Yeah, it's one of them where probably we could have scored three goals in the first half and it was the same against Southampton. It's a thing we can keep improving on. A few games ago, we didn't have this many chances so it's a thing to be proud of and obviously we need to improve and put the ball in the goal."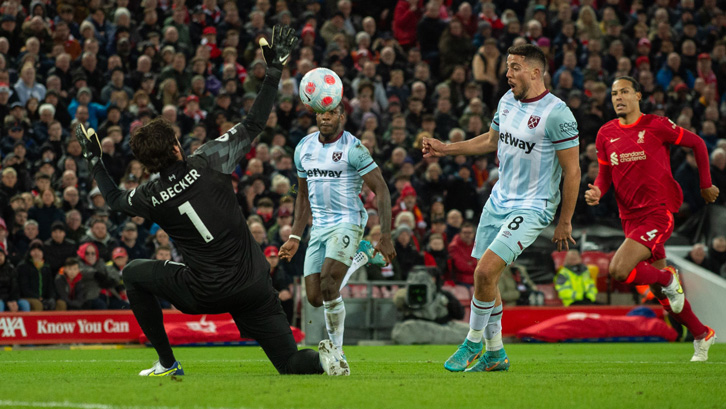 Like so often this season, we have little time to dwell on it, but instead have to regroup for the trip to Spain…
"This is one of the things when you are in Europe. We don't have time to think about what happened today. We have to just be focused on recovering our people. Hopefully Dec (Declan Rice) will be back and Jarrod [Bowen] will have the best news possible. All of us will be as prepared as we can for the next game."
Finally, before the game we stood together in support of Ukraine and their national-team captain Andriy Yarmolenko, who is one of us…
"It's horrible; this situation, the situation of the country and the situation of the world right now. We keep talking about war and it's not making sense for me and all my support and my feeling are with these people who are losing everything. They are having to go outside the country that they love so I can't imagine how it feels for them, so they have all of our support and we are united with them."