Slaven Bilić has hailed Mark Noble's leadership qualities as a major reason why West Ham United bid farewell to the Boleyn Ground in style in 2015/16.
The Croatian was appointed Hammers manager in June 2015, replacing Sam Allardyce, and quickly set about rebuilding the squad in his own image.
No fewer than 12 players were signed, with the same number departing, as Bilić brought in the likes of Dimitri Payet, Angelo Ogbonna, Manuel Lanzini, Michail Antonio, Victor Moses, Pedro Obiang and Carl Jenkinson.
With captain Kevin Nolan being one of those who left east London, the Bilić also needed to appoint a new skipper, and for him the natural choice was the homegrown hero Noble.
Then 28, Noble was an integral member of the team and an influential member of the dressing room, and the manager remembers him being a unifying figure as Bilić sought to bond a squad of players hailing from all over the world.
Mark was also one of the biggest reasons, on the pitch and off the pitch, why we had such a good season
"When I came to the Club, Kevin Nolan was leaving the Club and he was a captain and it was obvious to me that Mark was the natural successor to him," he recalled. "He helped me a lot. Of course, he's very vocal here. He cares about the Club. They call him Mr West Ham, not only because he's been there for the whole career, but he really cares about the area and he's from East London and all that.
"We still have a really good relationship and during my time there he was brilliant to the team. He was the leader in the dressing room because it wasn't that that easy, you know? In my first season, we had some new players from Europe, stars like Payet, like Lanzini, like Ogbonna, then we had some guys, another group of foreigners like [Diafra] Sakho, [Enner] Valencia, Cheikhou [Kouyaté], and then we had a strong bunch of British players with Noble, [Aaron] Cresswell, Andy Carroll, Winston Reid, Ginger Collins and them.
"So, it was a group of players with very different characters and he was in charge of all that. And he helped me make a team out of those characters who you want to have in your team, strong and everything, but they always have to gel together. And that's why Mark was also one of the biggest reasons, on the pitch and off the pitch, why we had such a good season."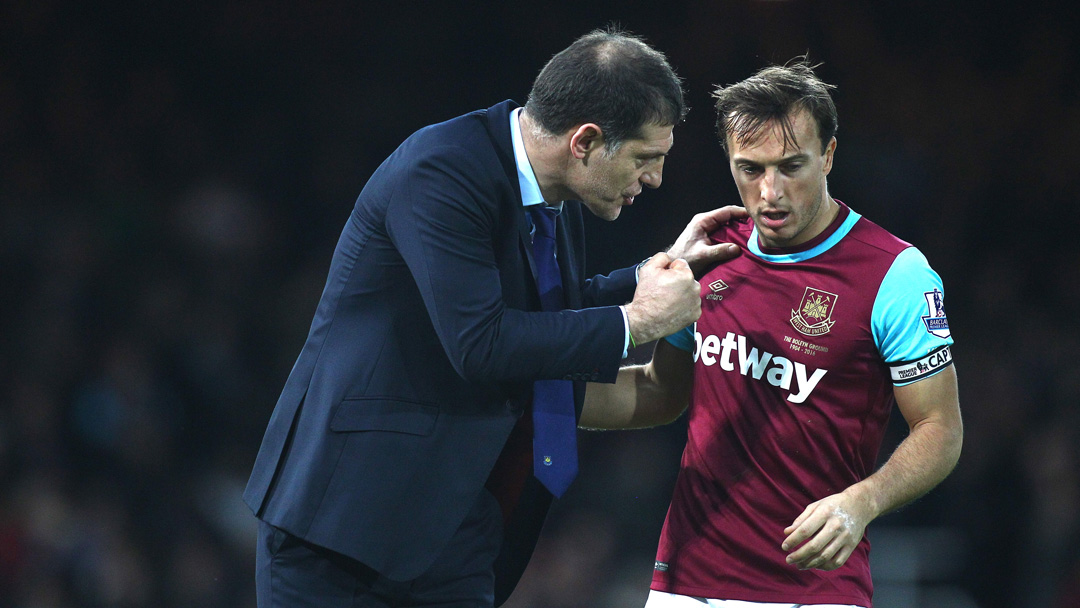 The 2015/16, of course, saw West Ham lose just eight times and score a record 65 goals on the way to 62 points and qualification for the UEFA Europa League, with the likes of Payet, Antonio, Lanzini and Noble himself excelling.
The following seasons were not so easy, though, as the Hammers moved to London Stadium, failed to reach the Europa League group stage, Payet departed and the team finished eleventh in the table.
After a slow start to 2017/18, Bilić himself departed in November 2017, but he will forever be grateful to his captain for the support he received during the tough times.
"He was, as I said, the leader of the whole team, you know, and he cared about the team," he continued. "I remember in in the second season that he's very vocal, and he knows when to come to ask you something for the team. He always put the team in front of himself. He was never above the team and I remember when we had a few problems that he really wanted to help us sort them."
And, having forged such a strong relationship with Noble during his time in charge, and kept in contact with his former captain since leaving east London, Bilić wishes the 35-year-old a successful future, whatever he chooses to do.
"It's his last season and I'm sure that he's going to stay football, whether he's going to be coach manager or director and actually, and simply football, our game, needs those kinds of characters.
"He's a brilliant guy and he's very smart and I wish him all the best because he deserves it."