Emergency care nurse Emer Szcygiel has received a special thank you for the role she and her colleagues played during the COVID pandemic from West Ham United duo Łukasz Fabiański and Vladimír Coufal.
Season Ticket Holder Szcygiel, who is the Lead Nurse in the Emergency Department at Barking, Havering and Redbridge (BHR) University Hospitals NHS Trust's King George Hospital in Ilford, was unable to join her colleagues at recent event recognising their work in providing care to local people since the pandemic began in early 2020.
So, to ensure she did not miss out, Fabiański and Coufal paid a visit to the Lavender Garden at BHR's other hospital, Queens in Romford, to surprise Szcygiel and her colleagues Callum Oubridge, an Education Centre Assistant, and Head of Clinical Engineering Tony Kaura, and also spend time talking football with young patients.
It kind of makes it all worthwhile when you're working relentlessly and slogging every day to have a surprise like this
"It kind of makes it all worthwhile when you're working relentlessly and slogging every day to have a surprise like this, it's just really, really good," said Szcygiel, who travelled over land and sea to watch the Hammers in UEFA Europa League action last season.
"We were just meeting in the Lavender Garden at Queens Hospital when Łukasz Fabiański and Vladimír Coufal came through the doors and came to say 'hello' to us.
"I was really surprised. I wasn't expecting it because they're first-team players and so busy training, so I was really surprised to see them both, and I was really surprised at how open and chatty they both were.
"We had a 'Thank you' event at BHR to thank all the staff for their hard work in the pandemic and I was meant to go to a lunch at King George Hospital [in Goodmayes], but I work in accident and emergency and we were extremely busy, so I couldn't get released from the department to go and see them, but this has more than made up for it!
"I've been a Season Ticket Holder for ten years and go to all the home games and more recently I've been going to a lot of away games. Me and my husband have been all over Europe this year following the team. The fan base have been amazing and we've really enjoyed being part of it."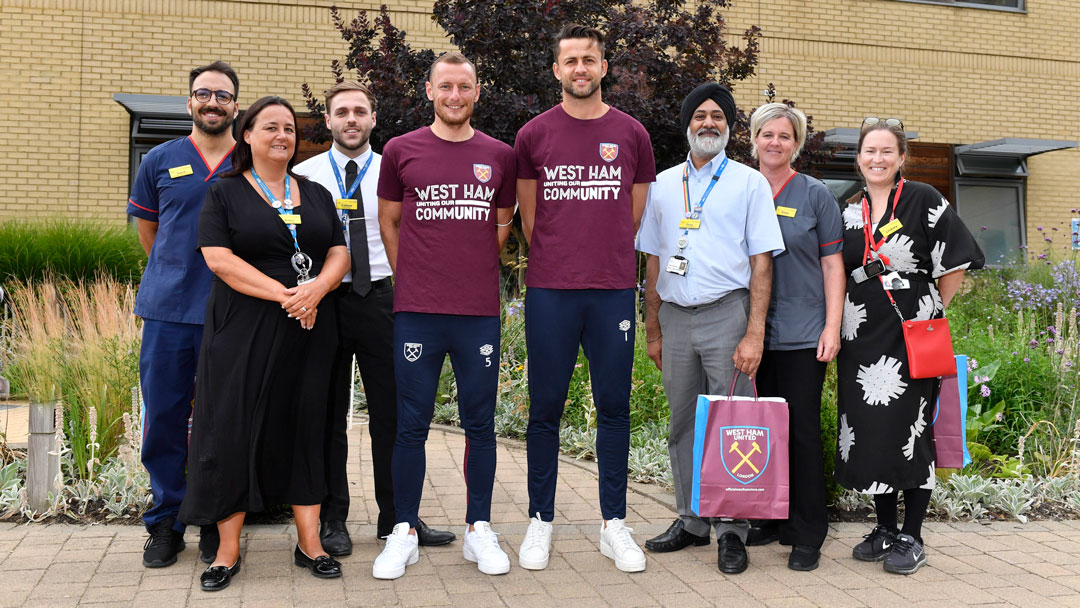 Szcygiel was not just delighted to meet two of her heroes, but proud of the way the players treated her, her colleagues and the young patients they met.
"It was really good. It's been really hard because we've had a tough few years and although the pandemic is nearly over, it's still been really tough working for the organisation and everyone is extremely busy.
"So, to think that those players who are good professionals and do their job and are extremely busy and don't need to take the time to come, but the fact they come and have a chat, I felt it was really heartfelt and a good conversation, it didn't feel like a job to them.
"I felt they wanted to be here and have a conversation with us all, so it was really good and I really appreciated it."
The visit came a few days after former West Ham strikers Carlton Cole and Marlon Harewood had paid their own visit to both hospitals, enjoying brunch at King George and afternoon tea at Queen's thanking dozens of hardworking staff.
Both visits were held as part of the Players' Project, which sees current and former players support key areas of community work across east London and Essex.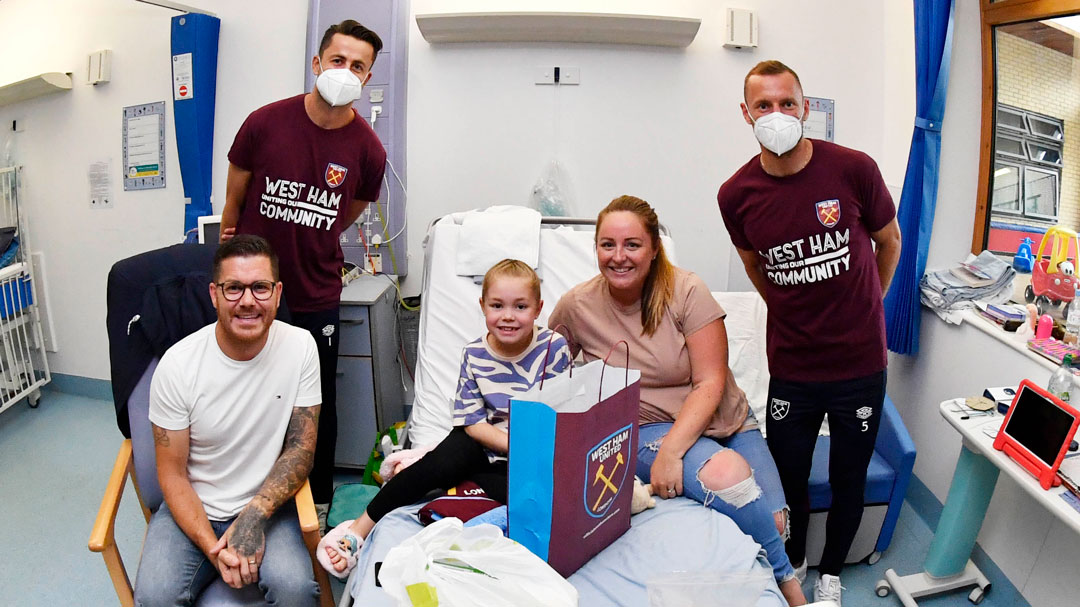 Matthew Trainer, Chief Executive of Barking, Havering and Redbridge University Hospitals NHS Trust (BHRUT) said: "It was great to welcome the club to our hospitals to meet staff and patients at our thank you events.
"We had a lot of happy faces and from everyone here at the Trust, we would like to thank Łukasz, Vladimir, Carlton and Marlon for taking the time to visit us, as well as the club's Foundation staff who provided some fantastic activities for children to enjoy at our family fun day. I'd also like to thank the club for their generous donations for our staff raffle.
"West Ham United are a huge part of our community and we value the close relationship we have, which continues to grow."
Joseph Lyons, West Ham United Foundation CEO, said: "Community is the cornerstone of our club. The NHS is an important relationship for us and one that we're delighted to continue to support - whether through this event or other initiatives such as programme partnerships, campaign messaging and bespoke experiences.
"I know that many of the BHRUT staff members are avid West Ham supporters so to be able to bring some of the players and ambassadors along to put a smile on everyone's faces, is something that we're really proud to be able to do - especially after what has been such a challenging few years for the Trust.
"We're incredibly thankful to everyone at the NHS for everything that they do for our community and we're delighted to have been able to play a small part in making a positive difference to the staff, patients and families across BHRUT for this event."