East London football pioneer Jack Leslie has been honoured with the unveiling of a blue plaque in his memory at his former home in Canning Town.
Born in east London in 1901, Leslie's outstanding play for Barking Town and later Plymouth Argyle led to his inclusion in the England squad in October 1925, only for the forward to be apparently deselected, with the widely held belief being that the only reason he was excluded was because he was black.
Despite questions being asked, neither Leslie nor the public were ever told the reason why he had been left out, and the Football Association denied Leslie had ever been chosen, despite his name appearing in newspaper reports, and it would be another 37 years until another Newham native, West Ham United's John Charles, became the first black player to represent England at any level, when he appeared for the U18s in Israel.
It would not be until 1978 that Viv Anderson of Nottingham Forest became England's first senior black international.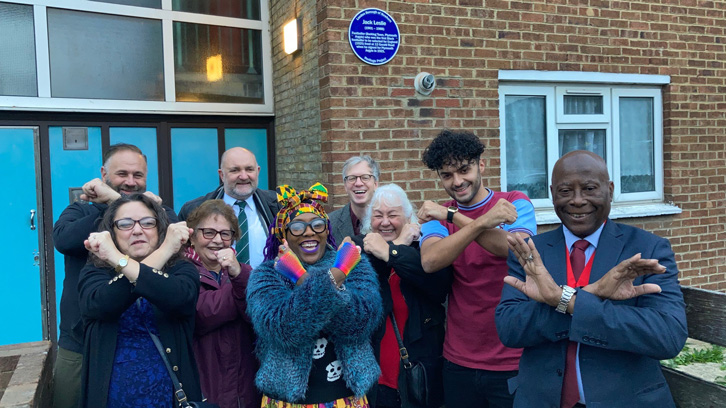 Despite his international snub, Leslie – the son of a Jamaican father and English mother – continued to excel for Plymouth, scoring 137 goals in 401 appearances for the Pilgrims, and helping the Devon club win promotion to the Second Division in 1930.
On his return to east London, he followed his father's profession as a boilermaker before retiring in his sixties. However, he became restless and, after his family contacted West Ham, he was appointed as a boot boy by manager Ron Greenwood, who recognised him as a fine player, and he looked after kit for the likes of Bobby Moore, Geoff Hurst, Billy Bonds and Trevor Brooking.
Leslie passed away in 1988, aged 87, and while his story was in the public domain, it was not until Plymouth supporters Greg Foxsmith and Matt Tiller launched The Jack Leslie Campaign in 2016 to make it more widely known and combat the issue of racism in football.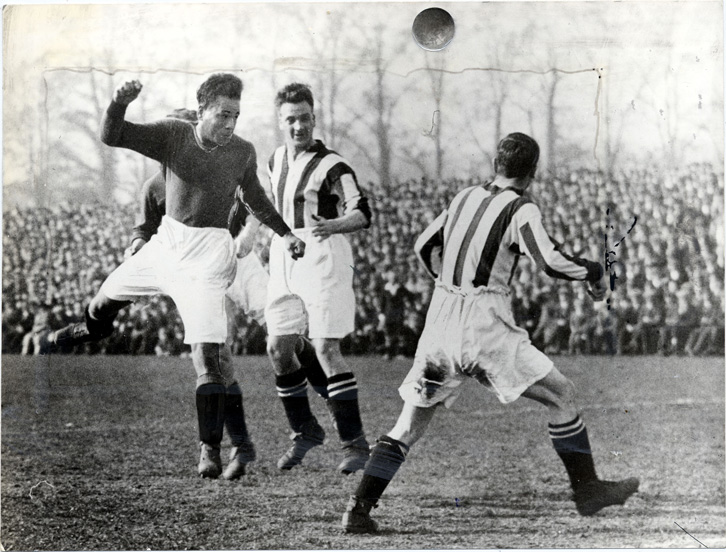 The Campaign has raised more than £100,000 to fund a sculpture of Jack Leslie outside Argyle's Home Park, and recently joined forces with Newham Voices journalist Neandra Etienne to host an exhibition to celebrate Newham's Black Footballers in Canning Town as part of Black History Month.
Etienne, who like Foxsmith and Tiller is an advocate and campaigner for social justice, organised for the heritage plaque to be installed at Leslie's former home in Gerard Road, Canning Town.
There, they were joined by Leslie's granddaughters Lesley, Lyn and Jillian, great-grandson Michael and great-great nephew George, the co-authors of the book Football's Black Pioneers, David Gleave and Bill Hern, and the Chair of Newham Council, councillor Winston Vaughan, who himself came to east London from Barbados in 1962.
Etienne, Tiller, Leslie's granddaughter Lesley and Vaughan all spoke in his memory before the latter officially unveiled the blue plaque.
"Speaking on behalf of our family, I would like to thank Newham Council for allowing us to erect this plaque," said Lesley. "This is where Grandad lived and where he signed his contract to sign for Plymouth Argyle. Coincidentally, it was on 19 November 1921, exactly 100 years ago, that he made his debut for Plymouth, which makes this date even more special.
"Our heartfelt thanks go to Neandra, Matt and Greg, as without them Jack's story would never have been told.
"The Campaign has raised over £130,000 for a statue to be placed outside Home Park and to educate children to help make them more aware of equality and diversity and the injustice that can happen because of racism. Grandad would have been delighted to have his name associated with such a brilliant cause.
"Grandad was immensely proud of his East End roots and in 1938 he, his wife Win and daughter Evelyn moved to Wakefield Street in East Ham, our family home where us three girls grew up. It was a happy, loving home.
"Grandad worked in the docks as a boilermaker and, as a left-handed riveter he was in great demand, until his retirement. However, he soon got bored and was longing for something to do.
"His daughter suggested he contact West Ham United about a part-time job. Ron Greenwood had heard of Jack Leslie and gave him the responsibility of looking after the football boots. Grandad took the job very seriously and I doubt there was a club anywhere whose players had better cared for boots!
"He loved his time at West Ham, was there for about 15 years and only moved away when his daughter moved to Kent and Grandad and Nan went with them."
To find out more about the Jack Leslie Campaign, visit jackleslie.co.uk.