David Moyes pulled no punches in his assessment of West Ham United's 3-1 defeat to Southampton in the FA Cup fifth round. 
The Irons went a goal down at St Mary's Stadium after Romain Perraud's rocket of a strike on 31 minutes. However, the away side levelled the score and bounced back from the loss of Tomáš Souček – who has had five stitches to repair a facial injury - thanks to Michail Antonio's close-range finish on the hour mark.
With West Ham starting to shade the encounter, a gut-blow came just nine minutes later as Craig Dawson fouled Armando Broja in the box, resulting in a penalty following a pitchside VAR review by Andre Marriner; James Ward-Prowse stepping up to net the Saints' second. 
The Hammers' exit from the FA Cup was confirmed in added-time when Broja dribbled through the West Ham defence to add a third.
Having spoken with admiration for his team's resilience in the Premier League win over Wolverhampton Wanderers on Sunday, Manager Moyes was frustrated with the side's efforts on Wednesday.
It's not what I wanted, it's not what I hoped for. 
We're going to have to play much better if we're going to get anything at all this season. We just didn't have any quality at all in the final third. 
Our build-up was fine, our football was quite good. We went behind to a worldie of a goal but every time we went near their goal it was like we were hitting a brick wall. We were so bad in and around their box. You need quality, and we certainly lacked it tonight.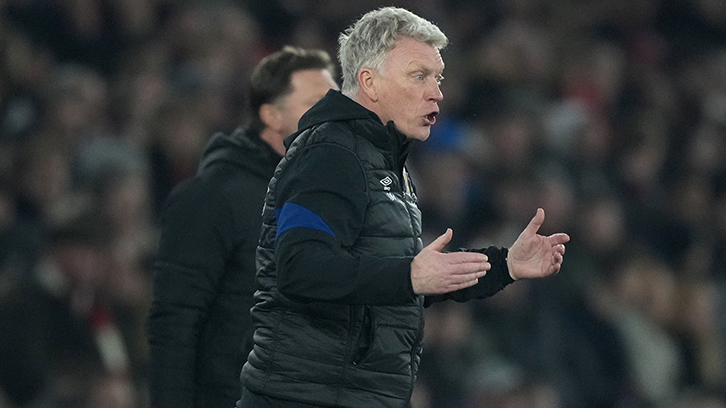 We got back in the game and we looked as if we were the better team. 
If anybody looked like they were going to shade it, it might be us. But we gave away an unbelievably bad second goal which gave them the chance when it should never be the case. We were going to be the team on top, we were going to dominate it, and we gave it away. 
I've not seen back Southampton's second goal yet.
Daws should never have let Broja get anywhere near a chance to get in on goal, and that's where it starts from. If you make a mistake and you're in the wrong positioning, then you're going to get caught out. That's what we were. 
We don't lose goals like Southampton's third.
It was too easy. A couple of throw-ins down the right-hand side here and it ended up being a goal for them. 
I've got to say, it feels terrible tonight.
If the players don't improve then we've not got anything to play for. We need to up our game. 
The fans were great. I'm just really disappointed we didn't give them more because, at one each, we looked like the team that was going to go forward and get the winner.