David Moyes is relishing the prospect of seeing his West Ham United team challenge the best at home and abroad over the coming weeks.
The Hammers will be in action in the Premier League, Emirates FA Cup and UEFA Europa League in the next fortnight, with everything to play for in all three competitions.
First up in a run of seven matches in 22 days is a home Premier League fixture with in-form Wolverhampton Wanderers on Sunday afternoon, followed by a midweek trip to Southampton in the FA Cup fifth round.
A Saturday teatime fixture at Liverpool follows, before the Irons resume their Europa League campaign with a mouth-watering trip to southern Spain to take on Sevilla in the round of 16 first leg.
With Premier League fixtures at home to Aston Villa and away to Tottenham Hotspur sandwiching the second leg at London Stadium on Thursday 17 March, Moyes is excited to see what his players can achieve.
Speaking in his press conference ahead of Sunday's clash with Wolves, the manager also praised Bruno Lage's side and also had warm words for former West Ham centre-forward Sébastien Haller, who leads the UEFA Champions League goalscoring charts for Ajax and spoke positively of Moyes in an interview with The Guardian…
From what I've seen, I think our UEFA Europa League round of 16 tie with Sevilla is the pick of the round.
I think Sevilla have unbelievable history in winning the competition and I know their manager Julen [Lopetegui] and going to Sevilla is a big job.
After Real Madrid, they're probably the in-form team in Spain at the moment so it'll be a really tough game, but I wanted a big game and I want the big teams and I want us to challenge them and really go for it, so Sevilla is a really tough game.
It would be good to go there twice for the final, so it would be good to get used to the stadium, wouldn't it!
I did hope we might draw Rangers [in my home city of Glasgow] as I was looking forward to maybe having a game against them, which would be a really tough game.
Rangers have done brilliantly well to overcome Dortmund as they were one of the only Champions League teams actually knocked out in the knockout play-off round, so great credit to Rangers for getting through.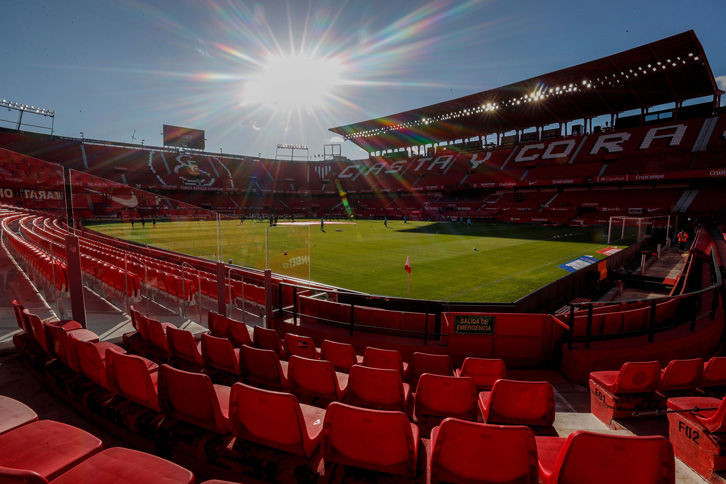 The big thing about getting to Europe was the excitement about it there was around West Ham.
Everybody wanted to go on a European tour and we've had unbelievable support and I'll tell you what, we've played well in Europe and done well in the games and we'll take a big support to Seville, I've no doubt about that. We'll go there and really look forward to it.
At the moment, I believe it's a greater pressure for Sevilla than it is for West Ham as they're used to it, but we want to get used to it and hopefully we'll get even more used to it in the future.
What I do know is it that it's really tough and really difficult [in the part of the Premier League table we're in] because the teams are really strong.
From that point of view, we know we need to play well, but we're pleased we're in there competing and we know we're unbeaten in four games at this moment in time, so we'll take that.
We'd like to have had some more wins but overall we're still in a good place and we hope we're still there come the end of the season.
This is the sort of level we want to be at and competing at.
When you talk about having European football after Christmas time, this is now the moment, so we're going into a really exciting period as a Club.
We've probably not been in this situation for a while in terms of being in cups and challenging at the top of the League.
We're still involved in two cup competitions and we certainly feel we have a chance and we want to be involved further on.
So, you take the games individually and our first game is Wolves in the League, but then we've got one eye on other games as well. We've got an FA Cup tie [at Southampton] and then obviously the Europa League draw has given us Sevilla as well which is really exciting, so I think for the supporters and everybody at West Ham we're in a good place, but we have to improve on that and built on it if we can.
I've been really impressed by Wolves.
If you take out the early games of the season, Wolves have been in really good, consistent form. I think they've got a lot of confidence about their team at the moment and they're playing well.
I am hoping Wolves will be tired, considering they played on Thursday night [at Arsenal, where they conceded in added-time to lose 2-1] but in football sometimes you never know if it's regular games, rest or preparation time that you need.
But we've had very few games this season when I'd say we were in the advantage over the opposition regarding time so we know what it's like.
Wolves would have had a difficult week but sadly that's the way it's going with the games that have been called-off during the COVID. There are a lot of games that will be put in.
We've got a really difficult week when you think we've got to play Sunday, then Wednesday down at Southampton, then we have to go to Liverpool on Saturday, so to have three games in six days becomes very difficult for us.
Sébastien Haller was a great lad for us.
Off the top of my head, he scored a great goal for us at Sheffield United and he scored an unbelievable overhead kick for us which I think was on the verge of being Goal of the Season.
Probably Seb played as big a part in us staying in the division as anybody. His goals were really important in the games if you look at them, so we thank Seb but he had a great opportunity.
Ajax were in the Champions League and it hadn't all been plain sailing or for him here, so we got the money for him which we thought was correct and it was a move that suited us as the time, so he moved on.
But I always thought he had all the abilities to make goals and score goals and he's gone on to prove that. He's a good lad, Seb, and we wish him well.