David Moyes says his West Ham United players need to demand more from themselves and each other if they are to return to the standards they were setting earlier in the season.
The Hammers lost just twice in the 17 matches they contested in all competitions before the November international break but have tasted defeat eight times in the 17 matches they have played since.
That drop in form has seen the Irons drop from third to fifth in the Premier League table and suffer elimination from the Carabao Cup, but all is far from lost, with Moyes' side still within a point of the top four and through to the round of 16 in both the UEFA Europa League and Emirates FA Cup.
However, the manager knows it is far more difficult to improve standards than it is to let them slip, and has challenged his squad to dig deep within themselves to rediscover the consistency they showed in the opening months of the 2021/22 campaign.
We need to get back to the high standards now, that is the demand I am putting on the players

David Moyes
"I think we're needing another rocket to go and get in shape a little bit," said Moyes, speaking to newspaper reporters in his pre-match press conference ahead of Tuesday's Premier League fixture with Watford at London Stadium.
"We need to get back to the high standards now. That is the demand I am putting on the players. We've got quite a few players who have shown really good levels and maybe not quite reached that probably since the November international break. That was where I would say, when we came back, we've been a little bit up and down since then.
"We could do with getting to a consistent level and consistent standards of our form. It is not that I think our results have been bad, it's just that some of the players have played really well and some have played really poorly by their standards. So, we're trying to get three or four of them back to those high levels."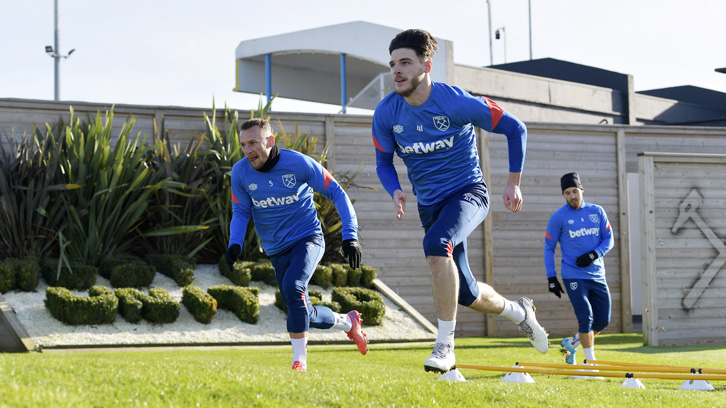 While Moyes and his staff will do everything within their power to give the players the tools they need to succeed, once they cross the white line it is down to those same players to produce the level of performances required to win football matches.
"[It comes] from within, this is the challenge to the players now to step up and go again," he confirmed. "I'm quite looking forward to it to see if they can do it. We'll learn a lot from them in the coming months to see if they can maintain a challenge - or do we really need to go into the transfer market and make some more signings?
"Maybe this group of players are going to show you that the right thing to do was not [sign anyone]. But if they don't, then maybe that's what we'll have to do to make sure we keep the standards up.
"They've started the season, in the main, really well. A good return for the first half, we're challenging in a strong position and hoping we can keep it up."