Vladimír Coufal believes West Ham United will reap the rewards of a testing pre-season when the Premier League campaign kicks-off at home to Manchester City next weekend.
The Hammers completed their preparations for the 2022/23 campaign with a competitive, at times feisty and physically intense goalless draw at French Ligue 1 club RC Lens on Saturday evening.
The game may have ended without either net bulging, but the Irons will still draw value from a 90-minute workout played on a warm evening in northern France in front of a passionate, 38,000 capacity crowd at a sold-out Stade Bollaert-Delelis.
For Coufal, who is now fully fit after undergoing corrective hernia surgery in February, the match was another step in the right direction, particularly as he was required to play as both a right-back and right wing-back as manager David Moyes tinkered with his tactical approach.
The Czech Republic international just loves playing football and is excited for the start of his third season in Claret and Blue.
Coufi, that was a tough game in a tough atmosphere against good opposition?
"Yes, it was, but we knew it would be because we saw them in the video meeting on Friday and they looked really good and really sharp on the ball and without the ball their pressing was really unpleasant. Last week, they beat Inter Milan, so they're a good team and were a good test for us."
We got better as the game went on, particularly when we slowed their wing-backs, who were integral to their 3-4-3 system?
"Yes, I think so. They were a different sort of opponent to the Premier League, so alive and so sharp, so we needed to get used to it and I think after 15 or 20 minutes we did it and we took control of the game and the second half was not how we wanted, but I would say much better. We hit the bar, but they did as well, so hopefully we are ready for next Sunday."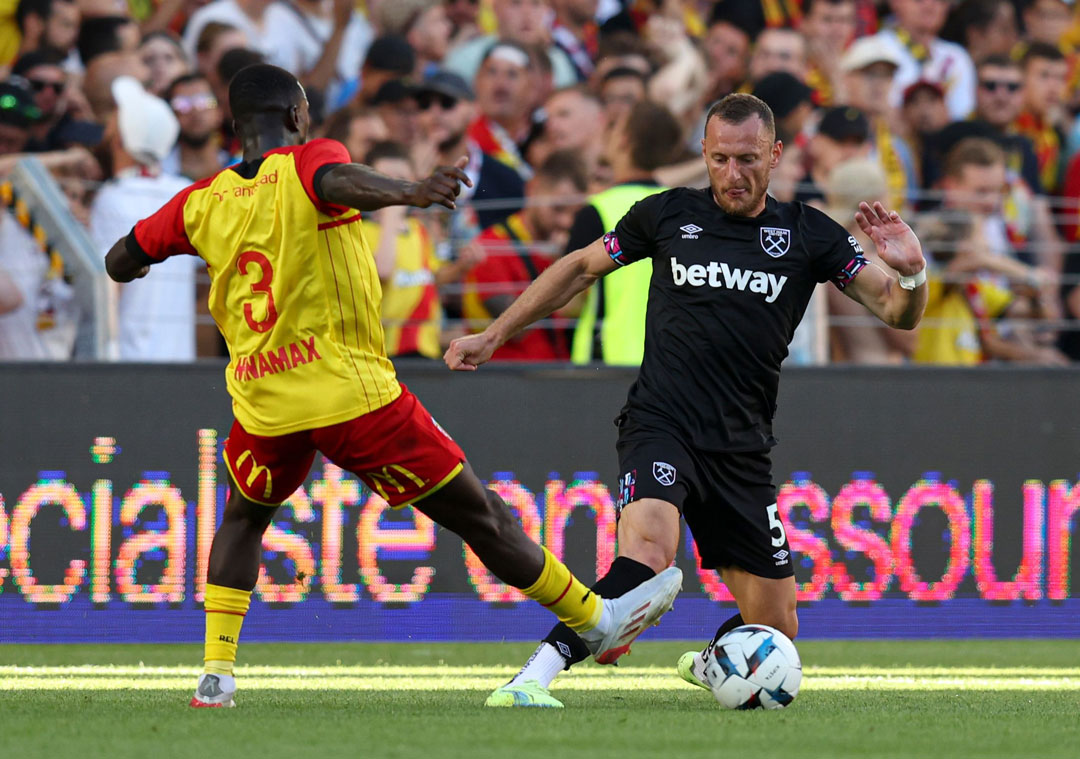 We tried some different tactical things during the game, starting 4-2-3-1, then going to 3-4-2-1 in the second half?
"Yes, we are trying we are trying to build some process how to play, but it's up to manager to explain it to the camera. We are on the pitch just listening to what he wants and it's up to him."
How do you enjoy playing as a wing-back, considering how much you enjoy attacking and providing assists?
"Yes, it's a good position, but I'm also enjoying to be on the pitch so it doesn't matter which position I play. Wing-back is more attacking but also I have some work to do in defence, so to be absolutely honest it's not a big difference for me because I'm trying to play very offensive also from full-back. It's maybe a bit less difficult because, at wing-back you are still 1v1 for the whole 90 minutes against one player, so it's a bit more difficult. It's up to the manager how we will play."
How are you feeling physically, six months on from your hernia operation?
"Yeah, I feel perfect now. I did a lot of work in the pre-season. We had a really tough pre-season and we are still we are still a little bit leggy, so hopefully we will take a good rest now and we will be ready for the Man City game."
We know how much you love football, so how excited are you about the Manchester City game, which is arguably the biggest test in world football these days?
"It's a good start of the season. Yeah, how you said, it's almost the best team in the world and we will see how good we are in the start of the new season. Of course, I'm excited! I'm always excited to play Premier League games, especially at London Stadium in front of our fans! I'm expecting really a good atmosphere and hopefully our fans will be our 12th player."