Vladimír Coufal is looking forward to the remainder of West Ham United's 2021/22 season, with a largely successful campaign reaching its culmination in the coming weeks.
The No5 made his return to action on Sunday afternoon, starting the 2-0 defeat at Brentford Community Stadium – his first appearance since the draw at Leicester City on 13 February.
It was following the game at King Power Stadium that Coufal underwent successful surgery on a groin injury and – having been absent for eight games in all competitions and appeared on the bench in the Hammers' last two – he returned to the starting XI against the Bees. 
While his return did not play out as the 29-year-old will have hoped, Coufal was nevertheless pleased to be back in action ahead of his side's final six Premier League games of the season – as well as the monumental prospect of a winner-takes-all UEFA Europa League quarter-final second leg at Olympique Lyonnais on Thursday.
With Coufal once again fit and firing, the right-back hopes to play his part in potentially another memorable end to a season in Claret & Blue.

It's been seven weeks after the surgery. It's been a long time but I have to say many thanks to all of our staff.
That includes the physio and fitness coaches, mainly Rich [Collinge], Josh [Ewens] and Nick [Davies], and also a big thanks to my wife because she looked after me like a third child, because my first day after surgery, I could do almost nothing – I just lay on the sofa! 
It was unpleasant and I was worse than a small kid, so big thanks to all the staff who looked after me and now I feel really good and confident, but I had in my mind a better return with a win, but unfortunately that's football.

The guys did an unbelievable job against Lyon [in the first leg], that's why we can still go through to the semi-finals of the Europa League.
Now, it's a big game ahead of us on Thursday, so we need to do a very good recovery after today, and just look ahead.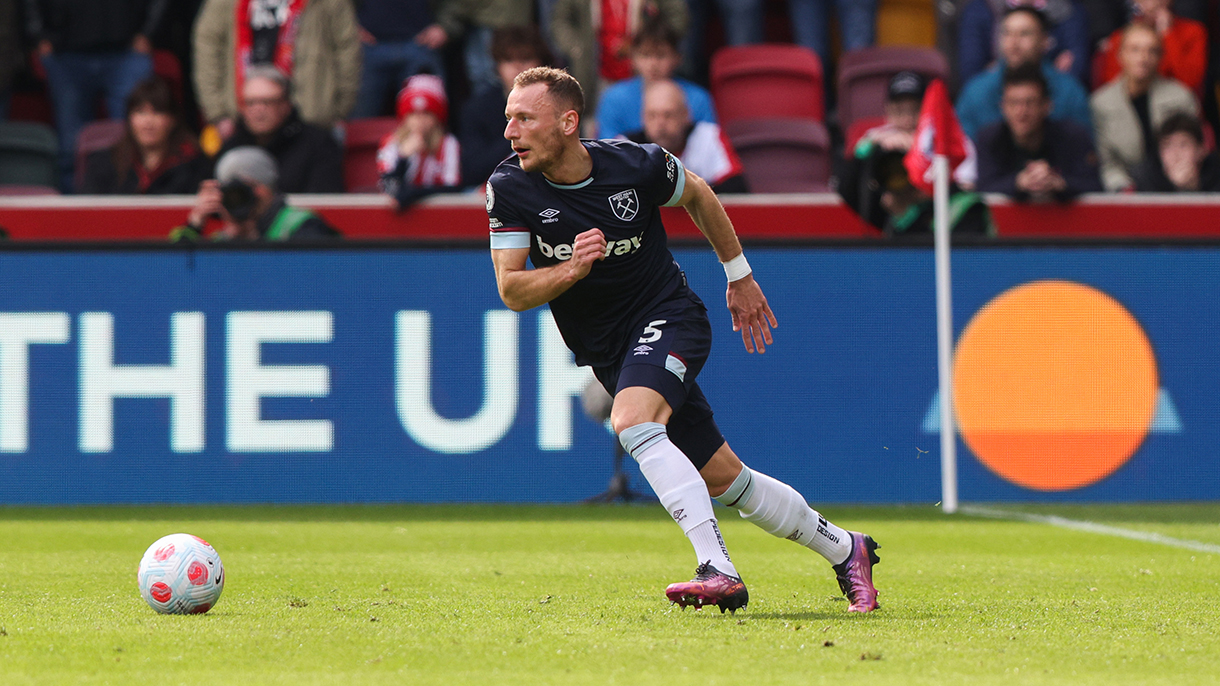 Hopefully we still have nine or ten games to go [if we reach the Europa League semi-finals or final] this season.
When we decided to have the surgery, the plan was to come back as soon as possible. 
Professor [Ernest] Schilders, who did the surgery, did a really good job, and he said after six weeks that I could rejoin the team, but after five weeks I was ready to play. 
I was on the bench against Everton, against Lyon, and now finally, today, I came back to the pitch, so I'm really grateful.
It was planned I would be ready after the international break and still we have a very important part of the season to go, so we'll keep going.

Even though we lost the [Brentford] game, I have a smile on my face because finally I could enjoy football with no pain in my body.
Before the surgery, I was struggling from the beginning of the season and it wasn't a good feeling. 
Now, finally, I enjoy the football and I enjoy every session again, so I felt good to be back on the pitch again – just disappointed for the result.

We played against Chelsea [for Slavia Prague in the Europa League quarter-finals in 2018/19] and were unlucky [to lose 5-3 on aggregate].
We finished against Chelsea, but hopefully we can expect another amazing game on Thursday, hopefully with [reaching] the semi-final.