It is 29 years to the day since the great Bobby Moore passed, aged just 51, and emotional tributes were paid on the visit of this Sunday's opponents Wolverhampton Wanderers...
The world of football was rocked to the core by the passing of Bobby Moore OBE, when he tragically lost his brave battle with liver cancer in his Putney Heath home at 6.36am on this day exactly 29 years ago, Wednesday 24 February 1993, aged just 51.
Ten days later, on an emotional afternoon at the Boleyn Ground, that footballing family united in grief and as one to salute England's 1966 FIFA World Cup-winning captain and the Hammers ' home-grown legend, who made 647 outings during his 16 seasons down West Ham way.
Incidentally, on a day when 90 minutes of second-tier football played second-fiddle to an afternoon of reflection, reverence and remembrance, this Sunday's Premier League visitors to London Stadium, Wolverhampton Wanderers, were also the opponents for our first home match  at the Boleyn Ground since the loss of the East End's favourite son.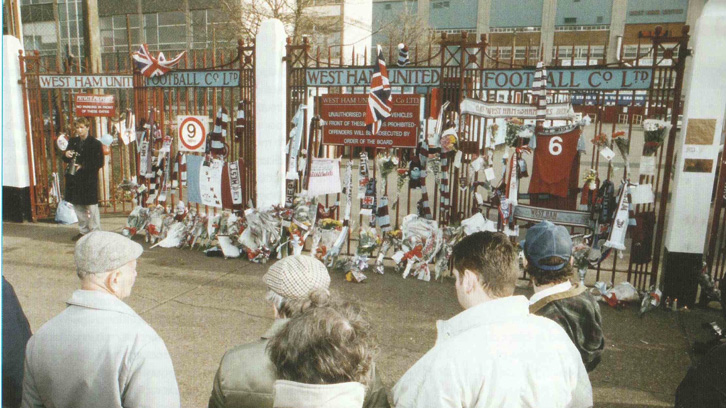 With Green Street's main forecourt having been turned into a breathtaking Claret and Blue shrine during the days following Mooro's death, there were equally emotional scenes inside the stadium, where a crowd of 24,679 – Upton Park's biggest of the season – saw fellow World Cup winners Martin Peters and Sir Geoff Hurst accompany their FA Cup and European Cup Winners' Cup manager Ron Greenwood in carrying a large floral No6 shirt to the centre-spot.
The trio were then joined along the touchline by many of Mooro's former teammates, including manager Billy Bonds, his assistant Harry Redknapp – a very close friend of Bobby's – Ronnie Boyce and Frank Lampard Senior.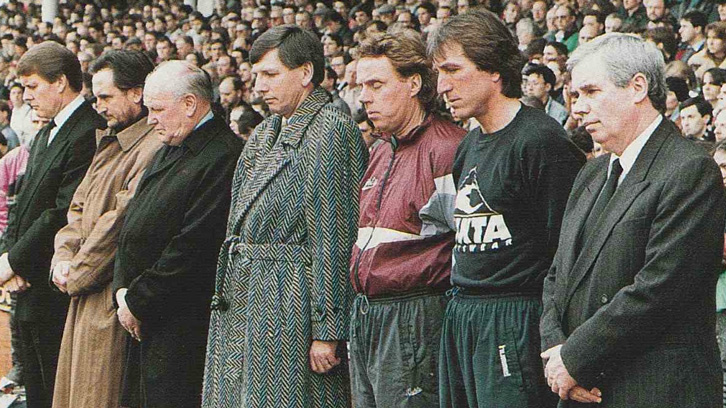 Indeed, that iconic jersey was to be rested for the day – skipper Ian Bishop wearing No12 instead – ahead of being formally retired some 15 years later, while a minute's silence was preceded by the replaying of a recording of Bobby's finest moment in the shirt that he had made his own… the lifting of the 1965 Cup Winners' Cup at Wembley.
For the record, watched by Moore's former England teammate, predecessor as captain and Wolves legend Billy Wright, Steve Bull put the ninth-placed visitors ahead on the hour-mark before Trevor Morley quickly levelled. A Julian Dicks penalty was then followed by Matty Holmes' late strike to give the Hammers the 3-1 win that kept them in second spot and firmly on course for promotion.
But unmistakably, on a day of fitting tributes, football had been put firmly into perspective by the premature and poignant passing of one of the greatest footballers of all time…
"Bobby Moore had played alongside my Dad – Ken senior – when they lifted the FA Cup (1964) and European Cup Winners Cup (1965) and, arriving for our first home game since his passing, it was incredible to see all the floral tributes and memorabilia covering the Boleyn Ground forecourt. Our 3-1 victory over Wolverhampton Wanderers paled into insignificance on an emotional day for everyone connected with West Ham United and the football world."
Kenny Brown
"The whole of football was stunned by Bobby Moore's death and the sight of everyone paying tribute to the Club's World Cup winning captain before our game against Wolves is one of the biggest memories of my entire career. Coming on as a substitute, I made it 3-1 with three minutes remaining with an angled shot that flew in-off the far post. It was so special to score my first-ever league goal for West Ham United on an emotional afternoon at the Boleyn Ground, where so many Club legends were looking on. We were all so glad that we won because it was really important to make that afternoon a fitting tribute to the great Bobby Moore."
Matty Holmes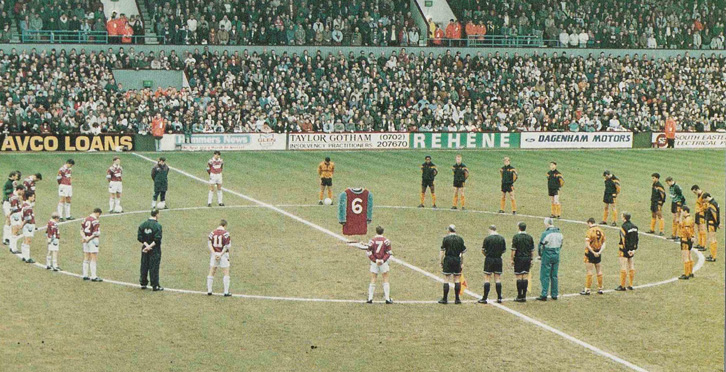 "It was very emotional – an opportunity for all West Ham United fans to pay their respects to Mooro."
Sir Geoff Hurst
"We were pleased to take part in anything in the memory of Bobby. It was heart-wrenching to see what the supporters had laid outside."
Martin Peters
"I've not only lost a former teammate I admired immensely, but a mate. I was awestruck from the first time I met Bobby – as a 12-year-old kid receiving a medal he presented to our Sunday side. And I have continued to idolise him. He always had presence about him. Everyone looked up to Bobby."
Billy Bonds
"We were linked by the colour of our hair and the captaincy of our country. When I quit playing dear Bobby went on to step in."
Billy Wright