West Ham Tv
Ricardo Vaz Tê on THAT goal, being a West Ham United fan forever and his nomadic football career
Few players have played a bigger role in West Ham United's recent history than Ricardo Vaz Tê.
It is fair to say that, had the Portuguese forward not found the top-right corner of the net at Wembley Stadium two minutes from the end of the Hammers' 2012 Championship Play-Off final with Blackpool, we may not be playing in the UEFA Europa League this season.
For it was Vaz Tê's emphatic, accurate finish that secured a dramatic, unforgettable 2-1 victory for the Irons and promotion back to the Premier League, laying the first foundations for the success the Club achieved in finishing sixth last season.
Of course, much proverbial water has passed under the bridge in the nine-plus years since Vaz Tê's strike, but had West Ham not won that Play-Off final and not returned to the top flight after a single season in the second tier, the Club's future would undoubtedly have turned out differently.
As it was, the unlikely hero, who had joined the Hammers from Barnsley four months previously after four injury-plagued seasons that saw him play 22 matches for three different clubs in three different countries, scored a goal that all of us will cherish forever.
Vaz Tê departed east London midway through the 2014/15 season and, since then, much has changed at the Club, but he has kept a supportive eye on proceedings and was all smiles when he made a welcome return for our 4-1 Premier League win over Leicester City in August.
We're here today talking about such things, which is wonderful, and I'm always overwhelmed to even go back in my memory to that day

Ricardo Vaz Tê
"It was a moment that obviously shaped my career and my life," he revealed, harking back to that sunny afternoon in May 2012. "We're here today talking about such things, which is wonderful, and I'm always overwhelmed to even go back in my memory to that day.
"Many players can have a career and sometimes they can just drift off and have nothing marking their career, so I'm very fortunate to have that one specific moment in time."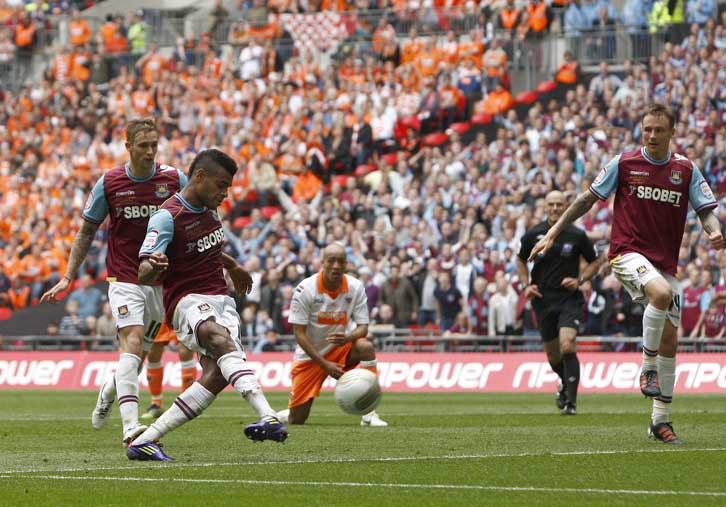 The goal itself, and Vaz Tê's shirtless celebration that followed, are both moments that rank near the top of any list of memorable West Ham moments.
Kevin Nolan raced onto Jack Collison's hopeful ball down the left channel and crossed low into the penalty area, where Carlton Cole took a touch before hooking the ball away from Gilks and into the path of the No12, who opened up his body and fired high into the top right-hand corner.
"I think most of the time people don't actually look at Kev's effort there," Vaz Tê observed. "It was a huge ball forward and he sprinted after 80-odd minutes, so to manage to get there and put Coley through, obviously Coley stretching, and I was the fortunate one as it kind of fell on my foot and I managed to put it in the back of the net."
When Vaz Tê says 'back of the net', he means high into the top right-hand corner, over goalkeeper Matt Gilks close enough to the crossbar to give everyone a split-second of panic before the net bulged and the celebrations could begin.
The man himself explained: "I think only when you are at that level, in a pressure moment, when things are so quick, the boys can understand what I meant, as you can see the scenario moving slowly and I had to make a decision in milliseconds, but we're kind of built for that."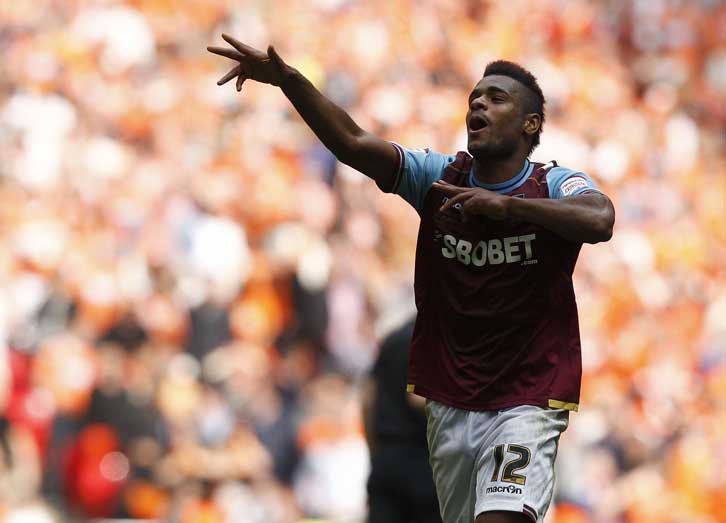 While Vaz Tê celebrated his goal by ripping off his shirt and flexing his stunning physique before being engulfed by his teammates, and was spotted dancing with a broad smile on his face at the final whistle.
However, when the players lifted the Play-Off trophy and celebrated with 40,000-plus supporters on the Wembley Stadium pitch, the match-winner instead chose to take a few quiet moments to himself in the dressing room, before going out for dinner with his brother.
Vaz Tê explained: "That's the way I am and, to be fair, it was very overwhelming for me considering a year or two before that I was nowhere, struggling with injury in my right knee trying to get back, so to have that moment was very overwhelming.
"Even now, to even go there by thinking about it is kind of a teary moment, so I was very fortunate and I didn't want to get caught up in the moment."
Nearly a decade on, Vaz Tê received another rapturous reception when he was presented to the Claret and Blue Army at London Stadium. It is a relationship the 34-year-old is hugely grateful for.
"I'm so grateful for that. The Club will forever be in my heart and forever part of me. It gave me so much. People don't realise I only spent three years here in West Ham, and those three years changed my life as I met my wife and I have kids, my whole life.
"Today, I am forever grateful and forever a Hammer and even if you don't want me I'm still a West Ham supporter!"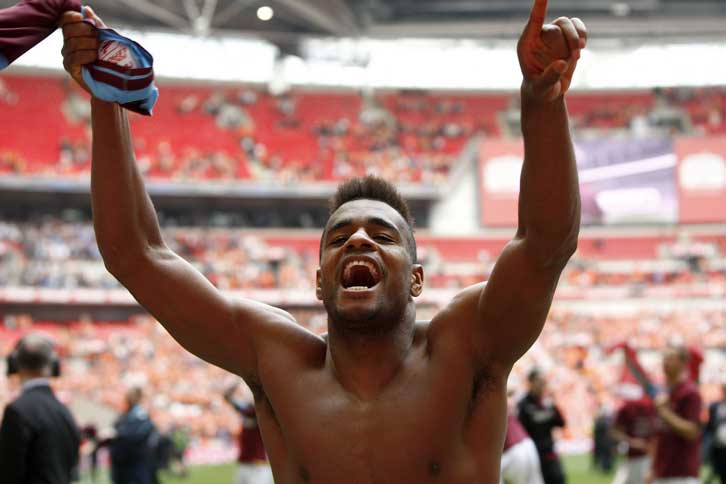 Prior to joining West Ham, Vaz Tê played in the UEFA Europa League for Bolton Wanderers as a teenager, and he believes the present-day Irons have what it takes to thrive in the competition this season under manager David Moyes.
"They look solid, they look strong with a very specific way of playing," he observed. "They seem connected, they know what they're doing, they're working together and everybody knows their job and everybody is coming to fruition.
"We have seen Michail Antonio becoming a striker and flourishing, Declan Rice is monumental in the midfielder and Saïd Benrahma is a great player.
"Hopefully all the boys will step up this season, we have a big squad and I think we'll manage fine, I do believe that."
As for Vaz Tê himself, since leaving West Ham in January 2015, he has forged a career very different from the norm, playing for Turkish club Akhisar Belediyespor, Charlton Athletic and Chinese sides Henan Jianye and Qingdao Huanghai before spending last season in Portugal with Portimonense.
For a player who speaks a number of languages and used to spend his downtime reading books on a wide variety of topics, travelling the world has been a welcome and eye-opening experience.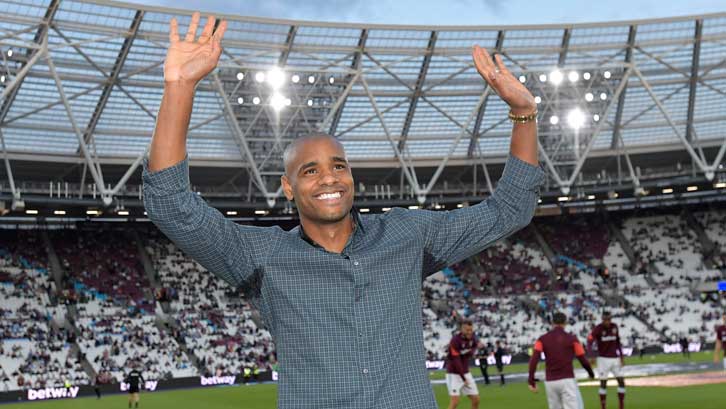 "It's been fantastic," he confirmed. "It's helped me grow as a football player, but mainly helped me to grow as a person. It helped me look at things differently through different cultures and take more meaning into life because there are things we value here that they don't really value in Turkey and things they value in Turkey [that we don't value here], then China is a completely different world, so it's been a wonderful experience.
"It's been tough at times, because it's not something I'm used to, but a wonderful experience because you really have to put life in perspective, especially in China."
So, while his goal helped West Ham plan for their future, what does the future hold for the man himself? Well, he is currently looking for a club and is not ready to hang his boots up just yet!
"I don't feel 34, which is great!" he said, with a trademark smile. "Actually, for the first time for the last five or six years, I feel really good and injury-free, so I think I'll give it a go for one more season.
"I'm taking it year-by-year. If I feel great, I'll go on, but if it don't I'll stop, and at the moment I feel great so I'll go one more year, for sure."