On this day
On This Day: David Cross scores four as West Ham United win at Tottenham Hotspur
It is exactly 40 years since David Cross produced one of the best one-man performances in West Ham United history.
After winning the FA Cup by shocking Arsenal at Wembley in May 1980, the Hammers had been promoted from the Second Division as champions a year later, winning 28 and losing just four of their 42 matches on their way to collecting 66 points.
John Lyall's side had also given notice that they would handle life back in the top-flight by defeating First Division Tottenham Hotspur and Coventry City on their way to the League Cup final. There, the Irons pushed Liverpool all the way, drawing 1-1 before being edged out 2-1 in the replay at Villa Park.
West Ham kicked-off the 1981/82 First Division season at home to Brighton & Hove Albion on Saturday 29 August 1981. The game ended in a 1-1 draw, with Ray Stewart scoring the hosts' goal from the penalty spot.
Four nights later, on Wednesday 2 September, the Hammers made the short trip to White Hart Lane to face FA Cup holders Tottenham Hotspur, who had themselves won 3-1 at Middlesbrough in their opening fixture.
What happened next on a hot evening in north London shocked the 41,000 supporters present, and the wider football world.
Cross, who had led the line heroically as a lone centre-forward in the FA Cup final, enjoyed the night of his life, scoring all four goals past Spurs' newly-signed England international goalkeeper Ray Clemence in a 4-0 West Ham win.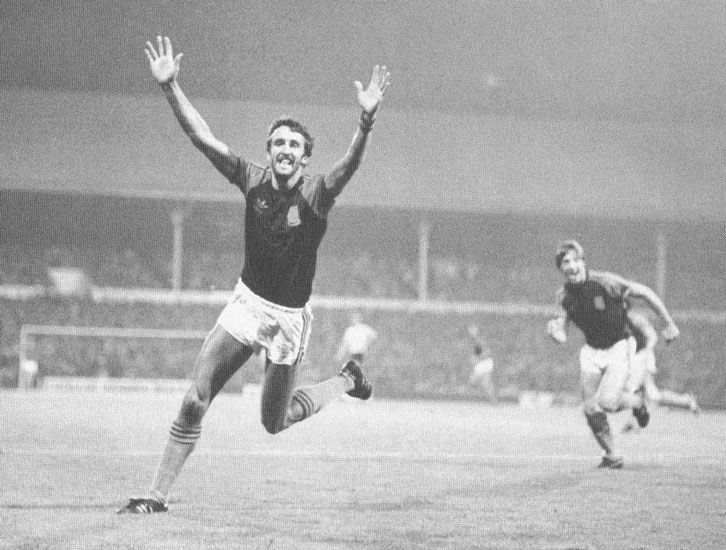 The first came before half-time, when Cross converted a cross from Jimmy Neighbour, before the 30-year-old took his game to another level after the break, netting three more times to complete a stunning success.
The goals were the Lancashire-born striker's first in seven matches dating back to a 5-1 Second Division success at Grimsby Town on 11 April 1981 when, amazingly, he had also scored four goals.
Four decades on, Cross reflected on his unforgettable night for himself and the Club he had joined from West Bromwich Albion in December 1977.
"Following promotion, we'd only drawn with Brighton & Hove Albion on the opening day of the 1981/82 season and, facing tricky away games at Tottenham Hotspur and Sunderland, we needed to gain momentum and build a platform for the season," said Cross, who turns 70 in December.
"I knew how important it was for the West Ham fans to beat Spurs but to win 4-0 at White Hart Lane and score all four goals was just a dream come true. I was a goal-scorer, who played in a team with so many players who loved creating goals – with the likes of Trevor Brooking, Alan Devonshire and Pat Holland, West Ham United was the perfect club for me.
"I'd started out at Rochdale on the right wing and when I was asked to play centre-forward, I turned to my mate Bobby Downes for advice. 'Wherever you are, make sure that whoever's got the ball can find you,' he said. 'When you get it, retain possession, lay it off and quickly get into the penalty box to try and score.' That's all I did for the next 20 years!"
Cross was on target again – just once – as West Ham won 2-0 at Sunderland on Saturday 5 September to go top of the First Division table, where they would remain for three weeks.
Lyall's team would end the 1981/82 campaign in ninth place, with Cross top of the scoring charts with 16 league goals.
Enjoy his four-goal show at Spurs again here!