On this day
Happy birthday Frank O'Farrell - the oldest living West Ham United player!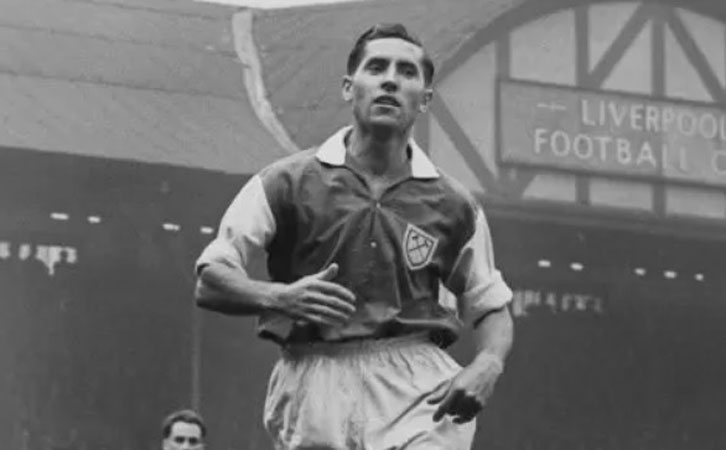 West Ham United's oldest living former player, Frank O'Farrell, celebrates his 94th birthday today...
Forget football. As a youngster, all this young Irish lad ever wanted to do was drive trains like his Dad.
But looking back, Frank O'Farrell, who turns 94 on 9 October, was so pleased that he crossed the tracks to enjoy a long and distinguished career in football.
"I've been blessed and I can have no complaints about the opportunities that life has given me," said the former West Ham United wing-half, who sailed across the Irish Sea to join the Hammers from the now defunct Cork United in January 1948.
"My father drove steam locomotives on Ireland's railways and I'd spent a few years as a fireman standing on the footplate, hurriedly shovelling all the coal into the firebox. Football was easy after that!"
I've got very happy memories of my days at West Ham and I'll always look back and remember the place with fondness

Frank O'Farrell
Having been brought to east London by Charlie Paynter, frustrated Frank was not given his first-team chance until Ted Fenton moved into the Hammers hot-seat.
Ironically, with the man who signed him moving aside after 50 years loyal service as player, trainer, manager and secretary, O'Farrell was finally given a coveted starting place for Paynter's Testimonial in September 1950.
"I'd come over to England with a few boys from Dublin but I just hadn't been getting a game," our oldest-surviving Hammer recalled. "And then Ted came up to me out of the blue and said: 'You're playing tonight!' Having only gone along to see how we'd do against Arsenal, suddenly, I knew that was my chance." 
Certainly, with 18,000 supporters looking on from the Boleyn Ground terraces, Frank grabbed that rare opportunity with both hands as second-tier West Ham beat the high-flying FA Cup holders.
A league debut at Notts County followed just a few weeks later and, with Fenton now at the Hammers helm, O'Farrell went on to make 213 appearances in Claret and Blue, scoring eight times as the new boss and innovative team-mate, Malcolm Allison, started laying the foundations upon which the Club's long-awaited return to the First Division in 1958 would be built.
"After waiting so long for my first-team opportunities, I went on to have a very happy time at West Ham," purred Cork-born Frank in his genial Irish accent. "Malcolm was a big influence on us all and he really modernised the club. He coached us and inspired us to do things better and differently. 
"We lived in digs and still had food rationing in those days but West Ham was a considerate club and they would send us for lunch at the Denmark Inn."
The nine-times capped Republic of Ireland international would then spend his afternoons talking tactics at Cassettari's Café in Barking Road, where Allison shared his new-fangled ideas with an enthusiastic and eager band of team-mates.
"We'd all sit there moving cups and saucers around the table like players on a pitch," he smiled. "They were good times and I've got very happy memories of my days at West Ham and I'll always look back and remember the place with fondness."
In Autumn 1956, O'Farrell headed to Preston North End as Eddie Lewis moved to the Hammers.
"I was sad to leave," he said, looking back on the swap-deal that, nevertheless, saw him enjoy a five-year spell at Deepdale. "But on the other hand, it meant that I had the great privilege to play with Sir Tom Finney."
After hanging up his boots, O'Farrell cut his managerial teeth at Weymouth, Torquay United and Leicester City – whom he steered to the 1969 FA Cup final – before taking charge at Manchester United in 1971, embracing on the daunting task of replacing Sir Matt Busby.
While he had the likes of Bobby Charlton, Denis Law and, occasionally, George Best at his disposal, with the Red Devils in decline, O'Farrell quickly discovered that he was never far away from Busby's long, lingering shadow.
"Results didn't go that well and it was difficult working with some of the senior players, who'd grown up under Sir Matt," he conceded. "And George wasn't always there, so sometimes we had to go looking for him in Spain and all kinds of places. All I'd say is that I suppose they all played as well for me as they could have done."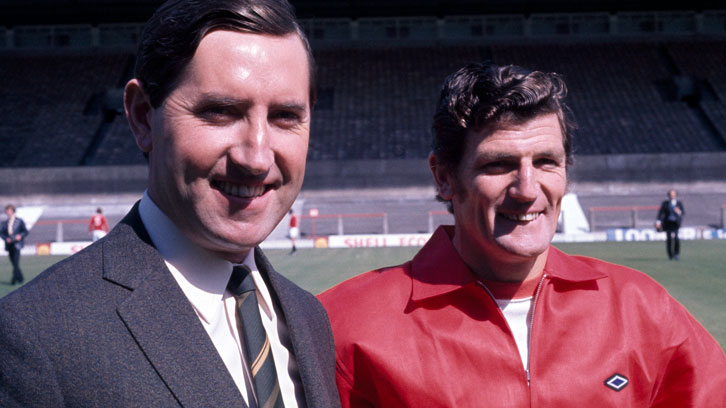 The Reds' eleventh defeat of the season was the catalyst for Frank's departure in December 1972 and, one year later, he took over the reins at Cardiff City before then trying his hand on the international stage. 
"I managed Iran for the Shah before the revolution," recalls O'Farrell, who became a national hero after guiding the country to victory over Kuwait in the 1976 Asian Cup final.
A return to Torquay followed, ahead of another brief assignment in the Middle East with Al-Shaab, before he headed back to Plainmoor for a third and final spell.
Still living in the South West, Frank watches the fortunes of his former clubs on the television.
"It's certainly a good time to be a player or a manager with the salaries they earn now," he observed, mindfully comparing the riches of the Premier League to post-war life down West Ham way in the early 1950s.
"Life changes and football changes but the important thing for me is that all these years on, the game's retained its popularity and fans still want to go and support their teams.
"There are always going to be different things coming along. Different challenges are thrown at you throughout your time and all you can do is get on and do your best.
"Although I've had to give up driving, I'm generally well for my age and can't have any complaints about my career or my life. Well, maybe there's only one small tinge of disappointment – I never got to drive that steam train!"
Everyone at West Ham United would like to wish Frank a very happy birthday!