Academy
Kai Corbett: U18s can be proud of a good team performance

Five goals, a clean sheet, and a professional performance that yielded safe passage into the FA Youth Cup fifth round.
West Ham United U18s' trip to Carrow Road on Monday afternoon was one to savour, especially for forward Kai Corbett, who produced an excellent goal to go with two assists in the 5-0 win over Norwich U18s.
The 18-year-old played his role in an impressive Cup performance across the board, with two goals from Ademipo Odubeko – the first from a Corbett pass – and another from Jayden Fevrier gifting the young Hammers a 3-0 lead at the break.
Norwich demonstrated what they were capable of with a sustained spell of pressure after half-time, hitting the post through Abu Kamara before Jonathan Rowe drew a fine reaction save from Krisztian Hegyi at close range.
Having ridden out the storm, the Hammers reasserted themselves and – with Odubeko having also struck the woodwork – Corbett's corner kick set up Jamal Baptiste before the winger collected an Odubeko pass, beat two players and arrowed a shot in from outside the area.
"It was just a really good team performance," Corbett reflected at full-time. "Everyone worked really hard and wanted the win really badly, but we tried not to put too much pressure on ourselves. 
"We, as an U18s and U23s group, haven't really had that many big wins this season – so to have one, a 5-0 win, does give us a lot of confidence in our ability.
"It's important in knockout football to try and get a grip of the game early on and try to get one or two goals early on, which is what we did. 
"Going into half-time 3-0 up does help, but it's no guarantee, so we had to make sure we went out in the second half to reproduce our first-half performance, which we achieved.
"Hegyi's save was a big one. If you concede in that kind of moment, it could change the whole game – they could have come back – but his save gave us even more confidence so that we could go on and win like we did."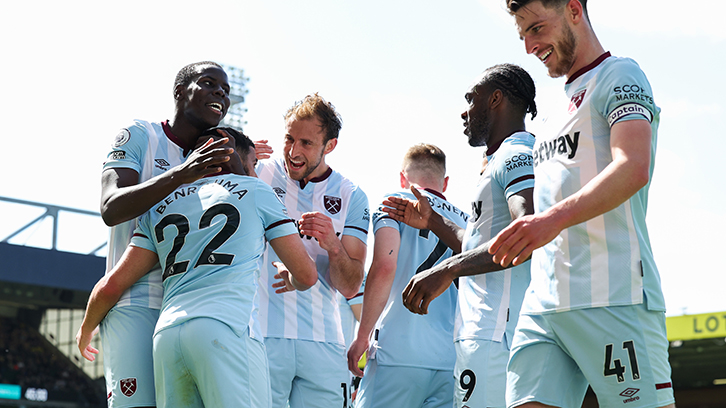 With every member of the team playing their part in the performance, the Hammers emerged from Carrow Road with credit to their collective name.
Offensively, a front four led by Odubeko, who was flanked by Corbett and Fevrier with Kamarai Swyer in the No10 role, produced some exciting moments as a combined unit.
Corbett reflected: "Funnily enough, it's the first time we've all played together. 
"Some of us have been with the U23s sometimes, the U18s sometimes, and obviously Mipo's been with the first team now and then, so playing together was a little bit of a challenge at first, but it worked out well and paid off.
"[My goal] wasn't too bad! It was good for me to get a goal, but obviously the team's result is better."
Progressing to the fifth round of the Youth Cup, Corbett is keen to see his teammates continue to produce the hard graft that led to Monday's result.
In doing so, he hopes to continue to make the most of the chance to play at first-team stadia, like Carrow Road.
He concluded: "You get that opportunity in Papa John's Trophy games, but in the Youth Cup it's good as well because there are younger players involved.
"When you come to places like here, everyone looks round and can think 'it's a little bit scary' – but we all handled it really well. It's a good experience for us all.
"We'll see who we get in the draw. In the fifth round, we'll try and play how we did on Monday – and try and get the same result."