On this day
My West Ham Scrapbook - Matty Taylor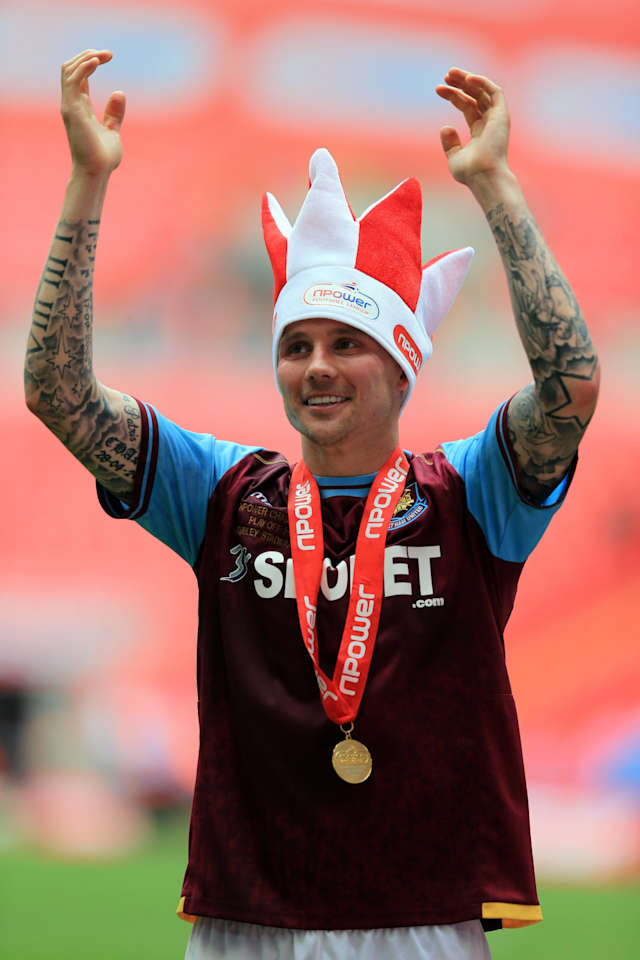 It is ten years to the day since midfielder Matty Taylor joined West Ham United and embarked on a successful three-season stay in east London...
A GIANT CLUB
I was on pre-season tour with Bolton in July 2011 when I was told the club had received a call from someone at West Ham asking me whether I wanted to go there.
I spoke to the Bolton manager and he said it was up to me. I had one year left on my contract there and I was settled in the North West with my family, but I decided it was time for me to go as West Ham were offering me a longer contract and more long-term security.
I spoke to Sam Allardyce and it was really easy to conclude the deal and, despite it meaning dropping down from the Premier League to the Championship, it was a no-brainer.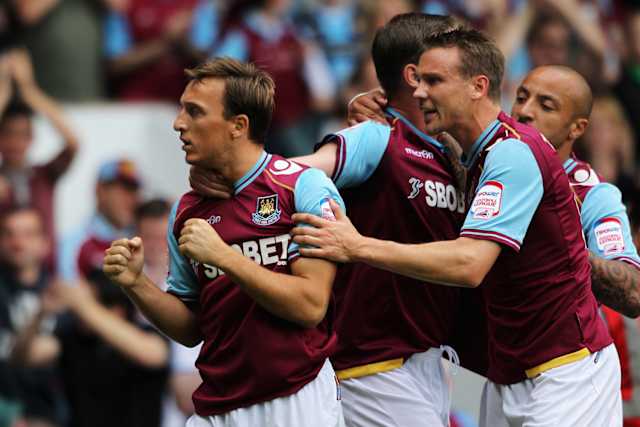 I was actually naïve as to how big a club West Ham was until I had been there for three or four games, when I realised there were supporters literally all over the country.
That first season was probably the most expectation I have played under in my entire career as, having spent most of my career in the Premier League where your expectation is usually to get to 40 points as soon as possible, we were expected to win every game.
In my opinion, we had the strongest squad in the division and we kicked-off against Cardiff City in front of 35,000 at Upton Park, dominated the game – and lost in the last minute!
Even so, it was a phenomenal experience.
OFF THE MARK
We recovered from our home defeat by Cardiff and won some important games at Doncaster Rovers, Watford and Nottingham Forest to get ourselves up towards the top of the table, but we still hadn't won at home when we hosted my old club Portsmouth on 10 September 2011.
We had a new squad, but Sam Allardyce would not have taken the job if he had not been confident we could get promoted.
As I've said, we had huge expectation on us and I think the fans needed a home win to reassure them we had the players capable of fulfilling their expectations.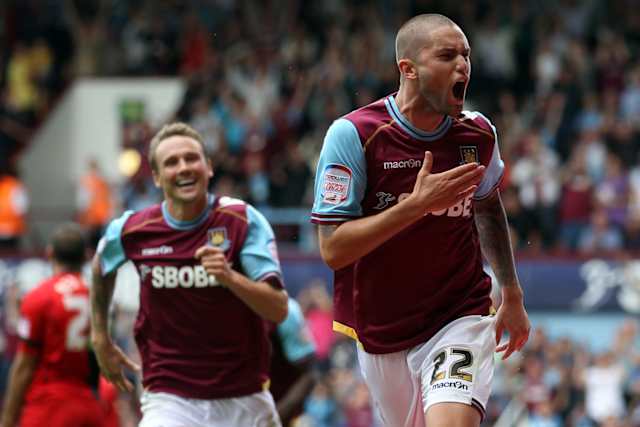 Portsmouth themselves were in a transitional period and ended the season by being relegated, but this game turned out to be a topsy-turvy affair.
I opened the scoring with a free-kick and it was nice to get my first goal for the club.
The goals kept flying in but thankfully we scored four and they score three, so we got the win we needed.
SEEING RED
We continued to build momentum as the season went on and we were right in the middle of the race for automatic promotion by the end of January 2012.
In fact, when we hosted Southampton on Valentine's Day at Upton Park, we kicked-off top of the table.
Having played for the Saints' fiercest rivals Portsmouth for six-and-a-half years, I was always going to get a lot of stick from their fans.
We'd got ourselves in front when Mark Noble scored a penalty, but then Nobes was fouled again by their striker Billy Sharp and I hate to admit it but I lost my cool that night.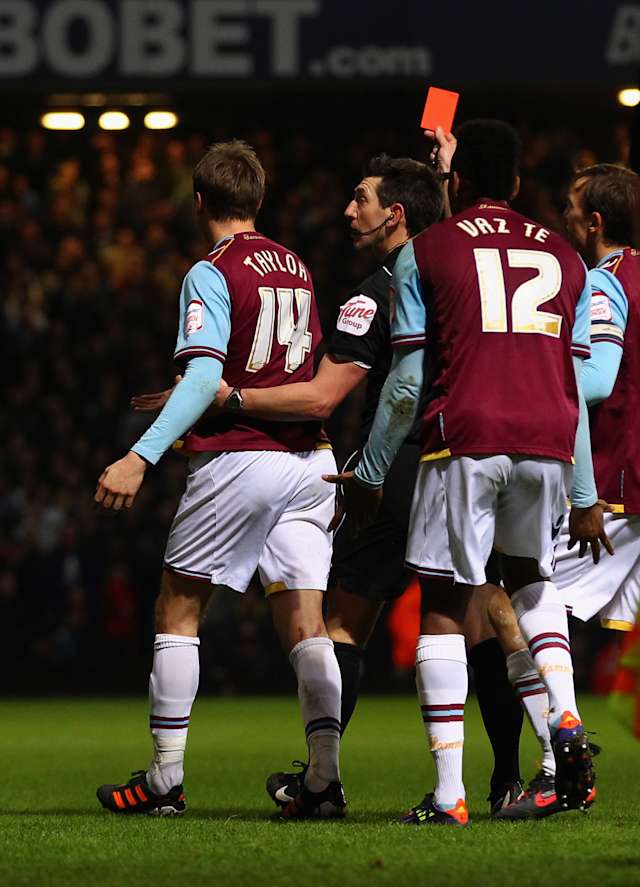 The red mist came down, I grabbed Billy around the throat and he went to ground.
I was rightly sent-off for my actions. I can remember the referee, Lee Probert, came over and said to me 'Matty, what have you done?!' and then he showed me the red card.
Southampton got a late equaliser and we drew a few games and eventually finished third, while they went up automatically.
'THANK GOODNESS FOR THAT!'
Finishing third meant we went into the Play-Offs. We beat Cardiff comfortably enough over two legs and that set up a final with Blackpool.
What a day that was!
My lasting memory of that day at Wembley was not the ball I put over the top for Carlton Cole for his opening goal, but the mistake I made in the first few minutes that nearly cost us a goal.
A long diagonal ball came over the top and I tried to chest it back to Robert Green, it fell to Stephen Dobbie and Greeny had to make a fantastic save to tip his shot onto the post!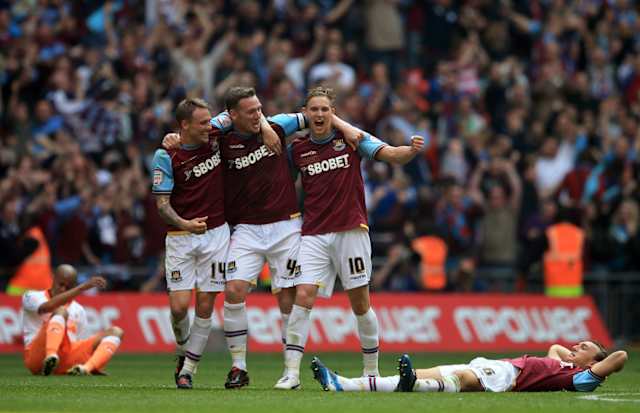 Greeny played really well that day, keeping us in the game and setting the foundation for Ricardo Vaz Te to score the winning goal to get us back to the Premier League.
The feeling I had after the final whistle was relief rather than euphoria. Every single ounce of my energy had gone out of my body.
I just sat in the dressing room thinking 'Thank goodness for that!'.
That day justified dropping down to the Championship as, incidentally, the club I had left to join West Ham – Bolton – had been relegated from the Premier League.
BACK WHERE WE BELONGED
Life in the Premier League began with a home win over Aston Villa, then we lost at Swansea City and beat Crewe in the League Cup.
Our second home league game was against Fulham, a London derby, and I was delighted to get a goal and an assist as we won 3-0.
It was Andy Carroll's debut for the club and he won a header on the edge of their box that dropped to me and I hit it on the half-volley. It wasn't the cleanest of strikes, but it bounced off the turf and into the corner of the net.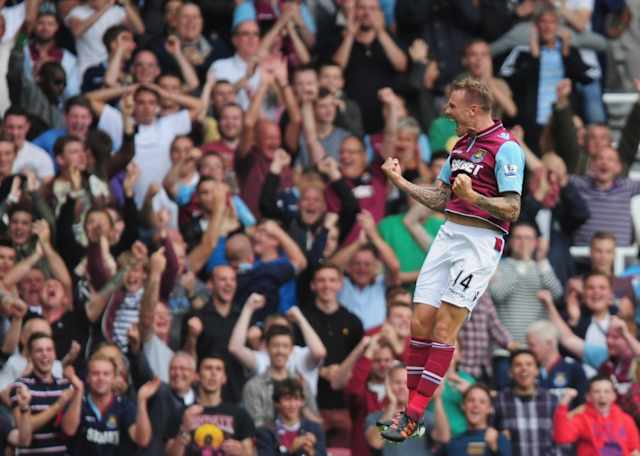 Andy gets a lot of unjust criticism, for me. He has got great feet for a big man and when he challenges for the ball in the air he occupies two defenders and still wins his header nine out of ten times.
I remember celebrating my goal by leaping higher than I'd ever leapt before and I've got a picture of that celebration at home. It's one of my favourites, especially as it was part of a good win.
WINNING IN THE RAIN
While we'd made a very good start to life back in the Premier League, staying up comfortably in 2012/13, things didn't go so well the following season.
We were down near the relegation places when we went to White Hart Lane to take on Tottenham Hotspur in the League Cup fifth round in December 2013.
I can remember this game like it was played yesterday!
It was absolutely hammering it down and I hadn't taken any studded boots with me, so I knew I had to be careful sliding around on the wet pitch.
We went 1-0 down when Emmanuel Adebayor scored, so Sam made a few changes, bringing on Mo Diame, Ravel Morrison and Modibo Maiga.
The changes worked!
With ten minutes to go, Adrian played a long ball up the pitch and Modibo won the flick-on. I'd gambled and was in the box, controlled and played in Jarvo and he smashed it into the roof of the net.
Modibo then popped up with his header and we'd won!
There is a rivalry between the clubs and I knew what that night meant to the fans, but it also meant a lot because my brother-in-law and five-year-old son were stood in with the Claret and Blue Army. They said it was the scariest but best football match they'd ever been too!
It was brilliant to come back like we did. It's my standout game for West Ham.
When I look back on my three seasons at the club, I always smile. I didn't want to leave when I did, as I was a southern lad and my family were happy and settled, but I was at an age where I needed security and the club only offered me a one-year contract.
I was offered a longer deal by Burnley, so I signed for them and had two good seasons there, winning promotion in the second.
As I said, it was a privilege to play for the Hammers. We had a remit in our first season and fulfilled it, then we did OK in the Premier League.