Reaction
Strong WiFi is keeping West Ham star Pablo Fornals connected with his family
Thanks to the wonders of modern technology, Pablo Fornals' family were able to enjoy his second Premier League assist of the season in Saturday's 1-0 Premier League win over Burnley.
As a teenager, Fornals struggled to get online at the family home in the Desert de les Palmes mountains that rise outside the Spanish city of Castellón de la Plana.
But now, thankfully, the Wifi connection in Castellón de la Plana is far stronger, meaning Fornals' family is able to not only stream every West Ham United game, but also keep in touch with the midfielder during the ongoing COVID-19 pandemic.
For the 24-year-old, who spent Christmas Day alone in London, the lockdowns have been challenging, but the internet has at least provided him with the ability to speak to his loved ones via regular video calls.
Now thankfully our internet is much better and my family can watch our games so there are more Hammers in Castellón!

Pablo Fornals
"Now I am lucky because in Spain I used to live with my family in the mountains and our internet wasn't good enough to see the games, but now thankfully our internet is much better and my family can watch our games so there are more Hammers in Castellón!" he smiled.
"I give them a Facetime after every game and I did on Saturday night as soon as I got home and it's nice when everyone is happy and we have to enjoy it for when things are not going as well as they are now."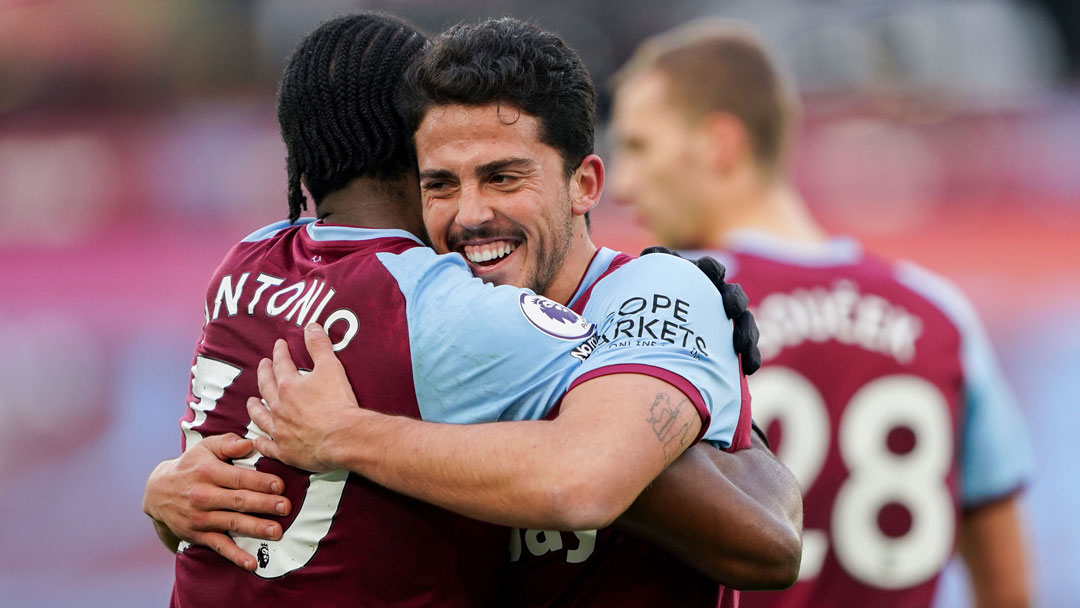 Fornals is not just loved by his family, but also by the Claret and Blue Army, who have taken his hard work, technical ability, assists, goals and commitment to the cause to their hearts since his arrival from Villarreal in summer 2019.
"I just want to be in the team and the boss wants for me to help the left-back, help the central midfielders and help at the top so I want to be in the team and I try to do my best to be involved in as many games as I can!" he confirmed.
On Saturday, Fornals' all-round game was in evidence as he supported Aaron Cresswell, Declan Rice, Tomáš Souček, Saïd Benrahma and Michail Antonio throughout and provided the cross for the latter's winning goal.
The No18, who fell to the turf at the final whistle in a combination of relief and exhaustion, was proud to play his part in West Ham's third 1-0 win and fourth clean sheet in a row in all competitions.
"I think it was a feeling for all the team because we worked a lot during the game, not just the forwards but the defenders did an amazing job, and we are growing up and having more confidence about how we are finishing and winning the games,
"I'm very happy Mikey is back and our partnership is still intact. That was the work we did in the week. We were talking about how their centre-backs were big, like towers, in training and how we needed to bypass them.
"I tried to do it and Mikey was in the right place and finished it!"