Club
Loan watch: Third straight clean sheet for Olatunji Akinola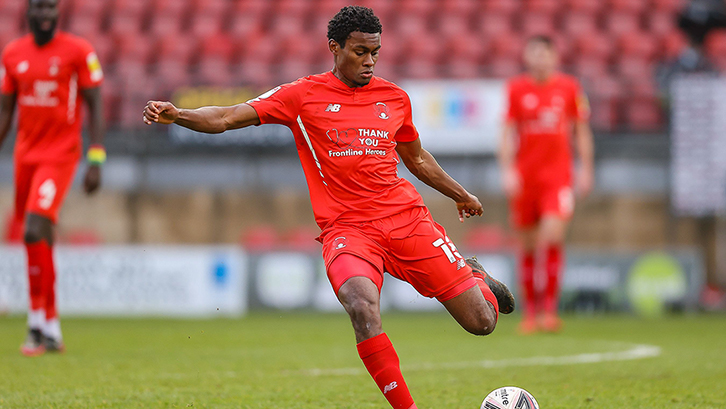 West Ham United loanee Olatunji Akinola continued his fine form at the heart of the Leyton Orient backline as the O's picked up a third consecutive clean sheet and win in League Two.
The defender once again built on an impressive recent run in Ross Embleton's side with a solid display in the 2-0 win over Morecambe at the Breyer Group Stadium on Saturday afternoon.
Although Leyton Orient dominated the ball, both sides proved capable of creating plentiful chances on the afternoon, with Akinola standing firm for the full 90 minutes alongside fellow centre-back and man-of-the-match Daniel Happe.
Yet after a back-and-forth first 88 minutes, it was on a rare venture forwards that Akinola made the ultimate difference to set Orient on the way to victory.
Exchanging passes with his teammate on the right flank, Akinola cut inside and curled in a left-footed cross from deep.
Well-struck, the delivery was bending towards the far post, but was headed up and into the goal inadvertently by Morecambe defender Nathaniel Knight-Percival.
The breakthrough was met with raucous celebrations and teammates' acclaim for Akinola, who had more than played his part at both ends of the pitch.
 
💫 Bend it like Tunji

It might not have been his first goal, but Tunji Akinola's whipped cross last night forced the breakthrough for The O's!

Relive it all, in A Closer Look.

👉 https://t.co/qSwE3h0O10#LOFC #OnlyOneOrient pic.twitter.com/7xkNcD7Xla

— Leyton Orient (@leytonorientfc) January 17, 2021

With Morecambe pressing for an equaliser in injury time, a Dan Kemp assist – a fellow Academy of Football graduate making his O's debut –  for Lee Angol subsequently sealed the 2-0 win and another crucial three points.
Leyton Orient's third consecutive home win and clean sheet boosted them up to seventh in the League Two table, just inside the play-off places with half of their matches in 2020/21 now completed.
In Super League Greece, meanwhile, forward Xande Silva came off the bench for Aris Thessaloniki FC but could not help them recover from an early concession at home to Panathinaikos.
Silva's title-chasers lost further ground to reigning champions and current leaders Olympiakos with the 1-0 home defeat on Sunday.
Despite total domination of the ball and shot count, a tenth-minute tap-in from Argyris Kampetsis was enough to eventually clinch victory for the visitors.
Silva was introduced in the 68th minute and once again made an impact with his direct running, in particular coming close with a run in behind which saw him produce a decent effort at the near post as the ball ran wide of the goal.
But the equaliser did not arrive, condemning Aris FC to just their third league defeat this season.