Interviews
Declan Rice hails West Ham United's 'Backstreet Moyes'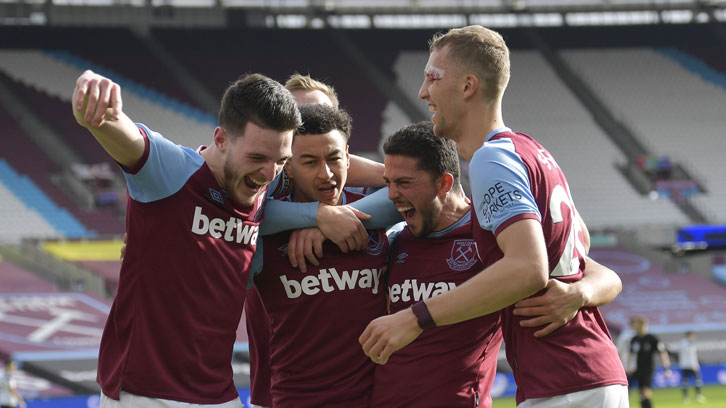 Declan Rice beat the drum for his West Ham United teammates following Sunday's 2-1 Premier League win over Tottenham Hotspur – but admits his own drumming still needs some work!
The captain spoke to talkSPORT on Monday after leading his side to a hard-fought victory over their near neighbours at London Stadium that lifted the Irons into the top four with 13 games remaining.
Rice hailed goalscorers Michail Antonio and Jesse Lingard – having joined the 'band' for to celebrate his fellow England international's winning goal – and midfield partner Tomáš Souček after yet another resolute performance was rewarded with a seventh win in nine top-flight matches.
With trips to the two Manchester clubs and home games with Leeds United and Arsenal up next, Rice says the Hammers have nothing to fear as they continue their quest for European qualification.

First off, who came up with the 'band' celebration after Jesse Lingard's goal!?
"Do you know what? After training, we were playing a game called 'The D' where the goalkeeper plays the ball out to the D on the edge of the 18-yard box and you've got two touches to score and Pablo Fornals kept scoring and, as Jesse was there, he kept doing the celebration that Jesse has done in the past [playing the clarinet] and was having a bit of laugh and banter.
"Pablo said 'If you score tomorrow, you do that, I'll play the guitar and Dec can go on the drums!', so it was just made up before the game and we had a little giggle about it and luckily enough we scored and it came off, but I think my drumming needs work! I've been turned into a meme overnight!"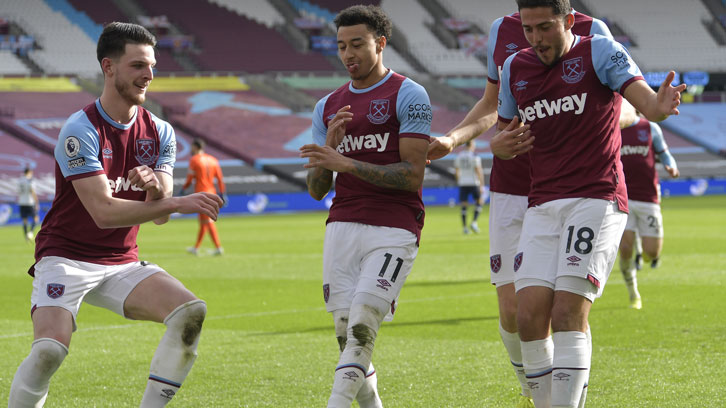 It is clear that West Ham are not just a good team, but a team full of great characters like Vladimír Coufal and Tomáš Souček, so does that make a difference?
"Yes, honestly, it really does. I can say first hand that this is the best West Ham team that I've been a part of in the four years I've been in the team.
"The unity, the love the lads have got for each other, the banter on a day-to-day basis and then the seriousness on the training pitch and on matchdays to go out and get a win, the mentality has just changed completely and I think you can see that on the pitch. We're fighting for each other, we're giving 100 per cent and, regardless of how the result is going to go, we're coming off that pitch having given everything. 
"The likes of Tomáš and Vladimír have been outstanding and they're great lads as well."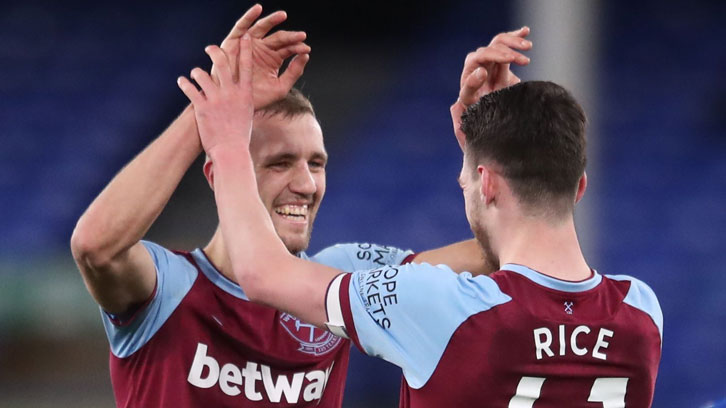 On Sunday, you were really resolute in getting the win, so were you confident beforehand you could get something from Spurs?
"Oh yeah, 100 per cent. Obviously we played them at the start of the season and we were 3-0 down and came back to draw 3-3 and yesterday was obviously another top result.
"It's a London derby and that in itself should be enough to get you up for anything and with it being a 12 o'clock kick-off, the lads were ready to go out there and put in a performance. Everyone was buzzing.
"We're going out now and we don't fear anybody. The West Ham of last season would have caved in in that second half and conceded goals, but now it's completely different and we won't cave in to anyone and we can score goals as we've got quality up the attacking end of the pitch as well, so long may that continue for us."
David Moyes is playing down your hopes of European qualification, but surely you feel confident you can do it in the camp?
"Definitely and I'd be wrong to sit here and say that's not something that I'm thinking about. I want to be in those places now. This is a massive club and that's where it deserves to be. We've got the quality now and that's where we need to be pushing. 
"The next four games for us are going to define that. We've got Man City, Leeds, then Man United, then Arsenal, which are four massive games, and if we get through those with a good amount of points, who knows? We'll be down to single figures [of games remaining] and we'll be able to start counting down how long we have to go."
Jesse Lingard seems to have settled in quickly, so what's it like having him around?
"He's top! I knew what he was like, having played with him at England, and he's a ridiculously top, top player. You know when you're playing with a top player because he takes the ball on the half-turn, takes the ball in tight areas and relieves the pressure on you, so when you give him the ball on the pitch, you know he's going to do something with it.
"What comes with it is that he's got great personality as well and the lads have really taken to him. I'm so happy we have him here now at West Ham and hopefully we can do that for much longer and next season as well."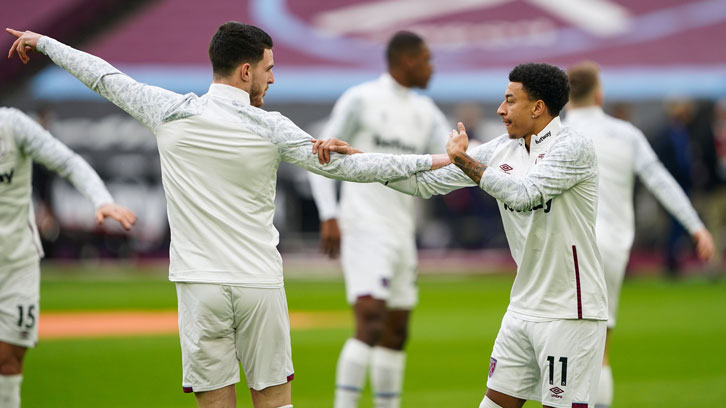 How much has playing alongside Tomáš Souček in midfield added to your game?
"He's so good. I played against him for England against the Czech Republic and I knew then it was going to be a big game and now to have him alongside me in midfield, you don't realise how much he actually does!
"He runs, he's strong, he runs, he gets in the box, he's good in the air, he does everything you want a midfielder to do and I think teams are coming up against Tomáš and thinking 'I don't want a battle with him today because if we go hard, he's going to go even harder'!
"Even when we played at Man United in the FA Cup the week before last and he ran 17k in the game! 17k! All the lads were like 'That's not normal, Tom!' and he just smiled at us!
"Honestly, he is unbelievable and with the season he is having he's going to be our Player of the Year and he absolutely deserves it and he's an unbelievable lad as well."