Academy
Conor Coventry: I've never scored one like that before!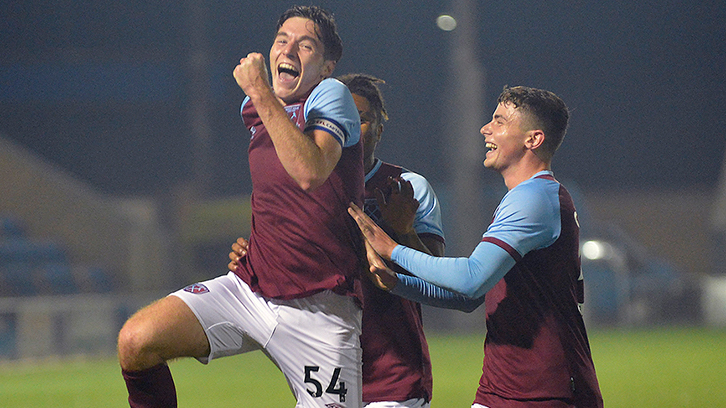 West Ham United Under-21s had come close on numerous occasions prior to the hour mark at the JobServe Community Stadium – but then captain Conor Coventry took matters into his own hands.
Receiving a square ball in midfield, the Republic of Ireland U21 international sized up the opportunity, took aim from 30 yards out – and fired a spectacular rising strike past Colchester United goalkeeper Shamal George.
Having gone over a season without scoring a goal, the Academy of Football midfielder – typically a deep-lying playmaker – this time around has three goals in four appearances to his name.
While Coventry had joked after his first that he would go on a scoring streak, his spectacular goal proved to be West Ham's winner in a crucial EFL Trophy game on Tuesday night, putting the U21s in pole position to qualify from the competition's group stages.
The goal was just the icing on the cake of a standout individual display from the 20-year-old – capped by a fine collective team performance around him.
"I was only messing around – I didn't think it was going to carry on!" Coventry laughed, in reference to his earlier promise.
"It's happened, though! I've started the season well. The whole team has started well. Even when we haven't really got the results, performance-wise, we've all played well – so it's good to keep it going.
"I've been practising [long-range shots] a lot when I could during lockdown, and also since we've been back in training, but I've not scored one like that in a game before! I'm buzzing with it."
The young Hammers put in a display of real maturity and desire in Essex on Tuesday evening, out-passing and out-fighting senior Football League players on their way to the 1-0 win.
 
It's men's football and that's where we want to be playing. It's a game that really inspired us and I think we were all really fired up for it and performed well

Conor Coventry

Given their domination, the margin of victory could have been greater in West Ham's favour on the night, with Coventry's strike ultimately proving the difference between the two sides.
The chance to become the Academy's first qualifiers from the EFL Trophy group stages since 2017/18 was a prominent motivation, admits the Irishman, with that being channelled into the Under-21s' energetic and technically impressive performance.
"I think it's a game that really inspired us," Coventry explained. 
"We've only been through to the next round of this tournament once, a few years ago. Me, Tunji and a couple of others were involved then, so we all really wanted to make the grade and show that we were good enough. 
"It's men's football and that's where we want to be playing. It's a game that really inspired us and I think we were all really fired up for it and performed well.
"I think for me, when I've got the lads in front of me being aggressive and winning the ball, it makes my job so much easier. I'm just thankful for those boys putting in the work, and I can just back them up and encourage them to keep going and doing the running! 
"When we're like that, we're very hard to play against."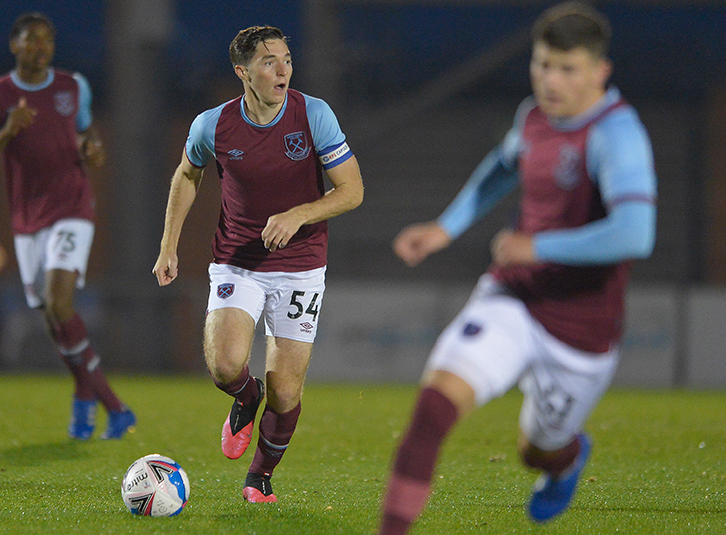 The result also means that, with two wins from two games, the Irons are likely to have already qualified for the knockout stages by the time they visit Portsmouth's Fratton Park in November, subject to prior results.
"We'll be buzzing to go and play at Portsmouth," Coventry said. "It'll be at Fratton Park, which is a Premier League ground really.
"It's a great opportunity for us and hopefully we'll be able to go and play with less pressure, enjoy ourselves and go and get a result again."
After such a strong performance on Tuesday, Coventry is confident that he and his development squad teammates can repeat the trick as they go in search of their first Premier League 2 win of the weekend.
That could come against Brighton & Hove Albion on Saturday afternoon, when the Hammers play their first home league game of the campaign.
Coventry added: "Our performances have been good and maybe we haven't got what we've warranted at times. 
"I think we'll definitely go in and try and get a win, and if we do, it'll cap off a good week."