Interviews
Aaron Cresswell: Wolves, West Ham's back five and targeting a Carabao Cup quarter-final place
Aaron Cresswell is confident West Ham United can take the form they showed in the 4-0 Premier League win over Wolverhampton Wanderers into Wednesday's Carabao Cup fourth-round tie at Everton.
The left-back believes the team performance in Sunday's victory was among the best in his six-plus years at the Club, with David Moyes' 3-4-3 formation resulting in a resilient, clinical and confident display.
Next up for Cresswell and company is a trip to his home city of Liverpool and a mouth-watering cup tie that will reward the winner with a place in the quarter-finals.
Having never gone further than that in a knockout competition since his arrival in 2014, the defender would love to get one over the Blues and go through to the last eight for the first time in his West Ham career.
Cresswell, who is thriving once more in a left centre-back role, discussed the Wolves win, his position and Wednesday's tie with West Ham TV...
The Wolves win was a great three points, wasn't it?
"It was a fantastic performance from the lads and I thought throughout, from minute one and right until the end, until the 95th minute, we completely controlled the game.
"Certainly we had a little bit of luck that you need and produced a couple of great finishes which was good. We also kept a clean sheet, which is always important for the back five, and I thought it was a fantastic team performance."
Playing with a back five seems to suit us, and you look like you really enjoy playing left centre-back?
"I do enjoy playing in that position and I think when Moyes took over a couple of years ago, I managed to play about 20-odd games there and we did well with it.
"Against Newcastle, it certainly wasn't a good team performance and I think against Arsenal we showed spells where we should have got something out of the game and certainly on Sunday night it looked like a perfect team performance with four goals and a clean sheet."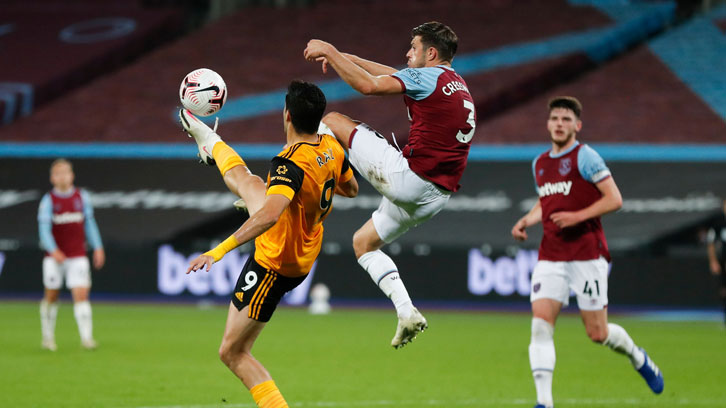 Even though you're playing centre-back, as one of the wide two you can affect the game going forward too, as you did with the ball forward which led to the second goal?
"Yes, 100 per cent, and we worked on that a few times during the week. With Arthur, he gives us that outlet to carry the ball with him, and once he gets 1v1, I can round and create 2v1s like we did a couple of times in the first half and it works fantastically.
"Certainly Sheffield United have worked on that for the last two or three years and it's part and parcel of the game for me to step into that natural left position and help Arthur and create balls into the box for the lads."
Tomas Soucek and Jarrod Bowen get a lot of attention, but they have added a new dimension, haven't they?
"They have, yes. Certainly since Tomas has come in, with those late runs into the box, he seems to be like a magnet, the way the ball always seems to get to him. If we get the ball in the right areas, he has got a chance of winning it.
"I was pleased for Seb [Haller] as well. He has been fantastic in the Carabao Cup games and he has come on with little time left and got that goal, so I'm really pleased for him."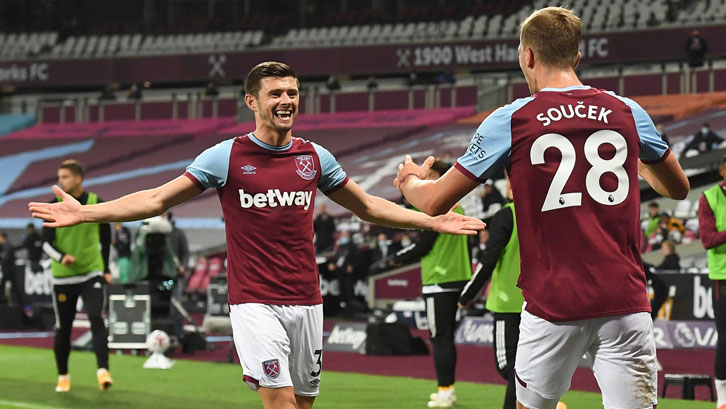 You got yourself on corners and got an assist for Tomas's header, too!
"I've just read that it's gone down as an own-goal, which I'm devastated about! Seriously, though, it's not about the goal or the assist, it's about the team performance and the 4-0 win."
Has Michail Antonio ever played this well in his five years at West Ham?
"He has been fantastic. You know what you're going to get with Mick – he works hard – and on Sunday, I thought not only was he a threat with the balls down the sides like he always is, but his hold-up play against three centre-halves bought us fouls, brought the midfielders into play and he was fantastic."
Everton in the Carabao Cup next and another big game. If we win, we're in the quarter-finals…
"It is a big game. In my time since I've been at West Ham, over the last six years, the nearest we've got to a final is the quarters, so it would be good to have a good cup run.
"We know how tough it'll be against Everton and whether both managers will change it up or not, we don't know, but certainly from our point of view we want to go as far as we can."
With our difficult-looking early-season fixture list, people had almost written us off, but we have got a good squad, haven't we?
"We are and certainly when we looked at the start of the season, we knew it was a tough start, but you've got to play everyone twice over the course of the season and play 38 games, so if we can pick up as many points as we can from the first seven or eight games, there is no reason why that can't stand us in good stead going forward.
"Wolves was one of the best team performances over the time I've been here."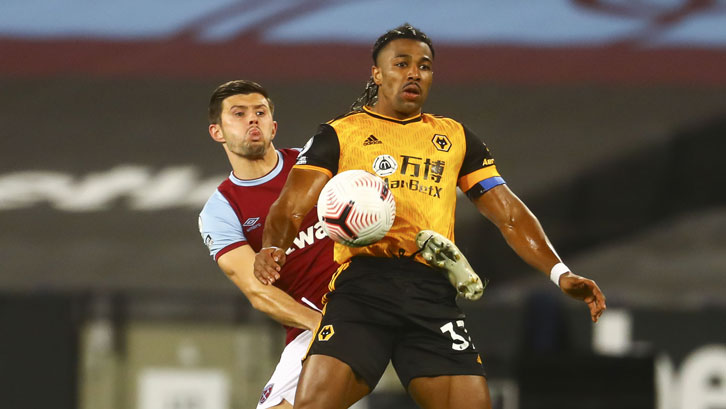 It was lovely to beat them after four straight defeats, too!
"Certainly since they've come back into the Premier League, we've not beaten them, or even scored against them, so to beat them 4-0 was great as they're a very good team as well."
And how nice was it to see Adama Traore being substituted in the second half?!
"Me and Arthur were laughing about it because you know exactly what you're going to get with him! We worked on a few shapes and scenarios that we thought would come up and I thought Arthur was absolutely brilliant with and without the ball.
"Defensively, sometimes it's physically impossible to stop him, but I thought we did brilliant against him on the night."