Merchandise
Black Friday: Up to 35% off Replica Kit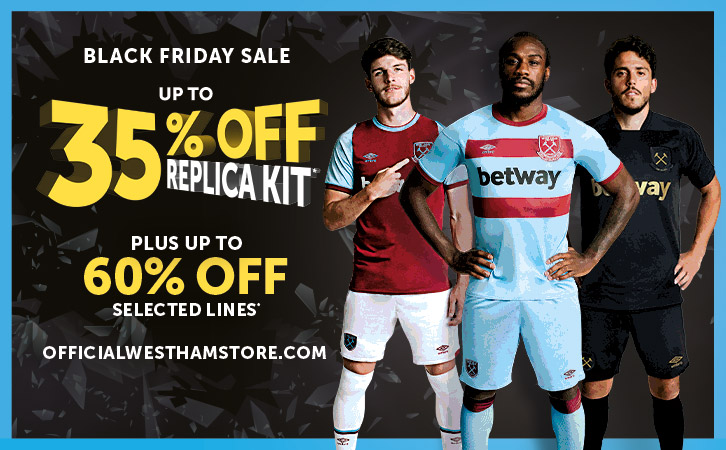 The spectacular West Ham United Black Friday sale is in full swing at officialwesthamstore.com
There's a whole host of offers for you to check out, including up to 35% off our 2020/21 Official Umbro Replica Kit.
Inspired by the Club's greatest period, which saw the foundation of the world-famous Academy of Football, FA Cup and European Cup Winners' Cup triumphs and three Hammers lead England to FIFA World Cup glory, the 2020/21 Kits are a fitting way to mark our 125th Anniversary.
And with 35% off the Away Kit, 20% off the Home and 10% off the Third, there's no better time than now to stock up for Christmas!
Shop now at officialwesthamstore.com, for up to 35% off Replica Kit, at least 20% off everything else and up to 60% off selected lines!
Remember, to make things even better for Season Ticket Holders with Club Cash balances, we'll be offering an extra 10% Club Cash reward for any Club Cash spent at our Online Store! For example, if you redeem £10 in Club Cash during our Black Friday weekend, you'll receive an extra £1 in Club Cash.
You can check out our handy guide of how to redeem your Club Cash here.