Fans
#HammersAtHome superfan Liam to complete 101 Challenges for Isla Caton
Young Hammer Liam Southwood has set himself 101 challenges to raise money for Isla's Fight - and your final #HammersAtHome challenge is to take part too!
Five-year-old superfan Liam has entered every single challenge set by the Hammers since the new series was introduced by his favourite player, Michail Antonio, at the end of March.
With the coronavirus (COVID-19) outbreak meaning most children have been studying at home during the lockdown, #HammersAtHome challenges have acted as a motivation for schoolwork and rewarding youngsters' efforts.
Little Liam has embraced the challenges, drawing photos of Antonio, Bobby Moore and NHS-supporting rainbows, writing poems, working out possible strike partnerships, commentating, cooking, scoring goals and making saves!
After completing 101 challenges and raising £2,000 for NHS Charities Together, the Essex-based youngster is going to complete 101 challenges for a second time, raising £1,000 for treatment for another loyal and courageous young fan, Isla Caton.
Diagnosed with a rare child cancer called Neuroblastoma – the same disease which tragically took the life of heroic young Sunderland fan Bradley Lowery – in March 2017, Isla has captured the hearts of West Ham fans everywhere.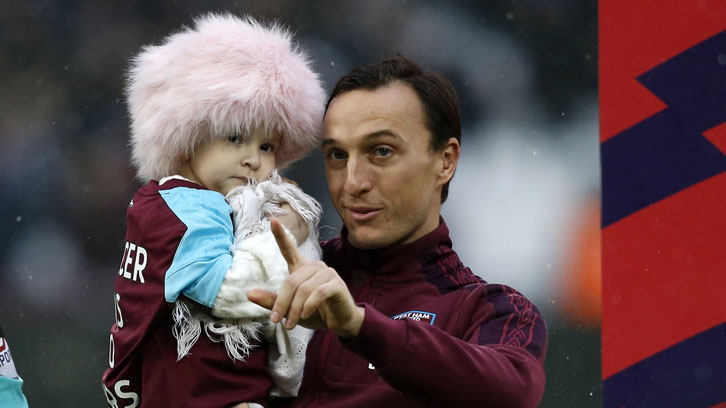 Since Isla's diagnosis, her brave fight against the disease has continued, with the support of her family, from Hornchurch in Essex, and fellow West Ham fans from all over the world, raising more than £500,000 towards the cost of specialist treatment – immunotherapy involving the injection of an antibody therapy not currently available in this country – first at a specialist cancer centre in the United States, and latterly in the Spanish city of Barcelona.
"Hi everyone, Liam here! I loved doing my 101 Challenges and now I want to do another one!" Liam told his supporters in a video posted on his father Rich's twitter account. "This time, I would love it if you would join me on 6 June to see me do 101 dribbles, goals and celebrations to raise money for Isla Caton. Come on you Irons!"
To take part, simply tweet a video of you doing a dribble, goal or celebration of your own using the hashtag #101challengeforisla.
You can make a donation to Liam's 101 Challenges for Isla Caton here.