Russell Brand joined a bonus episode of the Any Old Irons podcast with Hammers legend Tony Cottee and Any Old Irons' participant Pat Mahoney to discuss how he's getting on in lockdown and all things West Ham United. 
Brand explained that he's based at his home in the countryside, just outside London, alongside his wife, two young daughters and two dogs, saying: "As far as things go I'm in a pretty fortunate position."
Mahoney, who joined the West Ham United Foundation's Any Old Irons programme over three years ago and was helping to present the podcast for the first time, noted that he was self-isolating in Grays where Brand grew up, with the comedian explaining that he has nothing but love for the area. 
There's a romanticism, I think, to supporting West Ham. I think the fans are beautiful

Russell Brand
Brand commented: "Obviously everyone was West Ham out in Grays, Essex. You'd meet the occasional Spurs fan or Arsenal fan or even the North West Clubs who sneak down South to gather up fans but certainly the norm was Claret and Blue."
That spirit across East London and Essex is something which has given life to the Any Old Irons project, which was developed in 2015, using the theme elite sport and a shared passion to bring people together to tackle loneliness and isolation. To date there have been more than 300
Over-60s taking part in the five-week cohorts across the area which consist of meetings, special guest visits, sporting activities and social outings as well as technology workshops.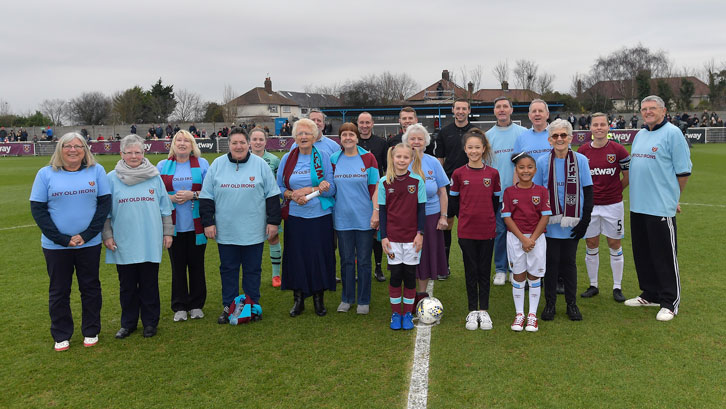 When discussing the impact of the programme and his experience presenting on the latest episode, Mahoney said: "I became part of Any Old Irons as I could see it was a great idea for supporting elderly people through a common interest in West Ham. I, like so many others, have made new friends in the group which has blossomed through the present pandemic. Through the Foundation, many new exciting opportunities have been made possible for many of us, and I felt privileged to be asked to take part in the podcast with Tony Cottee and Russell Brand – something I shall never forget.
"Most of us are self-isolating but we are supporting each other with phone calls, emails and a fortnightly news sheet, and we have thoroughly enjoyed delivering the podcast. All of this has helped bond us together far more as a group, a group which I am very proud to belong to."
Reflecting on the Any Old Irons and their podcast series, Maria Abraham, West Ham United Foundation Health Manager who leads on the Any Old Irons project said: "West Ham has a strong sense of community and you really feel that within the Any Old Irons; everyone looks out for each other and encourages each other, and there's a strong support network between them, the Foundation and the Club. We see the positive impact of that normally but more so in this current situation when it's been more important than ever."
"This podcast was a really brilliant step for Any Old Irons to take early on in the season last year, and to have the response they've had and also to get the guests they've had – not only the players and friends of the club but Sir Trevor Brooking and Jack Sullivan, and then capping the series off with Ray Winstone, it was incredible. Now to be releasing a bonus episode with Russell Brand is almost unbelievable for their first series, we all had big hopes and dreams when we were starting this, but this has surpassed expectations and the Any Old Irons are delighted. It's been a big learning curve and a fantastic journey."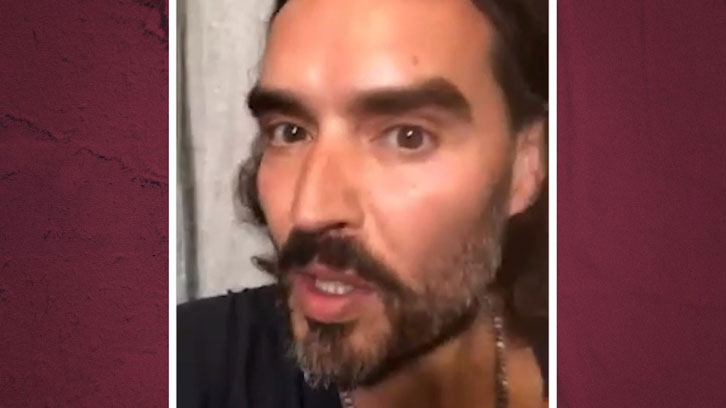 Brand, Cottee and Mahoney recounted their favourite players and their enjoyment of watching matches under the floodlights and with Brand noting that he was introduced to West Ham United by his father, Cottee asked him what makes him most proud to be a West Ham fan. 
The broadcaster stated: "There's a romanticism, I think, to supporting West Ham. I think the fans are beautiful, the people that work at the club, Lesley, Babs, people that you meet behind doors running the hospitality or the players' lounge or like the people that you meet at the backstage areas of the club. There's a kind of sense of community, togetherness and a kind of bottled East End spirit.
"Because in recent memory we've not won anything, not since 1980 or something. There's a feeling that it's about the beauty of the game, whether it's yourself [Tony Cottee] or Trevor Brooking or Bobby Moore or Alan Devonshire or Paulo Di Canio, Julian Dicks, there's a certain spirit and that's what makes me proud."
To listen to the podcast, search Any Old Irons on iTunes, Google Podcasts, Spotify or SoundCloud.
If you would like further information about the Any Old Irons please contact [email protected]