?Any Old Irons member John Chapman got a surprise call from @_DeclanRice today!

Dec passed on best wishes and support from everyone at @WestHam to John and all the #AnyOldIrons members who may be cut off from social contact at this difficult time. Thank you!?#WestHamFamily⚒ pic.twitter.com/SxzPyu8nXU

— West Ham United Foundation (@WHUFoundation) March 18, 2020
Any Old Irons member John Chapman was given a big surprise when West Ham United star Declan Rice gave him a welcome phone call, catching up with one of West Ham's longest-serving fans.
Having met Any Old Irons members on multiple occasions in the past through West Ham United's award-winning Players' Project, Rice wanted to reach out to Chapman to offer best wishes and support for the group, who may be particularly impacted by the coronavirus (COVID-19) outbreak. Chapman and Rice discussed the issues facing older people at this challenging time, with Rice reassuring Chapman of the Club's support for the group.
Chapman spoke to talkSPORT after the call and said: "It was a total surprise, Declan rang and it was a shock but a lovely surprise!"
Now, more than ever, the group's members are supporting each other during some challenging times, with the 300 Over-65s focusing on how to stay in touch with their fellow fans. West Ham United is also working to bring interactive ideas to the Any Old Irons members through their new Facebook group. 
It was a total surprise, Declan rang and it was a shock but a lovely surprise!

Any Old Irons member John Chapman
Chapman continued: "It is too high a risk at the moment for Any Old Irons to all get together. Our arrangements and meetings have been postponed. We had our AGM planned on 31 March and that's had to go by-the-by, as has our next singing groups meeting on 7 April. We're in the hands of the situation that we face, and we're doing our best."
He got involved in Any Old Irons over three years ago and has since been a very active member. Having arrived in London as a student in 1968, he made his way to Upton Park, attracted by the quality of the football under Ron Greenwood, and has been a devoted Hammer ever since. His first game was a League Cup match against Bolton Wanderers, with the Claret and Blue side running away with it in a 7-2 victory, thanks in part to a Geoff Hurst hat-trick.
"Our Any Old Irons gatherings can take the form of ordinary meetings, where we meet up for a chat or a quiz, or we can have guest speakers from the Club, which is fantastic for our members as they can share their memories with former players," Chapman explained. 
"We've been so well treated by the Club and the Foundation – we've had sessions with Trevor Brooking, Alvin Martin, Brian Dear, Paul Allen, Tony Cottee, a whole host of people from the past, and in more recent times, people from the women's team and Jack Sullivan, the women's managing director. We've had quite a range of people, and sometimes they arrive at our meetings with a little apprehension but five minutes in and they realise there is no difficulty and they'll be embraced, and the Any Old Irons will give them a very enjoyable afternoon."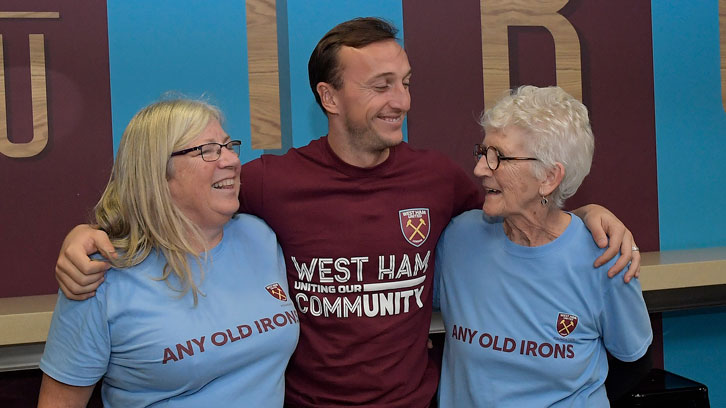 Any Old Irons is a programme led by the West Ham United Foundation on behalf of the Club. It was created in 2015 in a bid to tackle social isolation and loneliness and is aimed at over-60s, providing five-week programmes designed to gives participants the opportunity to connect with other fans and locals in their community, bringing them together for fun and friendship, with meetings, events, workshops and guest speakers.
The Players' Project, which launched in November 2018 has seen each of the men's, women's and academy players become ambassadors for eleven areas of community outreach which personally matter to them. As part of the Players' Project Loneliness strand, Any Old Irons have received support from Issa Diop, Kate Longhurst, Arthur Masuaku, Gilly Flaherty, Sir Trevor Brooking and others.
The Any Old Irons fans run their very own podcast, where Chapman is a co-presenter. They have previously had guests including Sebastien Haller, Conor Coventry, Kate Longhurst, Arthur Masuaku and Roberta Moore, and all episodes can be downloaded her.
Earlier in 2020, Any Old Irons was shortlisted at London Football Awards for Community Project of the Year, with the Players' Project also winning the London Sport 'Impact of Elite Sport' Award.