History
The day Hurst, Moore and Boyce outplayed Best, Charlton and Law in the mud to reach the FA Cup final
It is 56 years to the day since West Ham United reached the FA Cup final for the second time in the Club's history.
Some 18,000 hardy supporters battled through heavy rain to reach Hillsborough, home of Sheffield Wednesday, for a semi-final showdown with First Division rivals Manchester United.
A titanic struggle ensued between two star-studded teams, with West Ham's Bobby Moore, Geoff Hurst and Johnny Byrne facing Manchester United's Bobby Charlton, Denis Law and George Best.
But it was an unsung hero who ploughed through the mud to send the Hammers to Wembley.
Ronnie Boyce scored two goals in a single game just once in his 341-match Claret and Blue career – and this FA Cup semi-final was that game.
The tireless midfielder – labelled the 'muddiest player on the pitch' in one newspaper match report – opened the scoring eleven minutes after half-time, latching onto Ken Brown's header to lash past David Gaskell from all of 25 yards.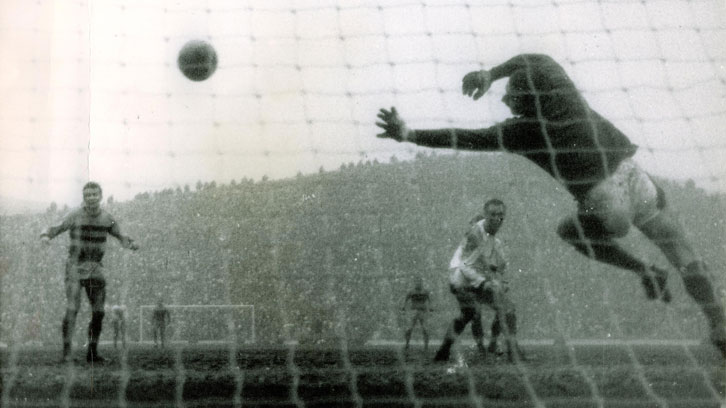 Seven minutes later Boyce, who would go on to score as last-gasp winner against Preston North End in the final, made it 2-0 to Ron Greenwood's side, ghosting in to head Jack Burkett's cross past Gaskell after a short corner taken by teenage winger John Sissons.
Scottish striker Law pulled one back for Matt Busby's Red Devils, but West Ham would not be denied, either by their illustrious opponents, or by the terrible weather conditions.
Instead, Moore took matters into his own majestic hands – or feet – beating three men before laying on a pass for Hurst to score from the edge of the penalty area.
In the stands, their fellow east Londoners cheered. 
One report was in no doubt that the right team won, purring: 'West Ham, mostly composed of players developed from local talent, thoroughly and deservedly beat cup holders Manchester United in a manner which left no room for argument as to the better team of the day. They possessed more method, tactical skill and determination than Manchester United and were also the better team man for man'.
West Ham, the team comprised of local boys made good, were going to their second FA Cup final.