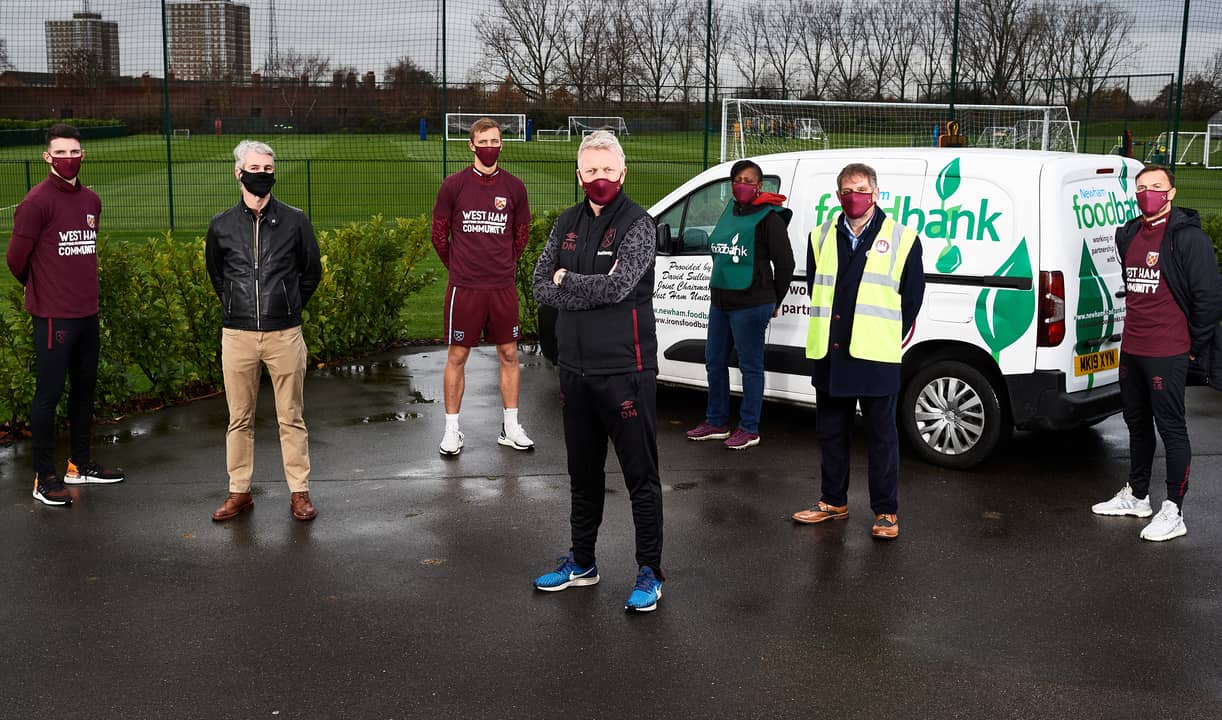 This Christmas, the West Ham United family has come together to support campaigns close to the Hammers fans' hearts and local projects which will help those most in need in the local community, following the impact of the COVID-19 pandemic.
The Club; its Board, players and manager have donated much-needed money to the Newham Foodbank through Irons Supporting Foodbanks, as well as the Newham Christmas Toy Appeal and Barking and Dagenham Council's Christmas Cheer campaign, to add to the funds already raised by the Club's fans. The Club's donations will also go towards selection boxes for thousands of children in Newham.
Poverty and social inequality is a particular problem in east London, with Newham being among the most deprived areas in the country. The Club, through the West Ham United Foundation, is also doubling its commitment to the Holiday Hunger programme, which will mean £100,000 will be put towards the project by the end of 2021.
In addition to the work during the festive period, and marking the second anniversary of West Ham United's Players' Project, the Club is pleased to announce that it is on track to deliver the pledges made one year ago, which included a further £10m for the community, an increase of £5m on its initial pledge, giving a forecasted investment of £28m by the end of 2021.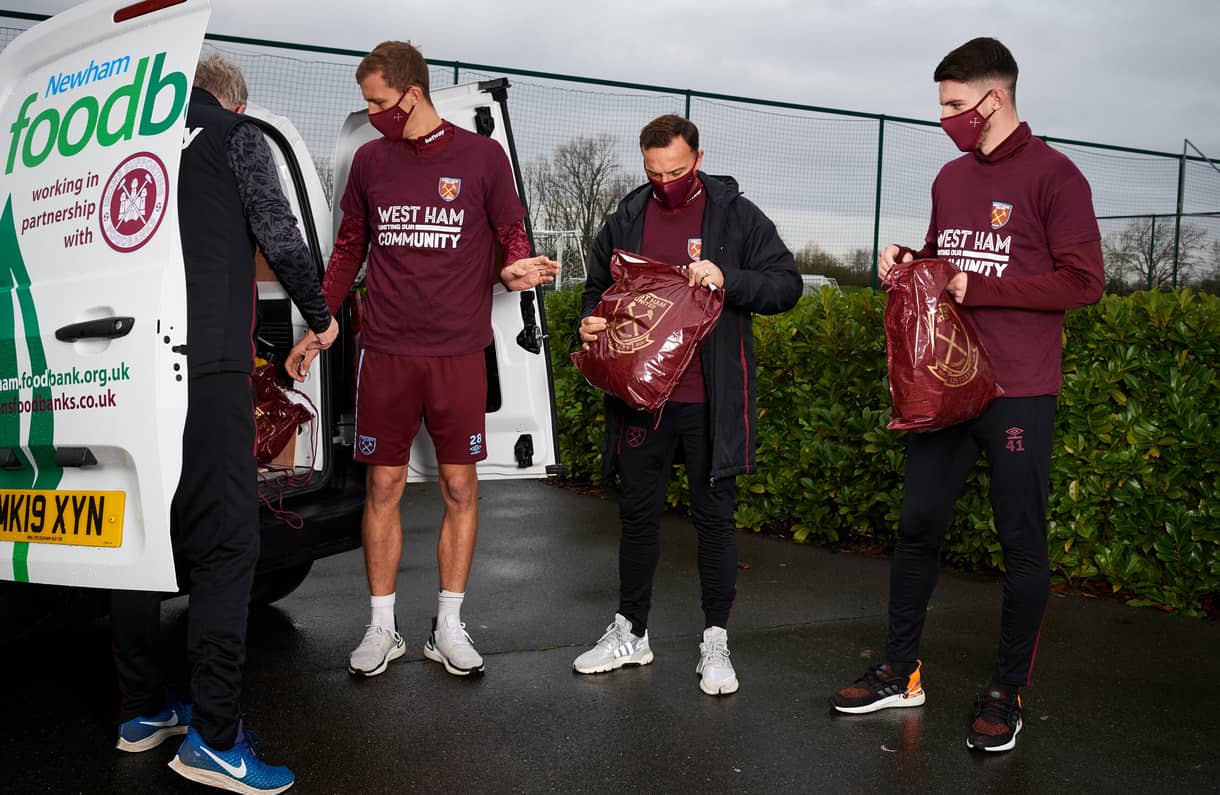 This year, the Club has partnered with local NHS Trusts to support them through the pandemic, and has provided them with shirts, signed framed prints, calls to patients and doctors, as well as support for their vital campaigns – this coming after research from EY found the Club's work helped deliver £1.4m of annual savings to the NHS through diabetes prevention.
Throughout November and December, Hammers fans have been generously reaching into their pockets to help vital local projects such as the Newham Foodbank and Barking and Dagenham's Christmas Cheer campaign. Players and management wanted to join forces with fans, to continue to help the campaigns, with their own donations following Joint-Chairman David Sullivan's support throughout 2020, with more than £30,000 provided to Newham Foodbank, including the finance of a delivery van, and a £25,000 donation to FareShare UK towards free meals through the Child Food Poverty Taskforce, founded by the inspiring Marcus Rashford MBE.
In addition, the Club is donating over 1,000 toys to local children - to the Newham Christmas Toy Appeal and to Barking and Dagenham's Christmas Cheer campaign, so that as many children as possible have presents to wake up to on Christmas morning.
Official Club Partner Quattro Group is backing the Newham Christmas Toy Appeal by providing their warehouse free of charge to allow the stockings to be filled.
Next year will see the Club focus on key strands of the Players' Project; Poverty, Equality and Loneliness, so that West Ham United can do everything possible to help local communities recover from the impact of COVID-19.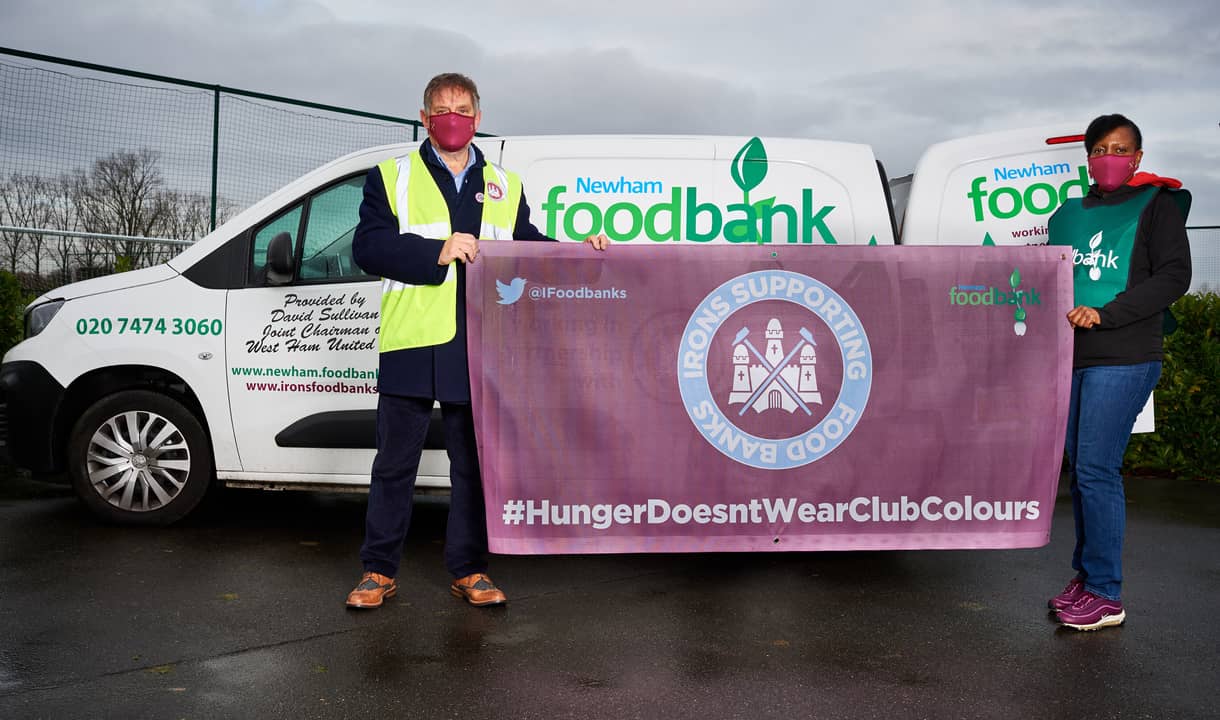 More players, management and staff will support these three strands every week in 2021, and we will increase our players' annual support for the community so that by the third anniversary we will have given 1,000 hours of players' time since launch of the Players' Project.
West Ham United Vice-Chairman Baroness Karren Brady said: "Despite the challenging year that everyone has faced, the Board were clear that this investment in the community is needed more than ever and the Club's commitments to the community are unwavering.
"Poverty, loneliness, mental health and inequality are all key issues which the Club is focused on combating.
"The supporters have been fantastic in their help for the local foodbanks, and we also have a whole-club effort behind these campaigns – everyone from our backroom staff, to the players and manager supports these incredible causes."
West Ham United Club captain Mark Noble said: "As players, we were more than happy to throw our support behind these vitally important campaigns.
"The Players' Project is two years old now and I'm really proud of the efforts of the players in that time - across the men's, women's and Academy squads there have been hundreds of hours of community support for a huge range of initiatives from helping the homeless, to careers advice, to spending time with our older fans. The efforts of the everyone during this challenging year have helped bring us even closer together as a team and lifted the spirits of everyone at the Club.
"Now we need to focus on tackling poverty which is a big issue locally, so that there is more equality out there for everyone, and I think the Club's increasing focus in that area will help us to do that."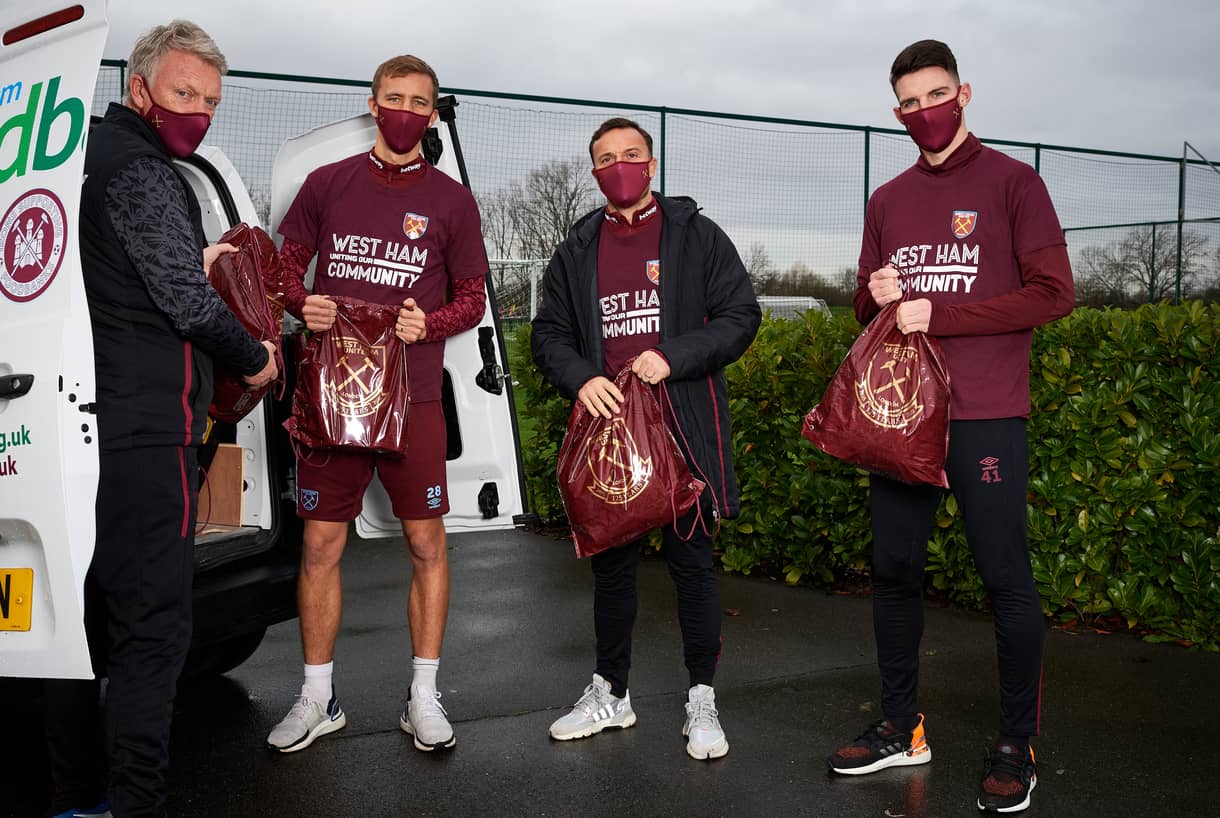 West Ham United Joint-Chairman David Sullivan added: "This is our community, and we knew we had a responsibility to help at what is a really difficult time for a lot of people. I wanted to support the East End community as it is close to my heart, but was particularly keen to do so having seen the incredible efforts our fan groups were also putting into this, and how they pulled together to support those most in need at this time."
John Ratomski from Irons Supporting Foodbanks said: "Alongside the West Ham fanbase we are delighted to have the support of our club, with staff, owners and players helping us to support Newham Foodbank and allowing us to make a difference to around 8,000 Newham children this Christmas.
"We are looking forward to the time when full crowds return to London Stadium next year and we can continue the friendships made with the fans who have supported us since we began working with the local community to fight food poverty a year ago."
Darren Rodwell, Leader of Barking and Dagenham Council, said: "Mark Noble, and the whole of the West Ham United family have been friends of Barking and Dagenham for some time. Lots of our residents are fans, so to see their heroes take the time to support the local community, especially after a really difficult year, is a real boost for everyone."
Councillor Dominic Twomey, Deputy Leader of Barking and Dagenham Council, said: "Our Christmas Cheer appeal will help local families and vulnerable residents have a better Christmas this year so this generous donation will really make a difference to local people. I look forward to continuing our relationship with West Ham in 2021 when hopefully we all have a better year and fingers crossed, some more football we can go and watch in person!"