Government-imposed lockdowns and social distancing may be in place all over the world during the ongoing coronavirus (COVID-19) pandemic, but Alisha Lehmann has got a new responsibility to keep her busy. 
The West Ham United women's forward welcomed a new member to her family a fortnight ago, adopting a Pom-Chi puppy – a Pomeranian and Chihuahua cross – called Loui. 
Although only a part of the Lehmann clan for a couple of weeks, it seems Loui has already captured Alisha's heart. 
"Loui is amazing, and I love him so much," Lehmann told whufc.com "My family and I have always had dogs and we thought it would be nice to now have a puppy. 
"With everything going on, we have so much time now to train him and work with him. For me, it was the best time to get a new puppy. He's a really good boy, he never cries, so I'm quite lucky.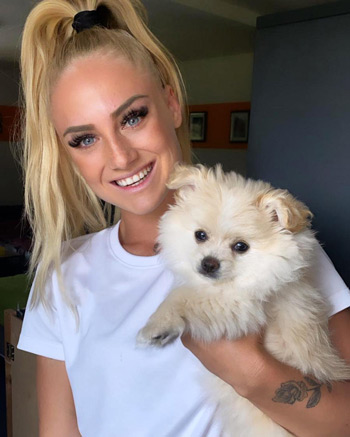 "The only thing is, I now have to always wake up at 7am, because he has to pee, and I have to take him outside! And, of course, it's hard work. It is like having a baby, so I'm always asleep by 10pm because I'm so tired!"
Much like tens of thousands of professional footballers across the globe, Lehmann is working to maintain her fitness in isolation. The No7 is following a programme set by the Club and staying in close contact with the women's strength and conditioning coach, Colm Smith, and head of medical, Elena Jobson. 
Having gone into lockdown with partner and Chelsea attacker Ramona Bachmann, Lehmann says the duo are keeping each other motivated to put in the daily work to remain as close to match-sharpness as possible. 
She continued: "We've been given a programme from our fitness coach, Colm, and we have to do runs and intervals. I do a lot of shooting because you need conditioning for that.
"I think being in isolation with Ramona makes it a lot, lot easier, because there's two of us and we can do more drills than if we were on our own. We always motivate each other. I motivate her and she does the same for me. 
"We've been lucky in that we've been able to use a training pitch near here. The people that run it are so nice, and we've been able to train as close to normal as we can, so we can stay fit and train a lot. We train at around ten in the morning and then, in the afternoons, we do something as well."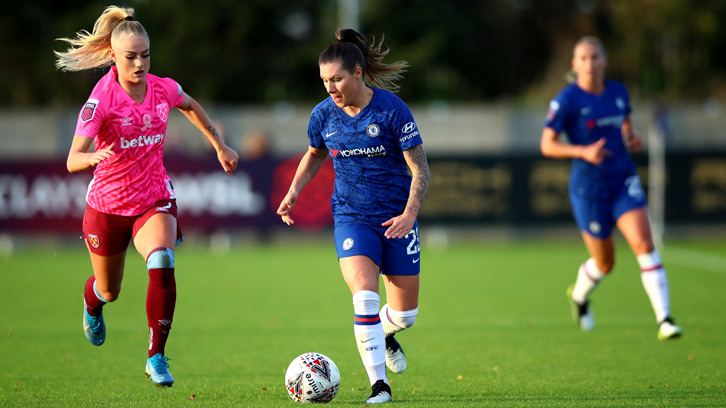 The daily exercises and programme set by the West Ham United women's coaching staff has become a source of entertainment in the player's group chat. It is not uncommon for someone to post an image of their work-out, prompting the remaining group to spring into action and complete their exercise routine. 
The women's squad has stayed in close contact despite being in lockdown, according to Lehmann, with the group playing team games and activities through Zoom calls and FaceTime.
"We text so much in our group. I think we text so much in the group. Ruesha [Littlejohn] is always sending funny videos and stuff. We have a lot of contact. 
"I also FaceTime with Julia Simic. I miss her so much. I'm with her all the time, during training and at home, so it's quite hard. It's good though that we have FaceTime. Ten years ago, we wouldn't have been able to do that. 
"We also have Zoom meetings with the whole team. Next Monday, we are going to play Bingo so I'm so excited for that, although I'm not sure if I'll win!"
Although being kept busy with her new puppy and a robust training programme, Lehmann has also found the time to become an active user on TikTok, having been introduced to the latest social media craze by her younger sister.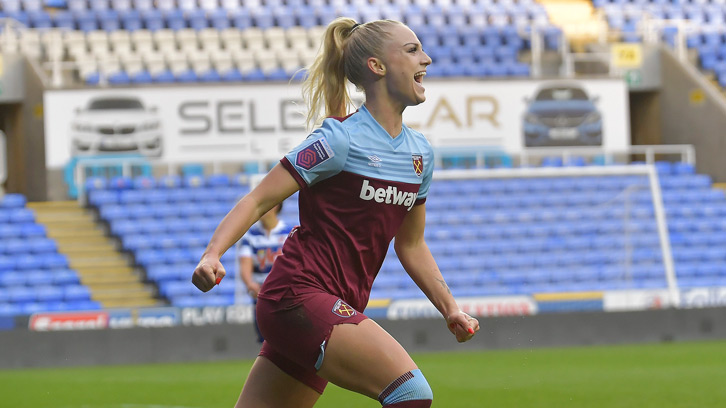 The 21-year-old, who is an active user of social media, has already amassed over 60,000 followers as she shares skills and funny skits from life in lockdown. 
"I'm having a lot of fun with it," she laughed. "I love to do it, although maybe I'm not that good at it. But it is funny. 
"I love watching funny videos and making videos, and my sister showed me TikTok, so we started doing bits together. It's been a lot of fun. 
"We've been doing mainly dancing videos and also some football stuff. We have to keep redoing them though, because we're not very good. I can't ever get it right on the first take. I have to do it five or six times, and I always need about 30 minutes to do a video."
While it will take some time for competitive football to return, and life to return to normal, Lehmann is looking forward to the day when she can walk out in front of the West Ham United supporters again. 
The forward is hoping everyone is able to stay safe and look after themselves and cannot wait to be back playing in Claret and Blue in the future. 
"I would like to say to our amazing supporters to stay safe and stay at home," Lehmann added. "We need to take care of ourselves and our families.
"Enjoy the time with your family as well and, hopefully soon, we can all go to watch football and play football again. It's not a long time that we have to do this, but we have to do it together."