Fans
Show us your freestyle skills! - Your #HammersAtHome daily challenge
Freestyler Kweku Ansah wants you to show off your skills for today's #HammersAtHome daily challenge!
Ansah has challenged young West Ham United supporters to try out three Freestyle moves - the Foot Stool, Around the World and the Toe Tap - and share your skill-filled videos, with the winner receiving a reward!
"What's going on young Hammers, my name is Kweku Ansah and some of you might have seen my Instagram videos of me doing trick shots through the hoop just like that!" he smiled. "Now, I thought I'd share some basic freestyle moves with you that you can practice at home.
"Freestyle is something you can warm up with, it's a bit of fun, and when you go back to school you can show your mates the new skills you've learnt. Without further ado, let's get into the freestyle!
"The first skill is called the Foot Stool! This is the first skill that I learnt and it's an important one to feel that connection with the ball. A good example is to imagine your foot is like a nest and the ball is like an egg. As the ball is coming down, you're using the laces of your boot to cushion the ball between your foot and lower leg. Really take care of the ball and the ball will magically glue to your foot! Once you're done, you can flick the ball up and continue with your keepy uppies and then try again.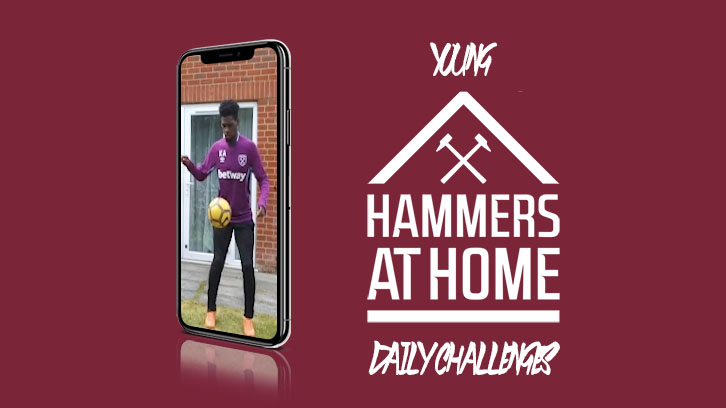 "The second skill is the Around the World! You're probably familiar with this skill, as it's done by a lot of professional players, freestylers and, soon, yourself! For this skill, you want to make contact with the ball, then spin your foot all the way around the ball, 360 degrees, before making contact with the ball again. A good example is to imagine the ball is a hot potato!
"The last skill is the Toe Bounce. This is one of my favourites. Mastering the Toe Bounce can lead to so many different combination skills. Juggle the ball just as normal and, when you're ready, you want to plant your foot to the ground and raise your toe. Then, as the ball is dropping, allow the ball to land on your toe to bounce it up. As it happens, move your other leg over the ball to continue juggling!
"OK young Hammers, it's over to you now! You've got the three skills, so go grab your ball, go to the garden and just have fun with it! We want to see your videos so, once you're done, send us your clips!"
Young Hammers should submit their photos or videos of their solutions via social media using the hashtag #HammersAtHome or via email to HammersChallenges@westhamunited.co.uk by 5pm on Monday 3 April!
Keep an eye out for our daily #HammersAtHome challenges, which will be announced on whufc.com and the Club's social media channels at 11am each and every weekday in term time. They could be physical football or other sports-related exercises, or creative literacy or numeracy-based tasks, or something completely different!
The daily challenges form part of #HammersAtHome – a new online community initiative offering support, assistance and regular interaction with the Club's fans during this uniquely challenging and unprecedented time.
With the coronavirus (COVID-19) outbreak meaning many children are now at home, we want our #HammersAtHome challenges to act as a motivation for schoolwork and rewarding youngsters' efforts so keep an eye out every morning and, who knows, you could win a Claret and Blue reward!