Opinion
Analysis: Efficient West Ham are making their chances count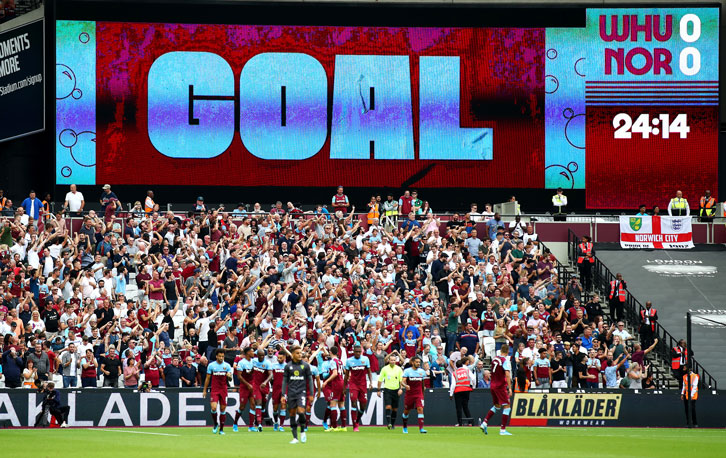 Much has been said and written about West Ham United's much-vaunted attack, both in the lead-up to and early weeks of this season.
However, a report published on the twitter feed of respected football analytics experts Statsbomb claims the Hammers possessed the most-efficient attack in the Premier League in the opening four games of the 2019/20 campaign.
Of the 47 shots West Ham players have unleashed in those four matches, 24 – or 51 per cent – of them have been on target, with six of them ending up in the opposition net.
By contrast, Manchester City are the second most-efficient, hitting the target with just 30 of their 77 goal attempts (37 per cent), while Liverpool and Chelsea have each had 25 shots on target out of 70 (35.7 per cent) and 68 (36.8 per cent) respectively.
However, it should be added that City have turned those 30 shots into 14 goals, while Liverpool's 25 have resulted in ten goals, with the other two coming via own-goals scored from deflected crosses.
Through four games the most efficient teams (as judged by expected goal per shot) might surprise you. The most efficient? West Ham. pic.twitter.com/fvWATqkNkM

— StatsBomb (@StatsBomb) September 2, 2019
For the record, newly-promoted Norwich City have the third most-efficient attack so far, hitting the target with 21 of their 41 shots and scoring six goals.
While Norwich's percentage of shots on target is marginally higher than West Ham's, the Hammers' 'expected goals per shot' (ExpG/shot) – a metric which uses a number of metrics to work out the probability of a shot resulting in a goal, including distance and angle from and the body part used – is higher than the Canaries' and Manchester City's.
Put in simple terms, when West Ham are creating opportunities to score, they are often clear chances, and are more likely to end up in a goal being scored than those being created by any other Premier League team – at least they were in the opening four game-weeks of the season!
Of West Ham's 47 goal attempts, just 12 were taken from outside the opposition penalty area. Of the 35 taken from inside, one was the penalty which Mark Noble converted at Watford, while seven more were shots or headers from inside the six-yard box, including two of Sebastien Haller's three goals in Claret and Blue.
All of those numbers have resulted in West Ham having an ExpG/shot of 0.146, slightly ahead of Manchester City's 0.140 and some way clear of Norwich's 0.119.
The logical question is: 'Can Manuel Pellegrini's team maintain this level of efficiency?'.
Recent history suggests not, as Manchester City's ExpG/shot for their title-winning 2018/19 season was 0.116, while West Ham's figure for the whole last term was 0.095.
But the beauty of sport is that it is rarely logical…