First Team
Michail Antonio: Declan Rice is one of the best defensive midfield players in the league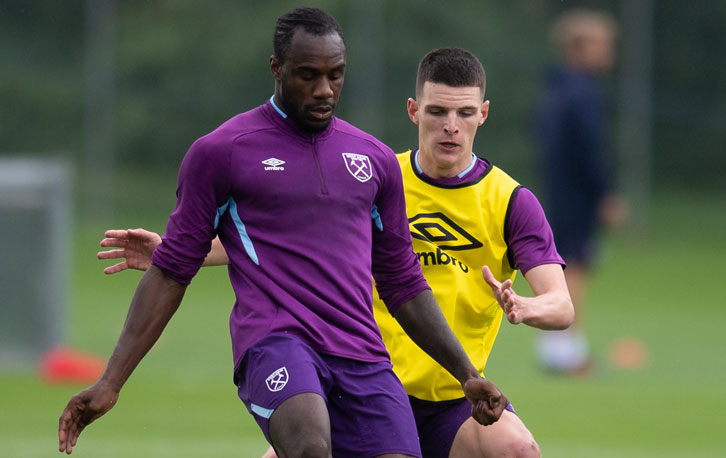 Michail Antonio believes Declan Rice is among the best deep-lying midfield players in the Premier League.
The winger compared the West Ham United star to Manchester City's Fernandinho and Chelsea's N'Golo Kante during his recent appearance on the BBC's Football Daily podcast.
Antonio and Rice have become close pals, sharing a love for gaming, and the winger believes the England international has all the attributes to go to the very top of the game.
Dec keeps the team ticking, he's technically quality, he's got his left foot and his right foot and he's young

Michail Antonio
"Declan Rice is one of the best defensive midfield players in the league," Antonio told host Jermaine Jenas and former West Ham captain Matt Upson. "He is, the way I'd say it, after Fernandinho, after Kante, I'd probably put him third.
"As an example, against Manchester United, Marcus Rashford has gone through and is running into the box and he's got probably ten yards on Declan, but I just thought 'Dec is going to get the ball'. He cleans up everything.
"It's just his stature with his long legs and he's a tall guy. He keeps the team ticking, he's technically quality, he's got his left foot and his right foot and he's young."
🗣️ 'One of the best holding midfielders in the league' - @Michailantonio on Declan Rice

🗣️ 'But Wilfred Ndidi is an unbelievable player' - @_mattpiper

Fernandinho
Kanté
Rice?
Ndidi?
Choudhury?

🤔 Who gets your vote?

🎧 Listen 👇
⚽️📲 https://t.co/0kUniWPgQm pic.twitter.com/kTUxKLkBJ5

— BBC 5 Live Sport (@5liveSport) October 4, 2019
Antonio is also determined to return to fitness himself and battle for a place in the West Ham team.
The 29-year-old is currently working his way back from a hamstring injury suffered during the Carabao Cup second-round win at Newport County in late August.
In his absence, Andriy Yarmolenko has thrived following his own comeback from a long-term Achilles problem, scoring three Premier League goals as the Hammers have made an encouraging start to the new season.
However, while the pair are good friends off the pitch, Antonio told Football Daily he is targeting a return to action in the Ukrainian's preferred right-wing position in Manuel Pellegrini's side.
"It's one thing that keeps me young, keeps me hungry and keeps me going, really, knowing that I'm always going to have to fight for my place," he revealed.
"At the beginning of the season I was in, I was out, it was looking like I was going to be in the team, then I have done my hamstring. It would be boring if I played and then whenever I was fit I was available. I feel I'd get more lackadaisical. I wouldn't thrive, I wouldn't play so well as when I go back in because I need to play well and score goals to keep my shirt and that will keep me going in my career.
"I want to play on the right wing. Me and Yarmo love each other and I'm buzzing for him. He's one of the nicest guys you'll ever meet. He's always happy and is a great guy. It's one of those things where we're always going to be fighting for a place and if it wasn't him, it would be someone else.
"Before he got injured, he was scoring goals and doing what he is doing now. He had a massive injury, but he's come back and picked up where he left off, basically."