Opinion
Lee Clayton column - Pie, mash and Mark Noble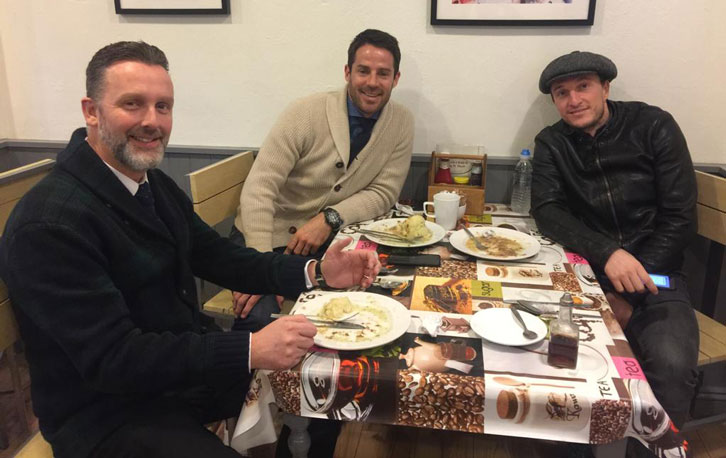 Head of talkSPORT and Season Ticket Holder Lee Clayton shares his thoughts on all things Claret and Blue...
The theory goes that the best job on a national newspaper is either the golf correspondent (lots of travel, not much work) or the food critic (lots of travel, not much diet).
I can't play golf and don't have huge interest in the sport, but I do have huge interest in food.
Which brings us to pie and mash. And a little food review I would like to write.
It's not so much of a review, in fact. More an admission.
Now, it could be said that eating pie and mash is as much a part of being a West Ham fan as claiming the 1966 World Cup win as one of our own.
But as a kid, the first time I rocked up for pie and mash, I had it served with gravy. I know, I am sorry. Truly, I am. The mash was lumpy and the pie was nothing like my mum's pastry. And I needed the gravy to mop it up and get me out of jail.
Looking back, I am ashamed and my mate Tim still reminds me, every single time we sit down for pie and mash.
I remember the mash being slopped on the side with a wooden spoon by a lady with more ear-rings than teeth and I couldn't wait for a Wimpy. 
So, what I am trying to say is that I was slow to the mark.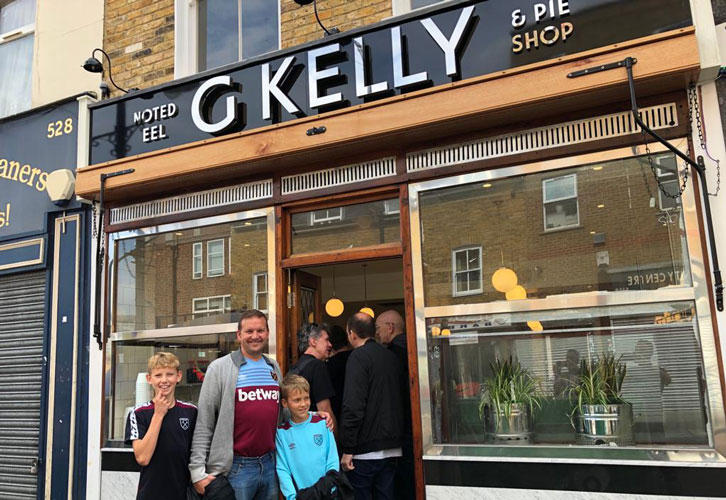 And then I was introduced to G.Kelly in Roman Road Market in Bow. Like a gift from the Gods, they served up two and two and yes I even went with the liquor, with a generous pool of vinegar to help out.
It also helped with my transformation from the habits of Upton Park and it made me feel like the new stadium could be home.
The shop has recently reopened after a long period of being closed for a refurb. It looks like it used to and, to the untrained eye, it tastes better than ever.
A family-run shop, it has been going since the 1930s and my lot said I should not write about it, but try to keep the secret for ourselves. Sorry, fellas. The walk from Mile End tube has never tasted so good.
Tim, Jeff, Max and Leo were among our line-up (chief pie-eater Tony had to work), which meant more for us as we ventured back there before the Manchester United game. 
Go and try it out. But not on matchdays. The pies are mine on matchdays.
A Noble tribute
Richard Williams of The Guardian is a fine writer on many sports and a recent column about the delights of Mark Noble shortly after the 2-0 win against Manchester United is worthy of attention in these pages.
I suggested to the programme editor that he replicate the whole thing, but there's probably a law against that.
That article called Noble 'the beating heart of West Ham' and compared him to Billy Bonds. 
I had pie and mash with Mark and Jamie Redknapp a couple of seasons ago at Paul Konchesky's place in Brentwood (see, I told you I like pie and mash) and it was an honour to listen to him talking about his love for West Ham.
But I can't put his contribution into words as eloquently as Richard, so here is a chunk of the article.
"A couple of minutes before half-time, Mark Noble received the ball from Issa Diop outside the right-hand corner of the United penalty area. He could have played a quick pass down the line into the path of Andriy Yarmolenko. Instead, seeing that the Ukrainian forward was likely to run offside, he paused, feinted to turn and pass inside, turned back the other way before turning full circle, drawing defenders towards him. 
"Then he played the simplest possible square ball to Felipe Anderson, unmarked on his left five yards away. The Brazilian's instant straight pass found Yarmolenko, running across the face of the goal and squeezing a shot inside the left-hand post.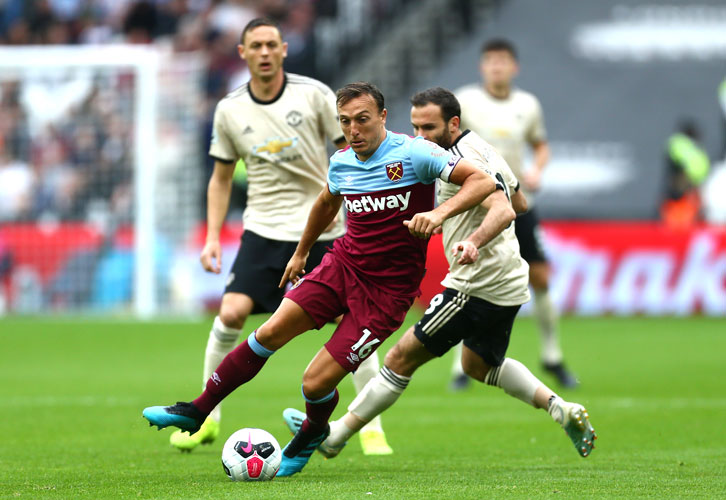 "Noble had spent five seconds on the ball. In that time he had seen and assessed the moving geometry of the 13 outfield players lying ahead of him. He had used a decade and a half of experience as a first-team player, as a leader and a thinker on the pitch. That little pass – so modest, so unostentatious, so right – opened the way to victory for his team.
"West Ham, who lay 17th in the table at this time last year, moved up to fifth, under a captain who incarnates a set of values all too easy to ignore but around which any decent team must be constructed.
"He was 13 when he joined the youth scheme of his local club after his father decided that the journey from Beckton to Arsenal's training ground was too far. The Gunners' loss was the Hammers' gain. At 15 Noble became the youngest player to appear in their reserve team. He made his first-team debut at 17 and at 18 he was playing in the Premier League. Since then he has made 470 senior appearances for the club."
And as he finished. "Not a player to worship, perhaps, but certainly one to cherish."
Well said, sir. Well said. One final point from me: when are we going to have a Mark Noble song that fully reflects what he has done for this Club?