West Ham Tv
Manuel Pellegrini: We had clear chances to decide the game
Manuel Pellegrini said missed chances cost West Ham United all three points from Saturday's 2-1 home Premier League defeat by Crystal Palace.
The Hammers created enough opportunities to win comfortably and scored an outstanding opener through Sebastien Haller, only for Palace to fight back and snatch victory through two set-piece goals – first when Declan Rice was penalised for handball, then when Jordan Ayew converted a VAR-confirmed goal from close range following a late free-kick.
Pellegrini lamented his team's failure to put the game to bed against Roy Hodgson's side, who now themselves sit in the top four at West Ham's expense.
It's a disappointing result because we were ahead in the score and we had other clear chances to decide the game

Manuel Pellegrini
"It's a disappointing result because we were ahead in the score and we had other clear chances to decide the game and two set pieces allowed Crystal Palace, who didn't have any other shots from inside our box, to win the game with a penalty and a free-kick," the manager said.
"I think we had three clear chances to score in the first half and also had a couple in the second, but you must score. You cannot just create chances; you must score.
"We didn't and we conceded an unnecessary penalty – when Declan goes to the ball, he must keep his hand back and his arm down. It was an instant reaction and the ball hit his hand – and then they scored after the VAR and we lost."
Palace's winner was awarded more than two minutes after Ayew had swept home, with VAR official Paul Tierney taking his time to correctly confirm neither Martin Kelly nor the Ghana international were offside.
"If we accept VAR, then we must accept the decision," Pellegrini said. "I always say it must be for big mistakes that the human eye cannot see, and it has decided it was a goal."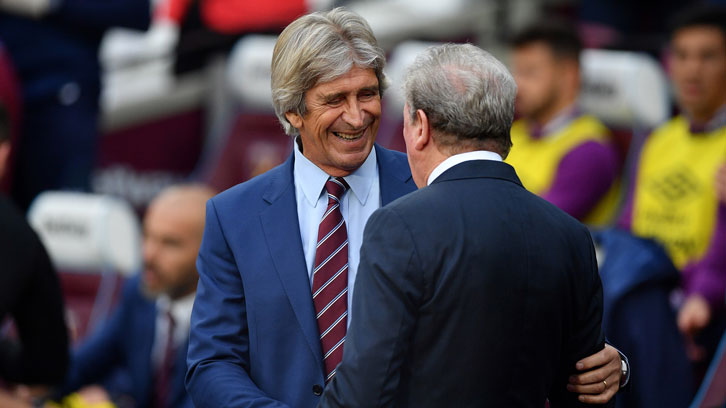 Having repeatedly missed opportunities to climb into the European places last season, Saturday's defeat meant West Ham passed up the chance to go third.
But Pellegrini is confident his team will take those opportunities more often than not this season if they continue to create as many chances to score as they did against Roy Hodgson's side.
"We scored a beautiful goal but, more than that, you can score a beautiful goal but also miss chances and the other team can also have chances to win the game, but today Crystal Palace didn't have any chances [from open play]," he explained. "But they scored from set pieces and that's a different way to score.
"It's a tough feeling, not only because we lost but because we could have been in the first three positions in the table.
"We need to continue working because we are in the correct way. If we do, maybe we will lose one of these games, but normally we will win."