Season Tickets
2019/20 Season Tickets – Frequently Asked Questions
2019/20 Season Tickets – Frequently Asked Questions
When is the deadline for renewing Season Tickets for 2019/20?
All Season Ticket renewals must be processed by 5pm on Friday 31 May 2019 to guarantee your seat for 2019/20.
What payment methods are taken?
Season Tickets can be renewed using debit or credit card (including Amex), cash, Club Cash or four or ten-month payment plans*.
How and when can I pay?
You can pay online via eTicketing 24 hours a day. Alternatively, you can renew by telephone on 0333 030 1966 or visit the London Stadium Ticket Office in person between 9am-5pm Monday to Saturday. The Call Centre will also be open until 7pm on Thursdays throughout May 2019.
Can I split payments between different methods?
Payments can be split between Club Cash and debit or credit card. Prior to Monday 20 May, to split payments, please call us on 0333 030 1966. From 11am on Monday 20 May, you will be able to split the payment online via eticketing.co.uk/WHUFC
What payment plan options are available?
You can apply to pay by monthly installments via our partner V12 Season Ticket Finance*, with the following options available:
Ten-month plan – this plan offers a low 6% arrangement fee that will be added to the first instalment.
Four-month plan – the Season Ticket renewal price will be divided into four equal payments, with a £30 arrangement fee added to the first instalment. The first instalment will be due on each option 30 days after acceptance.
To pay using a monthly payment plan, simply select Pay By Instalments at checkout stage when renewing online at eticketing.co.uk/WHUFC
Applications can also be made in person or over the phone. Please have details of your employment and home addresses covering the last six years, and current bank details for a credit check. The deadline to apply for a payment plan* online is Friday 17 May.
What is Club Cash?
Club Cash can be generated by the listing and subsequent selling of your Season Ticket seat on our Ticket Exchange system for matches you cannot attend, subject to the match being sold out and Ticket Exchange being activated. The seat must sell for you to receive Club Cash. Club Cash balances can be used fully or partly against Season Ticket renewals or on additional home match tickets, upgrades and on retail items in-store and online.
You can check your balance at eticketing.co.uk/WHUFC
When will my Club Cash expire?
Balances expire on 31 May of each year, following that season.
What happens if I sell my seat from the Ticket Exchange and earn Club Cash after I renew?
Any Club Cash you have earned up to the renewal deadline on 31 May can be used towards your renewal. Any Club Cash not redeemed by this date will be deemed lost and you will be able to start earning Club Cash again from 1 June 2019. All Band 5 two-year supporter's Club Cash will expire on 31 May 2020.
Supporters who earn Club Cash after they have already renewed, your balance will be carried over in to the 2019/20 season. 
What is the Home Cup Scheme?
By joining this scheme, you will automatically be allocated your Season Ticket seat for all home cup games. PLUS – you will also receive a double loyalty point for each home cup attendance and receive priority for any later cup round stages, subject to availability. When renewing online, you will receive a prompt at checkout stage asking to join. Some Season Ticket Holders may be requested to move to alternate seats if the away club take the full cup ticket allocation and therefore we can't guarantee a seat for all home cup fixtures. 
How can Away Season Ticket Holders renew for 2019/20?
An Away Season Ticket guarantees you a ticket for every away Premier League fixture. Away Season Tickets are available on a renewal basis with the deadline of Friday 17 May. Any remaining spaces will be sold to those on the away scheme waiting list in priority order. To renew or join the waiting list please call the Ticket Office on 0333 030 1966. Please note that to renew or join, you must also hold a 2019/20 Season Ticket. Terms and Conditions can be found at eticketing.co.uk/WHUFC
How will seat relocation requests be handled for 2019/20?
Relocations will be based on time of renewal, subject to availability, and commence from Monday 3 June. You must have renewed your Season Ticket to apply for relocation. Windows will be set by the club, giving the supporter a period during which they can call the Ticket Office to relocate. These shall be communicated on the website and by email. Any change of band and resulting price increase brought about by relocation will be required to be paid by debit or credit card (including Amex) or cash at the time of relocation.
Can I go up/down a price Band at the time of relocation?
Subject to availability you can look at alternate price bands. Any extra payments will be required at the time of moving seats. Any change of band and resulting price increase brought about by relocation will be required to be paid by debit or credit card, or cash.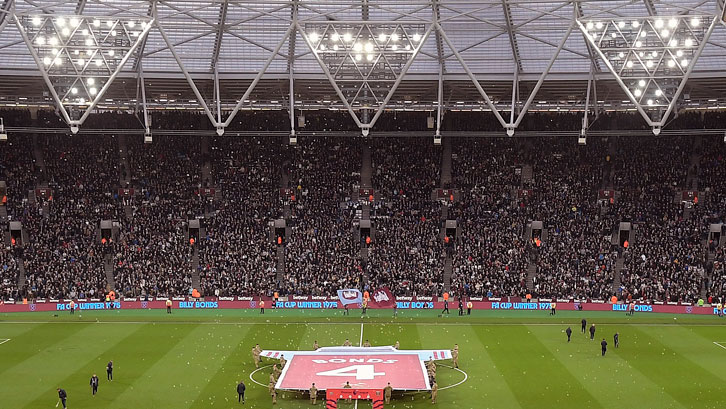 What if I don't renew for 2019/20?
The deadline for renewal is 5pm on Friday 31 May. Unsold Season Ticket Holder seats will immediately be available in the relocation stage and, following this, be made available to those on the waiting list.
Can I buy additional Season Ticket seats for 2019/20?
As an extra Season Ticket Holder benefit, you will be able to apply for a limited number of single seats. This will give you the opportunity to secure an additional seat in your block or the adjacent one for friends and family. These seats are strictly limited and subject to availability. To find out more please call the Ticket Office on 0333 030 1966.
Which matches are included in the Season Ticket?
All home league matches, plus first option on home cup tickets. Supporters who sit in certain areas may not be guaranteed their seat if the Away club take their full 15% allocation. You also have access to many exclusive benefits which can be viewed here. [Insert hyperlink].
Do the Club require proof of age for concession Season Tickets?
Subject to the Club's terms and conditions, the Club reserves the right to investigate and request proof of eligibility at their discretion.
How do I access London Stadium next season?
For the 2019/20 season, all Season Ticket Holders will be receiving a new Season Ticket access card. Replacement Season Cards are subject to a £10 administration fee.
Can the name be changed on the Season Ticket?
Name change requests are at the discretion of the Club and should be put in writing to the Club by emailing ticketoffice@westhamunited.co.uk. Seats cannot be downgraded. All successful name changes are subject to a £10 administration fee.
Who qualifies for concession Season Ticket?
Age-related concessions are available for Over-65s, Under-21s and Under-16s. To qualify, you must meet the following criteria:
Over-65s – Date of birth on or before 1 August 1954
Under-21s – Date of birth on or after 1 September 1998
Under-16s – Date of birth on or after 1 September 2003
Accessibility concessions are available if you are able to provide one of the following:
Disability Living Allowance – Higher Rate Mobility or Care
Personal Independence Payment (PIP) – Enhanced Rate Mobility or Daily Living, CVI/BD8
I took the Band 5 two-year Season Ticket option for the 2018/19 season, do I need to do anything?
No, you won't need to renew your Season Ticket until the 2020/21 season. You will however receive a new Season Ticket Access Card for the 2019/20 season.
I've heard the Club are looking at reformatting the seats behind the goals. Will my Season Ticket seat move?
Following overwhelmingly positive feedback from the Official Supporters Board we have been working with our Stadium landlords on a plan to move the lower tiers in the Bobby Moore and Sir Trevor Brooking stands closer to the pitch.
This proposal is early in the planning stage and we are not yet able to provide a firm date as to when these changes might happen, if the proposals are taken forward. The proposals will change the shape of the stand, so not every seating position will remain entirely like-for-like, even though the vast majority of seats will move closer to the action.
For Season Ticket Holders in these stands, we will keep them fully informed about the consultation process on the changes, before we agree to any alterations to the current format of the stands. These supporters will be proactively contacted by the Club with further details once they are known and we will ensure that they have priority on both the new and existing seats.
*West Ham United Football Club Limited is registered in England and Wales 00066516. Registered office: London Stadium, Queen Elizabeth Olympic Park, London, E20 2ST. West Ham United Football Club Limited acts as a credit broker and only offers credit products from Secure Trust Bank PLC trading as V12 Retail Finance. West Ham United Football Club Limited is authorised and regulated by the Financial Conduct Authority. Our registration number is 728632. Credit provided subject to age and status.