Interviews
Jack Wilshere: Hot and humid conditions will benefit us in the long run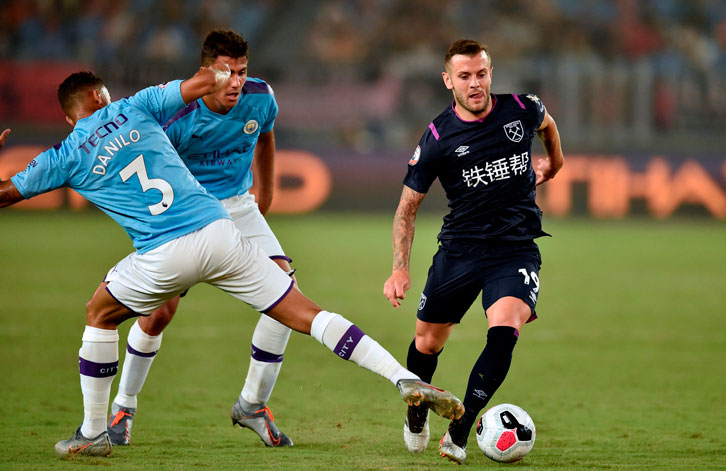 Jack Wilshere believes West Ham United will reap the benefits of training and playing in physically demanding conditions at the Premier League Asia Trophy.
The Hammers will spend a week in China, where temperatures have regularly topped 90 degrees and humidity has run at over 75 per cent, before returning to London on Sunday.
The conditions were particularly noticeable during Wednesday's semi-final defeat by Manchester City at Nanjing Olympic Sports Centre Stadium. There, with the air almost dripping with moisture, the players' sweat was slower to evaporate, causing the body to heat up more quickly than normal and accelerating the onset of tiredness.
But Wilshere, who caught the eye in West Ham's promising first-half performance, says the draining work will pay dividends when the new Premier League season kicks-off in August.
It may have been hard, but we will feel the benefits when we go back to England

Jack Wilshere
"I played here a few years ago and you forget how hard it is," he said. "In training, it's slightly different as you have opportunities to recover, but in games you don't have opportunities to recover.
"You might have to make a run over 50 or 60 yards, then ten seconds later you have to track back the same distance and it's really hard. It's not the heat so much as the humidity.
"It may have been hard, but we will feel the benefits when we go back to England. We've got four or five games to go before the start of the season and we'll definitely feel the benefits when we go back and we're in training."
Reflecting on Wednesday's 4-1 loss to Manchester City in particular, Wilshere again felt it was a case of short-term pain for long-term gain.
"It was difficult," the No19 admitted. "They don't come much tougher in the second game of preseason, playing against probably the best team in the world in 30-degree heat.
"It was a good test for us. I thought we did well in the first half, but we got a little bit tired in the second half and conceded a couple of goals and lost the game.
"It's another game and another step closer to where we want to be in preseason."
Wilshere and West Ham will be back in action on Saturday night, when they take on Newcastle United in the third/fourth-place play-off in Shanghai.
The weather in China's biggest city, which is situated on the East China Sea coast, is cooler and less humid than it was inland in Nanjing, but the Hammers do kick-off at 5pm local time, two-and-a-half hours earlier than they did on Wednesday.
Saturday's match will be broadcast live in the UK by Sky Sports, with kick-off at 10am BST.