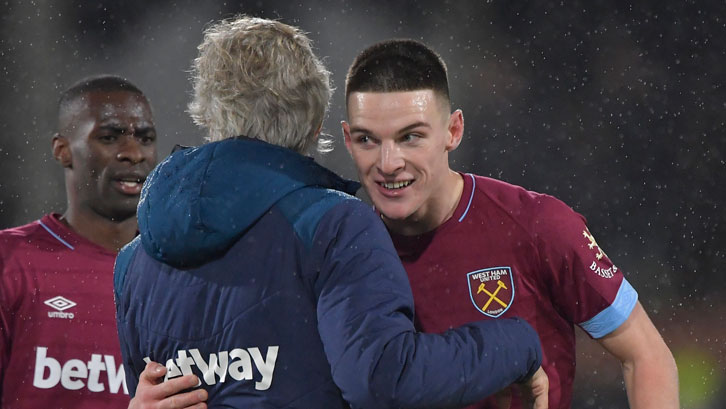 Declan Rice has become a 'vitally important' member of the West Ham United team, according to the man who selects him to start every week.
Manuel Pellegrini admits he has been slightly surprised by how quickly the 20-year-old has developed during his first season in charge at London Stadium, but the manager is now convinced Rice has the attributes required to go to the very top of the game.
Six months ago, the deep-lying central midfielder was part of the starting XI which was beaten 4-0 at Liverpool on the opening day of the Premier League season – and the youngster was left out of the team for West Ham's next three top-flight matches. He soon forced his way back into Pellegrini's side, however, helping the Irons recover from a four-match losing run with big wins over Everton, Manchester United and, more recently, Arsenal.
On Monday evening, Rice will almost certainly be in the starting line-up again when the Hammers face Liverpool in the return fixture, and his manager knows he will be vital to the hosts' chances of upsetting the Premier League leaders.
Declan Rice is a mix of technical ability and power and he can play as a holding midfielder, as a midfielder, or even a central defender

Manuel Pellegrini
"The truth is, I was not 100 per cent sure [he would progress to this level]," Pellegrini began, when asked if he had been surprised by the rate of Rice's improvement. "I saw him play well last year but I saw him make a lot of mistakes too, but that's normal in the first season. But he kept proving himself and showing that he could be an important player.
"We had a very bad first game against Liverpool and he started that match but the first thing I made clear to him was that the defeat was not because of his individual performance, but that we were trying to find our feet as a team in that moment and that we soon would. And soon he became a big player for us and now he is vitally important and he has a future you wouldn't have dreamed of."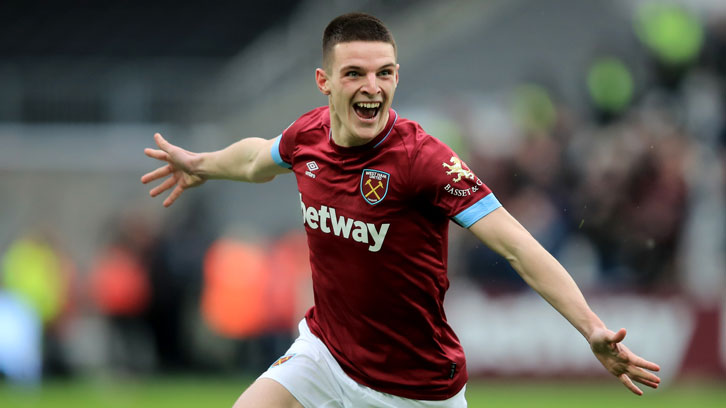 Pellegrini has worked with some of the very best footballers in the world, including Cristiano Ronaldo, Sergio Aguero, Kaka, Xabi Alonso and Sergio Ramos, so he knows a top player when he sees one.
But what is it exactly that has the West Ham manager so excited by Declan Rice's potential?
"He is a mix of technical ability and power and he can play as a holding midfielder, as a midfielder, or even a central defender," he observed. "He's a player who always wins his physical duels. He commits very few errors with his passes.
"Perhaps with time he will improve his vision of the whole pitch to improve his passing range because one thing is to never give the ball away and another is to always give the best of all possible passes.
"He'll improve that game-by-game but he is already very consistent, he is very difficult to over-power and he distributes the ball very well.
"There are many ways to lead. You can do it with your quality, or your record in the game, or your personality, or what you say, or by the way you are playing. And right now Declan is leading by the way he is playing. He doesn't talk because he's still young but he shows the leadership on the ball, on the pitch, with his performances."