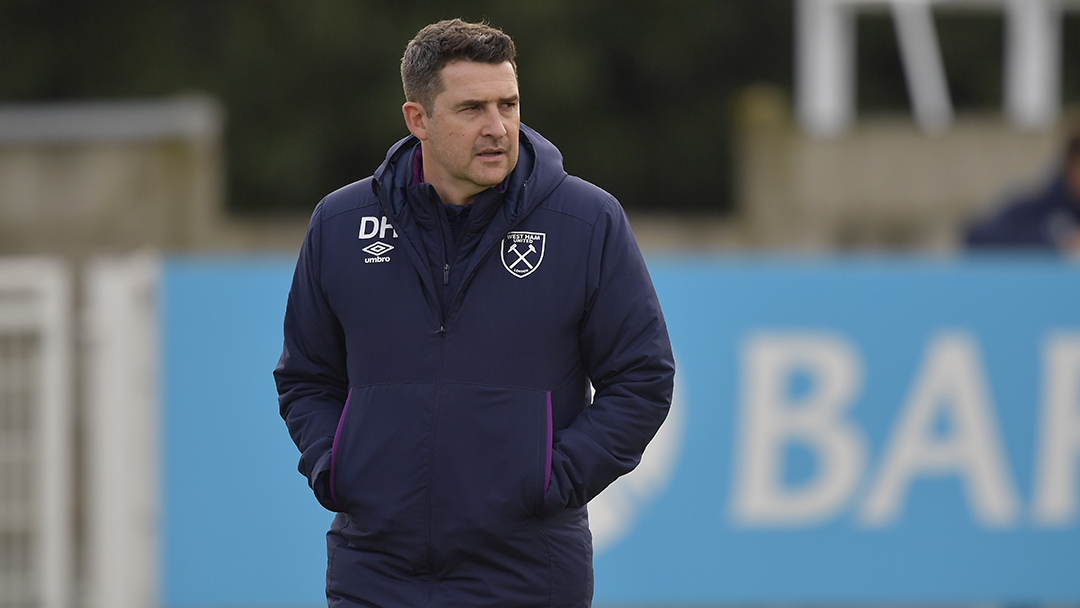 West Ham United U23s are demonstrating just how much they want to win Premier League 2 Division 2 in their performances this season, according to Lead Coach Dmitri Halajko.
The Hammers welcomed Newcastle U23s to Rush Green Stadium on Monday afternoon for their final fixture of the calendar year, aware that a win would keep them top of the table going into a three-week winter break in their fixtures.
Their blistering form showed no signs of letting up as Anthony Scully headed in Bernardo Rosa's pinpoint delivery after just five minutes, before Nathan Holland's well-directed finish leant the Irons a degree of comfort before the interval.
Looking capable of adding to their tally throughout much of the second half, an assured finish from Alfie Lewis and a clinical conclusion to a counter-attack from Holland – both teed up by substitute Oladapo Afolayan – added deserved gloss to Monday's scoreline.
Halajko spoke glowingly of the overall performance afterwards, and believes his team, having established pole position, are relishing their title race with nearest challengers Manchester United.
"I thought it was a real professional performance from us," he observed. "We kept the ball well, moved it from side to side and went through the middle when we needed to.
"A clean sheet always makes everybody happy and scoring four goals is something to be really proud of, so it was near to a perfect performance for us really.
"It's nice to be part of a winning team. It's nice to be part of a team that's challenging for things. They're at an age now where they really, really want that, and it's showing."
 
The starters and the subs, everybody played their part, and that kind of teamwork and togetherness that the group have got was another pleasing factor

Dmitri Halajko

Looking solid at the back, composed in possession and ever-dangerous up front, there was much to take pride in during the U23s' performance on Monday afternoon.
Their 2-1 victory over Newcastle U23s at the beginning of August was a more competitive affair, but after Scully's immediate impact on the game this time around, the junior Irons rarely looked back – a factor in the performance that Halajko acknowledged.
He also took time to praise the wider performance of his starting eleven and substitutes off the bench, with Emmanuel Longelo, Dan Kemp and Afolayan all impressing during their time on the pitch.
"We always want to make it happen," he said. "We want to be the team that takes the initiative in the game and tries to lay the first punch, so to speak, and we did that today. It was a great cross from Bernardo and Scully, probably with his first touch of the game, does what he's been doing all season – score goals for us.
"I think we were better on the ball today than we have been in some games, which was really pleasing. Regarding the clean sheet, they did have a couple of chances, but when we had to defend we made sure that we did the job. 
"All three substitutes made an impact – that was another nice thing, it was a whole squad performance. The starters and the subs, everybody played their part, and that kind of teamwork and togetherness that the group have got was another pleasing factor."
West Ham U23s' next challenge will be hosting second-placed Manchester United U23s at the Chigwell Construction Stadium on Monday 6 January.
Halajko is pleased the pause in games will allow his team time to recuperate, but hopes that they maintain the dominant momentum which has secured eleven wins from their thirteen league games this season.
"I think physically it's probably a good point for a break because I think we've had boys who have worked really, really hard, and a couple of days' rest will be great from them," he noted.
"From that point of view it's good, but momentum-wise it's probably a bad time for a rest because we are in such good form - it's a bit of good and a bit of bad."