Foundation
Zabaleta celebrates 500 completers of West Ham's award-winning 150Club programme
The 150Club celebrated 500 completers with a surprise visit from Zabaleta & Sanchez
Zabaleta marks the achievement
Sanchez & Zabaleta celebrate with the 500th completer, Peter Bell
Sanchez and Zabaleta led an energetic warm-up
Zabaleta helped the participants with some boxing
Sanchez joined in the training session
Sanchez gets another participant going
As part of West Ham United's Players' Project, Pablo Zabaleta and Carlos Sánchez surprised 150Club participants at a celebration event hosted by West Ham United Foundation, NHS Newham Clinical Commissioning Group (CCG) and London Borough of Newham to mark the innovative project's 500th completer.
In the heart of east London, West Ham United, Newham CCG and London Borough of Newham are leading the fight against Type 2 diabetes and cardiovascular disease through the 150Club, a free 24-week GP referral programme targeting Newham residents aged over 18 who are at risk of developing the diseases.
The Newham-based scheme takes its name from the NHS-recommended amount of 150 minutes of exercise people should undertake each week.
Newham has one of the highest rates of Type 2 diabetes in England, with 24,500 residents currently diagnosed with the disease. It also has the lowest percentage of physically active adults in the whole country - only 44.8% achieve their 150 minutes of moderate physical activity per week.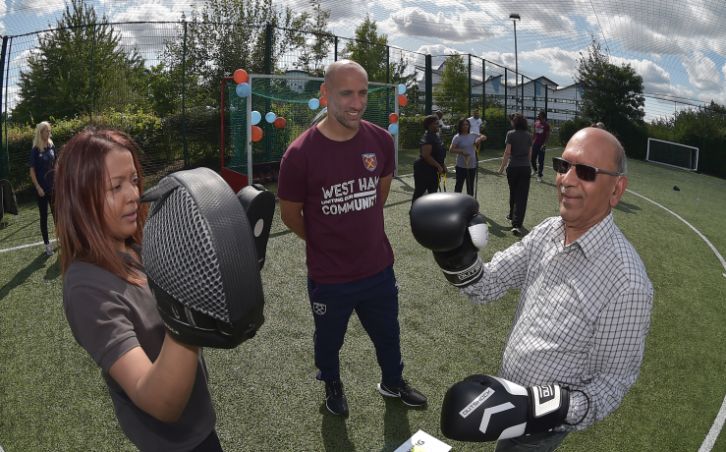 The event served as part of the Players' Project, which sees men's and women's players give their time and energy towards a range of projects, including increasing participation and inspiring healthier lifestyles in local communities.
As an ambassador for the health strand of the project and having met many of the 150Club's participants previously, Pablo Zabaleta was keen to be involved in marking this incredible milestone.
Zabaleta said: "Health is so important, and to know that we've been part of helping 500 people change their lives is really good. It shows how big the benefits can be if you do some activity, and even from their point of view, they say they feel so much better.
"Whatever the sport is fine. You just need to do a bit of exercise and look after yourself so you can be healthy and lead a good life, not only for you, but for your friends and family too."
Using the power of football and sport, the ground-breaking scheme was developed by NHS Newham CCG, Newham Council and the 150Club partnership – made up of the West Ham United Foundation working with the council's leisure trust, activeNewham and the Staywell Partnership.
Maria Abraham, Health Manager at West Ham United Foundation, oversees the programme, and commented: "This model of 150Club with partnerships and Lifestyle Advisors has been key in the success of the programme.
"Our goal for the programme is to provide something that's right for everyone, because to make someone active, it has to be right for them. Working together, we've been able to provide bespoke support and offer activities ranging from dancing to yoga to walking football to spin class, ensuring there is something for everyone to engage with.
"Today is not only a celebration of the 500 programme completers who have worked to combat their health issues, but also a celebration of the additional benefits of improving their overall wellbeing. A lot of the people have made lifelong friends through this programme."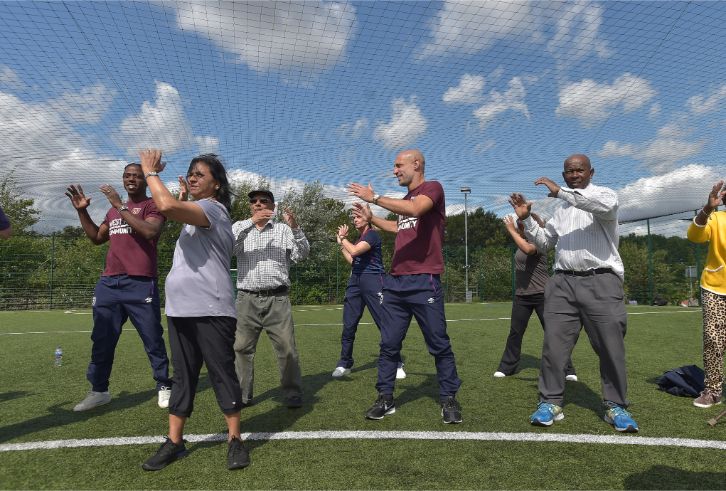 The 500th programme completer, Peter Bell, added: "I got involved in the programme following a health check. Having a Lifestyle Advisor was really helpful; I started by cycling, and then built up to things like the treadmill, and now I'm eating a lot healthier as well. Now I've reached my correct BMI level too.
"The fact that Pablo and Carlos have joined us today is excellent, and the whole group have enjoyed it. West Ham really are a local community club - they've not forgotten their roots."
The participants embraced their new first-team instructors on the day, receiving guidance from both players during the circuits class. They also chatted with them about their health experiences and gained advice and motivation from them.