Mark Noble could not overstate the brilliance of West Ham United's victory away to Tottenham Hotspur, with the Irons becoming the first team to win at Spurs' new stadium. 
Michail Antonio's 67th minute finish was brilliantly taken and was the first goal Tottenham have conceded since moving to Tottenham Hotspur Stadium at the beginning of April. 
If that wasn't enough, the Irons were able to hold on, taking the win from North London. 
In an interview with former teammate and Club Ambassador Marlon Harewood, Noble could not hide his delight at the result. 
The first team to win and score here – it goes down in history. What a fantastic day for the Club!

Mark Noble
"The way we've played, we thoroughly deserved the result today," Noble told West Ham TV. "To come here is hard enough as it is, but to play the way that we did was brilliant. I thought we performed really well today and deserved our win. 
"We felt like we could hurt them in some places. I felt, in the second half, we relaxed a bit more on the ball. In the first half, we perhaps tried to score too quickly. We tried to go forward too quick but we played a bit in the second half. 
"Michail got a great finish and, all in all, a terrific performance. The first team to win and score here – it goes down in history. What a fantastic day for the Club!"
The captain was thrilled to see Antonio register another goal for the Irons, with the No30 scoring in a second successive game.
Noble also hailed the efforts of Marko Arnautovic in grabbing the assist.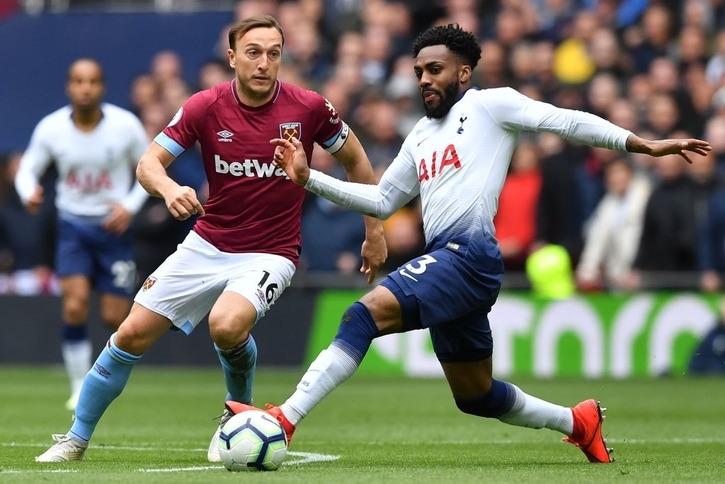 He continued: "Marko and Michail had switched positions at that point and Marko found himself out on the right. It was a fantastic ball for Michail, who smashed it home into the side netting. What a great finish! 
"I'm not too sure about the celebration! I didn't really see it – I was too busy celebrating with Marko, but as I turned around he'd just finished. I heard he'd said he had been practising it in nightclubs. Typical Michail!"
Noble relished the fact that, no matter what happens in the future, West Ham will now always be the first side to beat Tottenham in their new home.
He added: "The way we played was fantastic. For the club and especially for the fans, that win is bragging rights. The first team to win here in history. We've always got that in our back pocket now for the rest of time."