Reaction
'That was for the fans' says Noble after Leicester win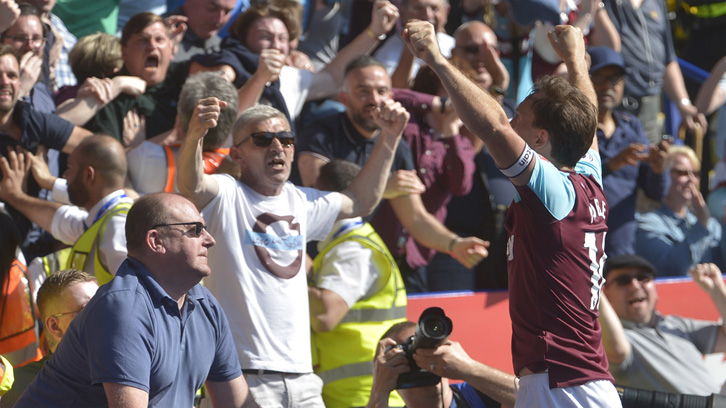 West Ham United's 2-0 victory over Leicester City on Saturday was for the supporters, according to skipper Mark Noble after his side secured their Premier League safety with a terrific three points.
The captain, who scored a magnificent second half volley to double the Hammers' advantage after Joao Mario had given them the lead, praised the travelling fans who were in fine voice all afternoon.
Southampton's draw at Everton later that day meant David Moyes' men were safe from any relegation fears with two games to spare, and the win in the sunshine capped a perfect afternoon for the Club on Saturday.
And Noble – who made his 433rd appearance in Claret and Blue against Claude Puel's team – said the win was for the supporters.
"The away fans were fantastic," he explained. "That was for the fans, the staff and everyone who has stuck by us the whole season.
"It's been tough and I certainly don't want another [season] like this, but that was for them today.
"No matter where we go, how many seats we get, they always fill them, they're always there, no matter what; summer or winter.
"For all the money they've spent, for all the miles they've driven, Saturday was for them."
That was for the fans, the staff and everyone who has stuck by us the whole season. It's been tough but that was for them today.

Mark Noble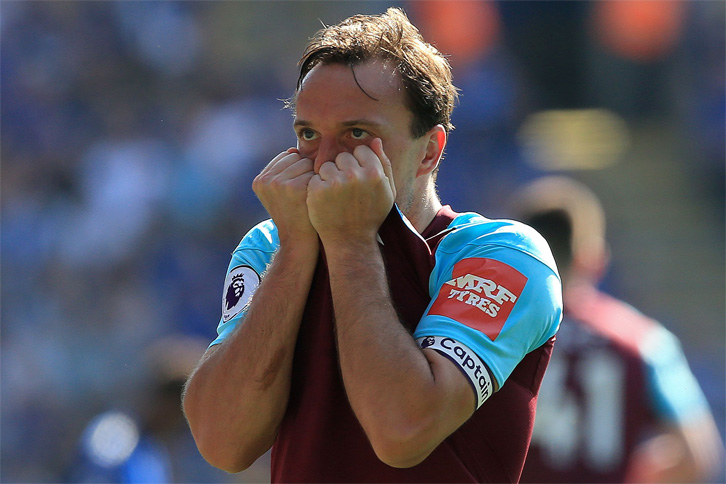 West Ham have been up against the odds at times this season, but the 30-year-old, who has experienced it all over the years in east London, claimed the squad never stopped believing throughout the campaign.
"In all honestly, the position we were in after the Burnley defeat, everyone thought we were doomed," he continued. "But we went away, trained hard, and we got a lot of stick for going away.
"But it worked; the players socialised together, and that's partly my job. But as I said, everyone has played their part this season and you need your whole squad over a season.
"With all the problems we've had this year, I'm really proud of the bunch of players we have got, and we've always stuck by it, kept training hard, and we deserved what we got today.
"When we have got criticism this year, I've taken it and I'd rather it's on me than the rest of the team; I know how to handle it. You have got to just lace your boots up and go again and we've had to do that consistently this year."
Noble's volley, his fourth goal of the season, was of course a strike which will live long in the memory, but the No16 claimed the importance and context of the goal felt just as sweet as the strike itself.
"That goal was so important and we have kept another clean sheet – it's tough at 1-0, so in that context for me to score is great.
"But when the ball floated to me, I just thought I'd have a go and you never know. You don't really feel them leave your boot, when you catch it that sweetly.
"Everyone I wanted to do, the ball did and those moments; you score them in training but not much in games. To score that and win the game, it was fantastic."