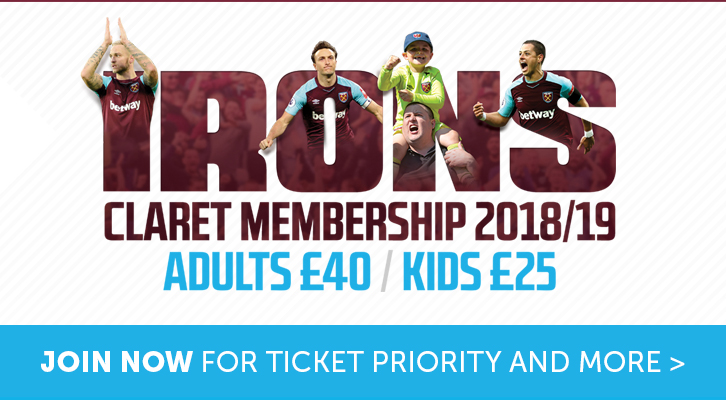 You can be first in line and save money on match tickets by becoming a Claret Member for the new campaign.
West Ham United tickets are again hot property for the 2018/19 season, with record numbers of Season Ticket renewals this summer.
Claret Membership gives you the best opportunity of attending home matches, with ticket priority on all home Premier League and Cup fixtures*, plus lots of other benefits.
Alongside ticket priority, Membership gives you a whole host of exclusive benefits, including – new for this season – a £5 discount on match tickets when purchased within your priority sales window. Furthermore, Members will have access to exclusive monthly competitions, free entry to Premier League 2 matches at London Stadium and discounted Ladies tickets.
Claret Kids, our Under 16 Members, will also benefit from two Kids for a Quid Premier League fixtures in the season* and a new Under-16 price for Category A fixtures in seat Bands 4-5, which wasn't previously available in the 2017/18 season.
We have also introduced a new Membership product for our youngest Hammers - Iron Born. The Membership for 0-4 year-olds covers young Hammers up to their fifth birthday for a one-off fee of £25, and includes an exclusive welcome pack with Iron Born lunchbox, plate & cutlery set and drinks beaker, plus the benefits of the Claret Kids Membership.****
The benefits of a Claret Membership include:
Ticket priority on Premier League and Cup fixtures
£5 discount on all Premier League fixture general sale prices
£5 discount on official away coach travel
Exclusive Claret Member access card
Additional merchandise discounts and offers
Exclusive competitions – prize draws for signed shirts, memorabilia and money-can't-buy experiences
Invite to Junior Hammers party for Claret Kids
Attend PL2 matches at London Stadium for free
Discount on Match Tickets for West Ham Ladies home matches.
Adult Members will also receive an exclusive scarf, personalised with their initials, and Claret Kids a West Ham branded washbag, notebook and bedroom poster.
Claret Kids Membership includes these benefits plus:
Two Kids for a Quid Premier League fixtures in the season**
Invite to Junior Hammers party***
Concession match ticket price for Category A fixtures in seat Bands 3-5
Claret Membership costs £40 for Adults, £25 for Kids, with International Memberships subject to an additional £5 to cover shipping.
Click here to become a Claret Member
*When using your ticket priority, you must have one Claret Membership per ticket you are purchasing. You cannot use one Membership for priority on multiple tickets.
**Kids for a Quid fixtures chosen by the Club
***Junior Hammers party invite for members aged 8-14
***These benefits apply for the 2018/19 season. Benefits may change in future seasons. Iron Born Membership will end in the season in which the member turns five years old.