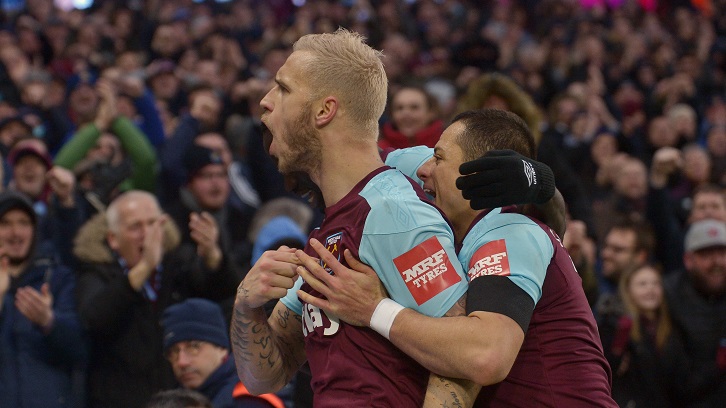 Marko Arnautovic has thanked the West Ham United supporters who have made him 'feel at home' in a Claret and Blue shirt.
The Austrian has overcome a challenging start to life in east London, including a three-game ban for being sent-off at Southampton, missing another match through illness and failing to score or set up a single goal in his first eleven Premier League appearances.
Some fans questioned the summer signing from Stoke City, while manager David Moyes publicly demanded more from his talented No7, and Arnautovic has responded in spectacular style, scoring seven goals, assisting three more and producing ten outstanding top-flight performances in a row to help lift his team up the table.
The 28-year-old's contribution has been loudly recognised by the West Ham faithful, and the player himself is grateful for the mutually respectful bond the two have formed over the last three months.
I have always loved my fans and had a good relationship with them, because they give you the good feeling on the pitch

Marko Arnautovic
"It hurt me in the beginning when I heard people whistling me in the stadium because they expected me to do better," he told whufc.com, "but now I am playing for my team and playing for the fans because the fans are a big part of this Club. They pay a lot of money the whole year to come and watch us and, of course, they want us to perform.
"I always had a good relationship with the fans, wherever I have played. Of course, not all the fans can love you, because everyone has their own favourite.
"Personally, I have always loved my fans and had a good relationship with them, because they give you the good feeling on the pitch and, without them, you are nobody in football."
Each of Arnautovic's seven goals has been followed by a passionate celebration, more often than not involving the Club's famous 'Crossed Hammers' symbol.
After netting in the home win over Watford last time out, 'Arnie' added a second gesture, pointing to the ground with both index fingers, but what exactly was the message he was trying to get across to those in the stands?
"The celebration was like 'I'm back' because I had been out for three weeks, and also gives a sign that I am here and I want to help the team and to enjoy the fans. I do the 'Crossed Hammers' sign because it is part of this Club and they love to see this.
"I feel at home now. We are all one big family and it doesn't matter if it is hard or it is a good time. It's easy to stick together in the good times, but it has to be that we all want to also stick together in the bad times, as this shows what a big family we are. That's what I always want in this Club."
Arnautovic's return to somewhere approaching his best form – he feels there is still room for improvement in his game – has not come about by chance.
With criticism ringing in his ears, the forward sat himself down, took advice from those closest to him, and made a commitment to give everything. The results have been there for all to see.
"When I came to Stoke, it took me six months to settle in, and the same happened here. I didn't want this to happen, as I wanted to make an impact immediately at West Ham, but everything was going around and I was obviously in the spotlight because I came for a lot of money and didn't perform how I wanted to or how the fans were expecting of me.
"Now, I feel fit and had a lot of talks with my family and got into myself and said 'Let's go Marko, you need to change things, try your best and work even harder' and I'm happy things are going well and I can help the team.
"I want to keep this level and I am sure I am going to keep it if I continue to work like this."