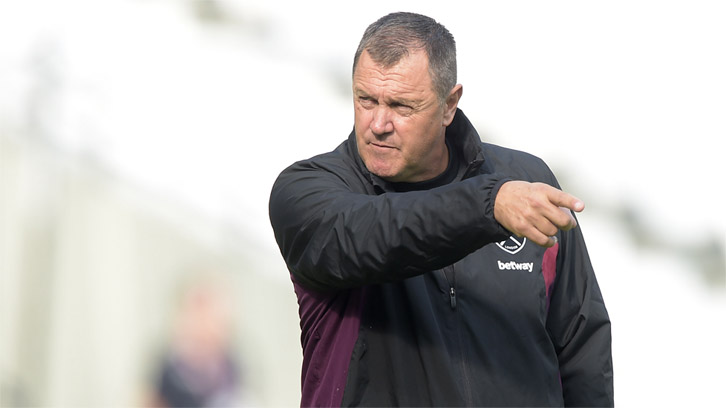 West Ham United U23s boss Terry Westley labelled Sunday a "great day" as 1,483 supporters watched the hosts thrash Manchester United 4-2 at London Stadium in Premier League 2.
Spanish striker Toni Martinez was the standout player, taking home the match ball after scoring a superb hat-trick, while Joe Powell also got on the scoresheet for the Hammers.
United were twice in the lead – after just two minutes of play, the first time – but the Irons, roared on by the home support, turned the game on its head to teach Ricky Sbragia's men a lesson.
Westley was naturally delighted after the full-time whistle and praised the whole squad, in particular the first team players who turned out on Sunday afternoon.
"The win is important, and it could have been wider," he said. "It was a great day for us. You play here [London Stadium] three times, so to play here against Manchester United, one of the biggest clubs, and with a great youth tradition, and win emphatically, is great.
"We have a good group, like we've always said. It may have taken three years to collectively and culturally get what we want, but it the team performs collectively, you have a better chance individually to stand out.
"The team comes first and I have to congratulate the three senior ones, although they're all young. Edi [Fernandes], Sam Byram and Declan [Rice] came into the team and really stamped some authority on the match, showed some class and played properly.
"That sets the standard when you come and play here."
Rice, who captained the side to promotion last season, took the armband again on Sunday and slotted back into the centre of defence as though he had never been away.
Fernandes grabbed two assists in an impressive display, while Nathan Holland was also on top form, crossing marvellously for Martinez's second goal.
You play here three times, so to play here against Manchester United, one of the biggest clubs, and with a great youth tradition, and win emphatically, is great

Terry Westley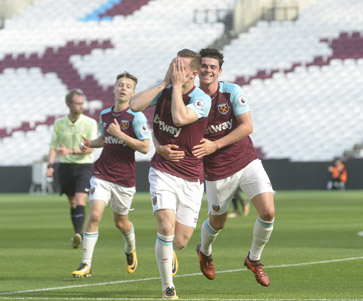 And of course, Westley could go without praising the striker who took his goal tally to eight in ten games with the hat-trick.
"He's the first West Ham player to score a hat-trick at London Stadium and you won't take that ball off him!" the Academy Director continued. "He's dangerous and effective at this level. There aren't many who are scoring the volume of goals he is.
"It was great to have Dec back, but we don't want him back too long! You want him to progress, you want him to play first team football.
"You want him, when you come back down, to be the outstanding player. He'll be disappointed for the first goal. But put that to one side, his overall performance, you'd pay money to come and see him play.
"Holland can go past anybody, and I've not seen a better player with the ball who is quick for a very long time. He has to get better with movement and out of possession but he's a huge threat.
"We thought with Byram, [Josh] Pask, Rice and [Vashon] Neufville, that we had a solid back four and with Nathan in goal, probably our strongest this season, and with Edi, Kemp, Nathan and Toni we were dangerous going forward.
"I also though Conor [Coventry] and Powelly controlled the game – they stopped and thought and were more effective."
The U23s are next in action in a week's time, when they travel west to take on Chelsea in Division 1. Westley is hoping one or two things can be ironed out before the clash, but is confident his side can pick up where they left off.
"We let a goal in after 15 seconds against Villarreal last week and it was just about a minute here, so we need to get out of that.
"You'll be out of Premier League games if you do that. But our response and particularly second half, we took control. They got frustrated and it left space for us in the wide positions.
"We've now set the standard, it's a great result, and we'll rest tomorrow before going to look forward to playing Chelsea next weekend."