The Buzio family will never forget West Ham United's 1-0 Premier League victory over Swansea City.
Two-and-a-half years ago, Andreia and Joao's second son Henrique was born with a cystic hygroma – a lymphatic lesion that causes excess fluid and swelling around the neck – and broncho-tracheomalacia.
The two rare conditions affected Henrique's ability to breathe and eat independently. He remained in hospital for the first eleven months of his young life, receiving round-the-clock care and being given tubes to help him breathe and feed.
Andreia, a scientist, put her working life on hold to care for Henrique and his older brother Duarte on a full-time basis, while her parents Jose and Maria moved from their native Portugal to London to provide support. Joao, meanwhile, remained at work to support the family during a hugely stressful and challenging time.
After undergoing a series of procedures and operations, Henrique went home from hospital in autumn 2016, but he remained traumatised and sensitive to touch. Doctors referred the family to Richard House Children's Hospice – West Ham's charity partner for more than a decade –  for the brave youngster to receive specialist therapy.
I just want to say thank you to Richard House and to West Ham for giving us this opportunity to come and watch the game and meet the players. It's a true honour for us

Andreia Buzio
A year later, Henrique feeding tube has been removed and is he now able to eat and breathe normally.
Meanwhile, regular music therapy sessions and other activities at Richard House, in Beckton, have improved his speech and communication skills, while also giving Andreia the opportunity to share her own experiences through what has been a long and emotionally challenging period.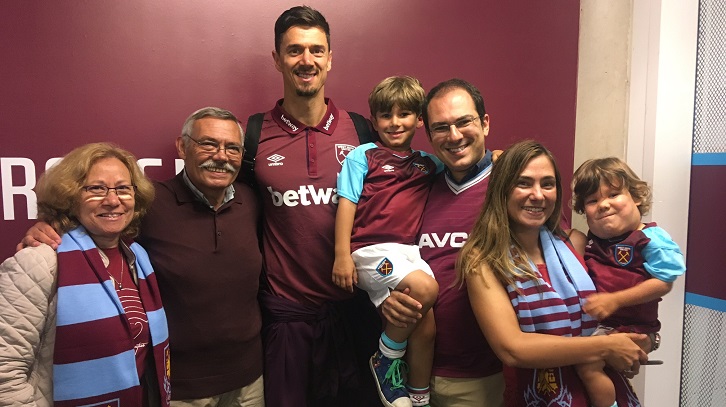 "Henrique is a really happy boy and he was always happy, even at his worst," Andreia smiled. "He plays happily with his brother and has just started nursery.
"We came to Richard House and were a bit sceptical as to what it was all about, because we thought a hospice was for end-of-life care, so it was quite scary, but we are super-thankful that we came because we have felt we could be ourselves and rest.
"Henrique has some big victories in the last year and I think we're now in a really happy place. He is growing steadily, he can eat by himself, his voice is starting to come through and life seems pretty positive."
Last Saturday, the family, who have become West Ham fans since moving to Wanstead five years ago, were invited to London Stadium and enjoyed an afternoon to remember.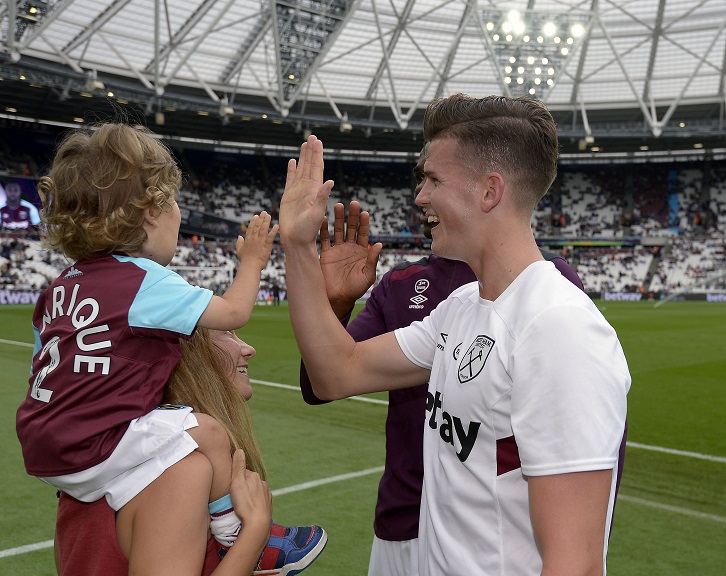 "We have always tried to support our local team since moving to the UK, and we've moved around quite a bit. We moved to Wanstead in 2012 and last year, when Duarte started school, he decided on West Ham and asked for his first shirt with his name on the back!
"So, West Ham has become our official team forever and ever and we've been following the games.
"West Ham come to Richard House, which makes everyone there really happy, but we couldn't be there on the day of the visit, so we were all so excited when we were invited to the match."
After being chauffeured to Stratford, the Buzio family were welcomed by Edimilson Fernandes, Domingos Quina and Sead Haksabanovic, who presented Duarte and Henrique with their own personalised Claret and Blue kits.
Duarte, who has been a tower of strength for his little brother, then led the Hammers onto the pitch as a mascot, proudly gripping the hand of Andre Ayew as he walked out of the tunnel.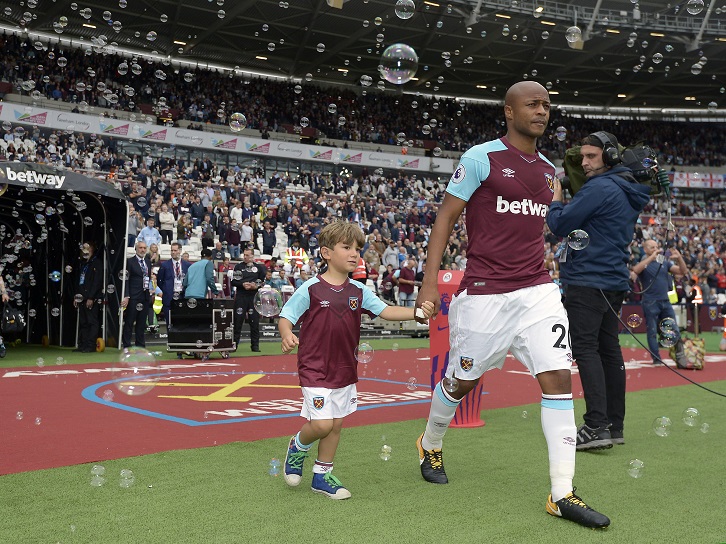 After watching the team secure a dramatic victory over the Swans, the Buzios were then invited into the players' tunnel, where they were greeted by fellow countryman Jose Fonte, who happily presented the family with his match-worn No4 shirt.
Pablo Zabaleta, Andy Carroll and even Swansea's own Portugal star Renato Sanches stopped for a chat and to sign the boys' shirts, completing a truly unforgettable day and sending the family, and Richard House director of fundraising and communications Sarah Eldon, home with broad smiles on their faces and memories they will cherish forever.
"I just want to say thank you to Richard House and to West Ham for giving us this opportunity to come and watch the game and meet the players. It's a true honour for us."