We caught up with your Hammer of the Year, Michail Antonio, to find out more about his ambitions for the season ahead after a campaign which saw him top the club's scoring charts with nine league goals. 
The 27 year-old recently signed a new four-year contract and is working hard this summer on recovering from a hamstring injury he sustained in April. 
Good to catch up with you Michail, firstly how is your recovery programme going?
The rehab is going well, I'm on schedule and where I want to be. I had a short break at the end of the season, but since then I've been back in at the training ground every day, working hard and trying to make sure everything is right.
It's been a lot of gym work, just to get the strength back in the hamstring and remove the scar tissue. That's all progressing well and I'm raring to go for the new season.
Injuries are the hardest part of being a footballer, definitely. Every player just wants to play, so being on the sidelines, watching your team-mates playing the game – it gets to you mentally. At the time, the games were very important, and I just wanted to be involved, and do something to help the team.
It was a surprise when it happened. I'd had a slight strain previously, but I came back against Arsenal and it felt fine. I remember knocking the ball past Hector Bellerin on a full sprint, and there was no problem, but in the first 20 minutes against Swansea a few days later, it just popped.
I can only put it down to fatigue. I had played in basically every game last season, and the season before that, so maybe my body just needed a rest. I haven't kicked a ball now since early April, which is frustrating, but I am really looking forward to getting back next season.
You put pen to paper on a new four-year deal - how pleased were you to commit to West Ham?
It was pleasing to get the deal done before the summer started. The contract talks went on for a long time and it can be quite distracting, so I'm looking forward to going out next season and playing with a free mind.
Looking back at your career you must feel like you have come a long way over the last few years?
It's always been about taking each step as it comes. Being honest, when I was playing for Tooting & Mitcham, I was buzzing, thinking: 'I'm semi-pro.' Then when I made my debut in League One, I was buzzing again, thinking 'I'm pro'. Then it was the Championship, then the Premier League, and then called up for England.
And each time it happened, it was a surprise to me. But I've always wanted to make myself better, and I think that is why I have made those steps. Because as soon as I reach a new one, I don't think: 'Ah that's it' and settle. I always want to be better and kick on again.
I never think 'I've made it' because, in football, you can be forgotten within two weeks. And I don't ever want to be forgotten. I want to always be better and make my career last as long as possible.
It does make me proud to know where I've come from and how hard I have worked, but I'm also scared of it, because I know what I've had to do, and I don't ever want to go back to that situation. It drives me more to be better.
I never think 'I've made it' because, in football, you can be forgotten within two weeks. I want to always be better and make my career last as long as possible.

Michail Antonio
Football is about a lot of hard work, and a little bit of luck. I got to Reading because Billy Smith, my manager at Tooting & Mitcham, knew Steve Coppell and told him to come and watch me. But I also had a trial for Millwall, who wanted to sign me after noticing me play. So although there was a bit of luck in getting to Reading, it was my hard work that got me noticed, and at the end of the day that is what it always comes down to.
What should be the target for the team next season? 
Looking back at last season, I don't think you can really call it a bad season. We finished eleventh, one point off eighth, which you can't say is a bad season.
This team has a lot of character. Despite people talking about relegation last season, we never believed that. We knew we had the quality in our squad to pull away from danger.
But as a team, we want to progress and keep improving – that is our aim next season. We finished seventh the season before last, and that is what we should be looking towards again.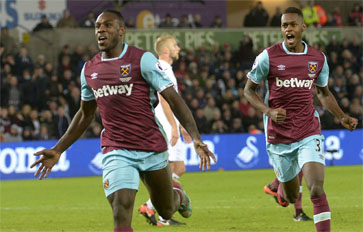 Being called up for England this season must have been really satisfying
It's pleasing to know that I have now been called up by two England managers, and hopefully it shows that it wasn't a fluke to get into Sam Allardyce's squad at the start of last season. That was definitely one of the proudest moments of my career. As a child growing up, watching England, it was one of those things you always wanted to be involved in.
The World Cup next year isn't in my mind, though. I don't really pay attention to the long-term, I take short steps – that is what I have done through my whole career, from non-league to the Premier League. You've got to take each step as it comes – you can't think about 20 steps away because it will distract you and trip you up.
Of course I want to get into the England World Cup team, especially having been so close, but I'm not going to be concentrating on it or let it be at the front of my mind. I have to play games and do well for West Ham – that is my focus.
Pablo Zabaleta has joined the Hammers…how excited are you about having him in he squad?
He has great experience with Manchester City, he's won the Premier League title and experienced it all. It's not just ability that he is bringing, it's his knowledge of the game, and we can all learn from him.
And how important was that Hammer of the Year award?
It's the greatest honour from the fans. I was speechless, to be honest. I had been runner-up to Dimitri Payet the previous season, so to then go on and win the award shows the progress I have made. And I don't want to step back – I want to keep pushing and hopefully do enough to win it again next season.
And finally what are your hopes for next season?
I am so determined to have a great season, especially after the injury. My target at the start of last season was to improve and score more goals than I had the previous year. And I ended up getting the same number, nine.
I could blame the injury and say I would have beaten it, but that's not how I think. All I think is: 'I didn't reach my target.'
So next season, I want to reach it. I want to get to that mark as soon as possible so that I can make it higher, keep pushing myself and keep getting better.