Winston Reid enjoyed a special evening at the West Ham Foundation as he was a star guest at the weekly disability session in Beckton.
Reid wasted no time getting involved in the action as he joined 25 participants for a fun game of football and was then happy to sign autographs and answer questions from the youngsters.
The West Ham Foundation plays a big role in helping to support people of all disabilities in the local community and supports a number of nationwide programmes.
Anyone is welcome to attend the weekly disability sessions, which sees people have a range of disabilities from visual impairments to hearing difficulties and the Foundation are there to help everyone in the local community.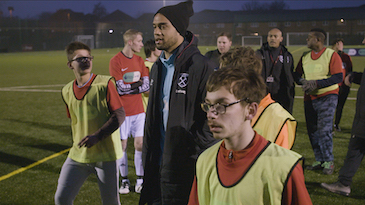 Reid certainly received a special welcome as he walked out onto the pitch at the Club's Foundation pitch in Beckton and knows the importance of the work that is carried out in the local community.
Reid said: "It's nice in general to come and see the kids and put a smile on their faces. They are really happy and they want you to be involved which is great.
"I remember when I was a kid how amazing it was when you saw someone that you maybe idolised so it's nice to come down here.
"It's important, you see that these children have disabilities but they can still get out on the pitch and enjoy it.
"They get amongst each other and have a good competitive game of football and that's what matters really at the end of the day and for the club it's very important to be involved in the local community.
"Obviously we don't get to see everything that goes on but when you come to these events you get to see personally what they do on a day to day basis and it's an honour to be a part of it and to support the cause."
BT Sport were also present as they filmed a special documentary on the night's event and spoke to a number of youngsters and staff involved in the event to help promote the Premier League and BT Disability Fund.